Children and Women are Key to
Climate Change Adaptation
Over the last few years, the desert state of Rajasthan has been experiencing high variability and extremes in weather events. The state which is home to 69 million people (of whom 10 million liv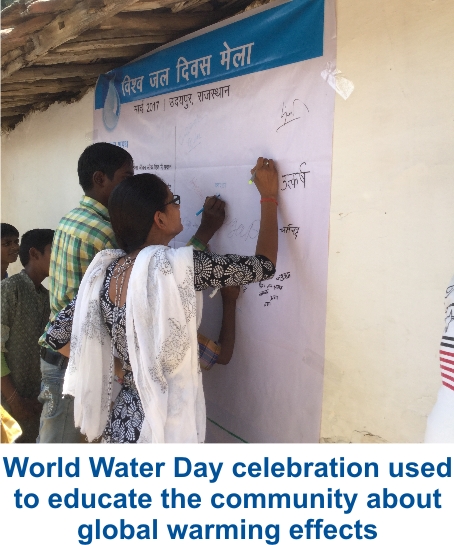 e under extremely poor conditions) is experiencing the effects of climate change. While the state has made considerable progress in overcoming the challenges of poverty, the western and southern districts have not benefited proportionally from the state's economic progress. For example, according to Child Fund, 60-70% of children in Udaipur district's tribal belt suffer from acute hunger leading to malnourishment.
According to the Rajasthan Pollution Control Board, the state experiences continuous water stress conditions due to the scarce and uneven distribution of water resources and high susceptibility to drought. Districts like Baran and Jalore have experienced hailstorms, flash floods and extreme rainfall.
These challenges, which are directly linked to poverty, are often aggravated by loss of livelihoods due to the changing climate, weather shocks and an inability to cope with the change. These climate-related aggravations have a direct impact on 75% of the state's rural population that is dependent upon agriculture and livestock rearing. Hailstorms in Udaipur, for instance, have destroyed vast tracts of farm crops, threatening family food security.
In order to overcome these challenges, Development Alternatives has partnered with UNICEF in Rajasthan to enhance climate resilience of women, children and adolescents in the state. According to a UNICEF report, climate change impacts vulnerable groups like women, children and adolescents the most. Hence, the idea is to increase the climate adaptive capacities of vulnerable and marginalised communities in order to make them future-ready to cope with the hazards that accompany climate change. At the same time, it is also imperative that these groups have adequate access to information about these practices and are involved in the local planning processes.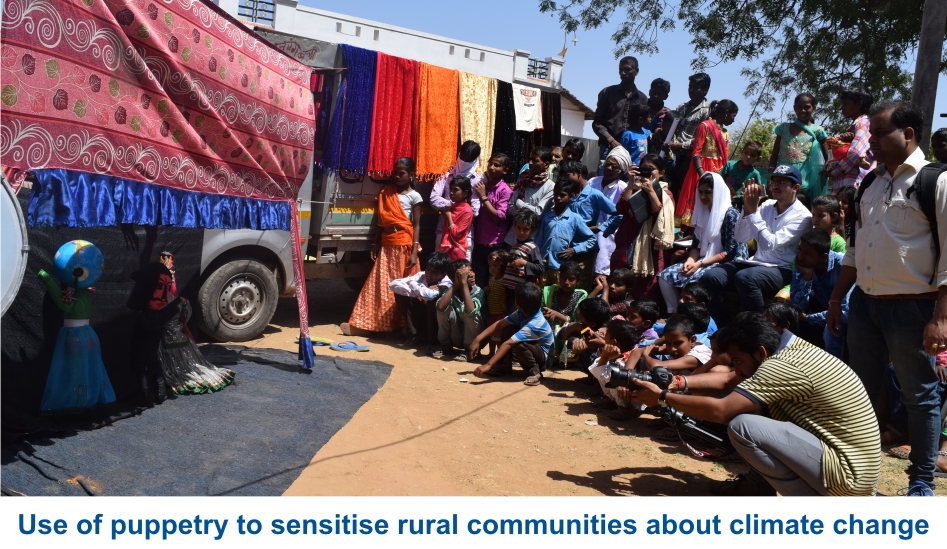 In line with the Rajasthan Action Plan on Climate Change, the interventions have recently begun in three districts of the states i.e. Baran, Jalore and Udaipur to build the capacities of children and women in the context of WASH and climate change. The focus is strengthening community resilience by creating awareness, promoting behaviour change, capacity building and advocacy at the local and state levels.
Recently, communities in and around the Jhadol block of Udaipur participated in a World Water Day Fair jointly organised by the Rajasthan State Pollution Control Board, UNICEF and Development Alternatives. The fair aimed at sensitising communities on the impacts of climate change and global warming using contextualised and culturally relevant behaviour change communication tools like showing people theatre in the form of a puppet show, engaging with children through games and flipping the bottle activity and water testing.
In the days to come, Development Alternatives plans to undertake a range of such interventions to develop a knowledge network of children, adolescents and women who are equipped with local climate adaptive practices. This will also include sensitisation of school teachers, local stakeholders and planners to ensure that these practices make their way to local risk reduction plans and risk education curriculum. ■
Sanghamitra Misra
smisra@devalt.org
Tej Prakash Yadav
tpyadav@devalt.org