Compendium of Best Climate
Adaptive Practices
Climate change is one of the most serious threats to the growth and development of countries currently. Climate change manifests itself in extreme weather events that impact the lives of millions of vulnerable communities across the world.
Climate change may be observed all over the world in every type of climate setting from the temperate to tundra regions. The average temperature is on the rise and erratic rainfall is becoming more common than rare. So much so, it is no longer surprising when unseasonal rainfall does occur. With glaciers over the Arctic and Antarctic region melting away, the sea levels are slowly on the rise. Erratic and heavy rainfall combined with longer dry spells is resulting in an increase in incidence of droughts and floods. This can be ultimately seen in the form of 'shifting of climatic zones', which has been reported to endanger both development successes and the environment.
Climate Change Scenario: Indian Context
India is a large emerging economy with a great variety of geographical regions, biodiversity and natural resources. It is particularly vulnerable to climate change owing to its geographic diversity, strong dependence on agriculture, increasing exploitation of natural resources coupled with population growth and socio-economic challenges. In the coming future, climate change may alter the distribution and quality of India's natural resources and adversely affect the livelihoods of its people by affecting the agricultural productivity and thereby quality of human life.
It is reported that the land surface temperature in India has increased at a rate of 0.2 degrees Celsius per decade during 1971-2007. As a consequence of which, a shift in the hydrological cycle has been happening. This had lead to consequences like intense rainfall at several places thereby causing flood, while also causing drought occurrences in other areas.
India's Development Scenario: Inter linkage of SDGs and Climate change
India is confronted with the challenge of sustaining development amidst the threat of climate change. India stands 18th in the world on the Climate Risk Index with the score of 38.50, indicating the high level of exposure and vulnerability to extreme events.
In the year 2015, the year witnessed adoption of Sustainable Development Goals (SDGs) by the world leaders at the 70th UN Summit. India is one the nations who signed the adoption of post 2015 development agenda and in principle aims to achieve the 17 Sustainable Development Goals by 2030.
Amongst the Sustainable Development Goals, the major concerns in the Indian context are for water security and climate change. Ensuring water security (Goal 6) for domestic, agriculture and industry applications and sustainable management of our rivers and water bodies in order to retain the ecological flows is another huge task. Goal 13 of the Sustainable Development Goals directly aims to combat climate change and aims for building policies and plans to combat climate change.
The overlaps in the Sustainable Development Goals and climate change issues would need the policy makers and planners to strategise and address the approaches now in order to effectively adapt to tomorrow's impacts. Apart from looking to cut down the serious emissions or other polluting activities, there is an urgent need to adapt to the inevitable climate change impacts on the horizon.
Adjustments in human and natural systems are made in response to actual or expected climate stimuli or their impacts that moderate harm or exploit beneficial opportunities. These adjustments are referred to as Adaptation to Climate Change or Climate Adaptive Practices.
Collating and dissemination of good practices from all over India and around the world will help in promoting learning and sharing of experiences.
Some of the good practices for water conservation are briefly described below:
Restoration of Traditional Water Storing Structures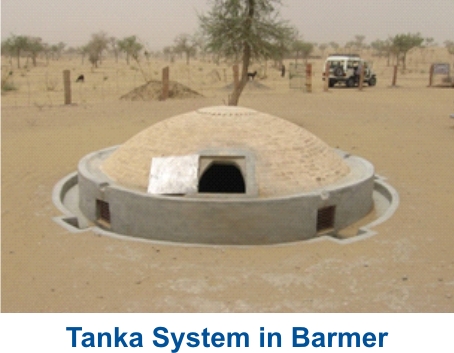 Tanka System - The arid and semi-arid region of West Rajasthan receives minimal rainfall. Chronic over-exploitation of ground water has been reported. This has resulted in decreasing water tables.
Consequently, traditional structures called Tankas have been constructed in a variety of places like court yards, in front of houses and temples, in open agricultural fields, barren lands etc. These are built both for household and community usage using locally available materials. Their use is to collect rain water for drinking purposes. These are typically underground structures of varying shapes and sizes. Materials used for constructing them can vary from stones to bare soil, cement/lime with Zizyphus Numularia thorns.
Promotion of Ground Water Recharge with Special Focus on Over Exploited Areas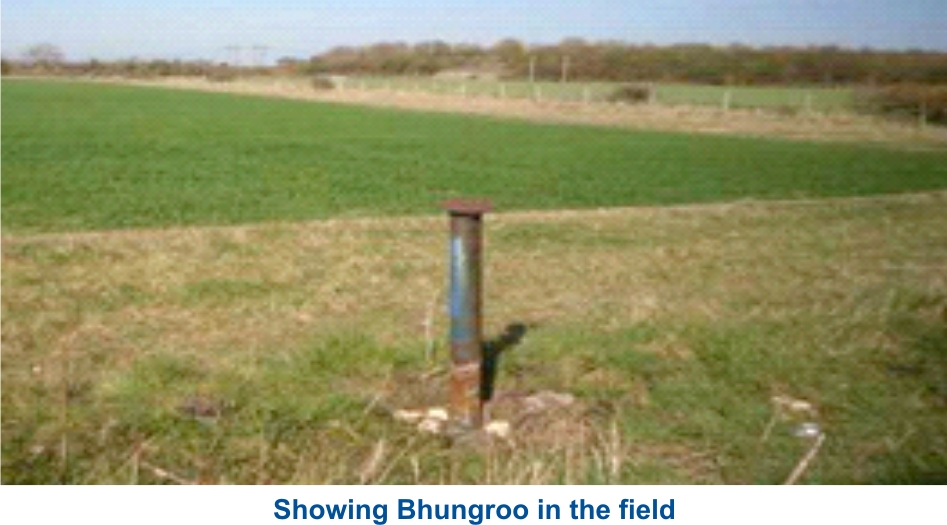 Bhungroo - Drought is a serious issue in Gujarat, particularly for underprivileged female farmers whose livelihood depends on the monsoon. They experience water logging in peak cropping season and severe water scarcity for the rest of the year.
Bhungroo is a massive underground reservoir that harvests water in the rainy season and can supply water for more than half the year. The non-saline rainwater when mixed with the underground saline water brings down the salinity of the groundwater, making it fit for agricultural use. This water can also be used for raising livestock, drinking, other household chores and sanitation uses. Each Bhungroo unit improves land fertility for five families and guarantees cropping for two seasons over the next 30 years.
Improving Quality of Water - Clarification and Filtration using Plant Parts
Highly turbid water with fine suspended particles is found in the southern states, especially Kerala and Tamil Nadu. Wiry roots of the rhizomes from the 'Ramachham' (Vetiveria zizanoides) are placed in a clay jar, which has tiny holes in its bottom. Raw water is poured into this jar, and then the water is allowed to filter through this layer of roots trickling through the tiny holes at the bottom. Usually this filtered water is very clear and has a pleasant smell.
Encouraging Water Management Practices - Watershed Management Programme, Madhya Pradesh
The watershed programme in Madhya Pradesh have created created several tiers of institutions:
first, at the state level, for policy coordination;

second, at the district and milli-watershed-level level, for implementation and coordination;

finally, at the village level to ensure that all villagers acquire an interest in the effort.
Efforts have been made to give local communities powers over decision making and control over resources. The Watershed Development Committee, made up of village people actively manages funds meant for the programme. It also tries to bring together all the important interest groups in the village and thus replicate the concept of gram sabha.
Conclusion
It should be noted that it is never enough to emphasise again and again that projected patterns of any of the climate and weather patterns are associated with a degree of uncertainty. Nevertheless, this should not put the country/state/community at ease and comfortable in their shoes. It is important for all important stakeholders to take cognizance of the issue at hand, learn from existing best climate change adaptive practices in the world and in our own country.
New and innovative approaches to water resources management and its development are vital to reduce vulnerability and livelihood insecurity among the poorest and facilitate adaptation to the uncertain effects of climate change. ■
Deepa Chaudhary
dchaudhary1@devalt.org
Swamili Khurana
skhurana@devalt.org

References:
Centre for Science and Environment. (2000). Fighting against pollution. Down to Earth
Culture & Development in Thar
IPCC 2007
Kreft & Eckstein, 2013
Purifying Water the Green Way, Rajiv Gupta, www.d-sector.com/article-det.asp?id=411
Rajiv Gandhi Watershed Mission
Rainwater harvesting in rural India - taankas in the Thar Desert, by Megan Konar, Waterlines, Volume 25, Number 4, April 2007 , pp. 22-24(3). Publisher: Practical Action Publishing
United Nations Framework Convention on Climate Change, Momentum for Climate Change, http://unfccc.int/ secretariat/ momentum_for_change/ items/8694.php
World Bank. (2010). Economics of Adaptation to Climate Change: Synthesis Report. Washington DC: The World Bank.