Role of Farmer Producer
Organisations in Improving Agriculture

T

here is a worldwide consensus that high rates of economic growth contribute to economic and social development and poverty reduction. At the same time, there is a growing recognition that poverty reducing growth depends on the quality of growth: its technology, finance, institutions and sustainability. Recent assessments of growth converge on the view that the rate at which countries grow is substantially determined by:

• Their ability to integrate with the global economy through trade and investment

• Their capacity to maintain sustainable finances and sound money

• Their ability to put in place an institutional environment in which contracts can be enforced.
Keeping this in mind, in 2015, producers were organised into collectives for means of reducing the risks in agriculture and improving the access of small and marginal producers to investments, technology and markets. Development Alternatives (DA) has been providing support to a variety of Farmer Producer Organisations (FPO s) in different domains and geographies. The core mission of Development Alternatives is focused on increasing the productivity of small and marginal farmers, value addition and efficient linkages between producers and markets. As part of this mandate, DA supported by NABARD has been mobilising and strengthening the FPOs and handholding them for a period of 3 years, through regular inputs of training and capacity building, linkages to technology, value added services and marketing opportunities.
Capacity Building and Finance: Development Alternatives seeks to develop the capacity for sustainable farming by addressing the need of livelihood security of the small and marginal farmers. This capacity building programme is also helping to develop strategies and protocols that will enable farmers to establish linkages with the formal and non-formal institutions in credit, trade, market, skill development as well as networking with agri businesses in the targeted regions. Under the project, more than 1000 farmers have been associated with vegetables, seeds production, agri-inputs supply and vermi-compost businesses. These farmers have been able to access timely credit during sowing seasons. They have also been given training to increase their scientific and technical knowledge of increasing soil fertility and improving farm productivity.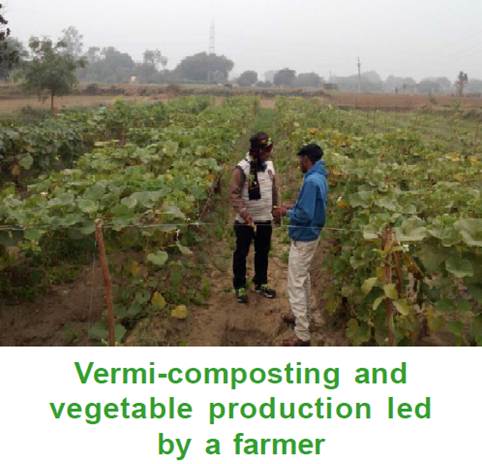 It is a challenging task supporting all active FPOs and their members, addressing their diverse needs and demands, enhancing their capacity and bargaining power and ultimately helping them to move up the various agri value chains in which they are engaged. The FPOs continue to struggle to establish viable and sustainable business models and achieve significant revenues and returns to their members. More often than not, they are languishing at the bottom of the value chain, creating doubts among members and outsiders alike about the rationale of their formation. FPOs, irrespective of their type, also face common challenges in terms of organising producers, hiring and retaining staff, raising capital including working capital, increasing the capacity of staff and board members, providing effective agriculture extension services to farmers, developing processes and systems for collecting, processing, value addition and marketing and understanding value chains for effective interventions.
Technology: Technical support is also given to the FPO s by way of identifying capacity and resources available to improve their business associations and access to better technology and innovations coupled with appropriate packages.
Various set of services provided by FPOs are covering almost all aspects of backward and forward linkages which include inputs and technical services for processing and marketing. Development Alternatives looks forward to even greater collaboration in the future for systems that drive large scale change, particularly in terms of how critically needed investment from pools of capital can be drawn into disaggregated business models, along with required changes in the policy environment. ■
Omkar Gupta
ogupta@devalt.org