Agriculture and Panchayat Planning

A

griculture is considered to be the backbone of the Indian Economy. It has played a key role in guaranteeing food and nutritional security, sustainable development and alleviation of poverty. An estimate by Central Statistics Office declares that the total share of agriculture and allied sectors (including agriculture, livestock and forestry and fishery) in terms of Gross Domestic Product was 13.9% during 2013-14 at 2004-05 prices. Government of India in its budget of 2016-17 has planned several programmes for sustainable development of agriculture. Programmes like 'Paramparagat Krishi Vikas Yojana' is one such prominent initiative. Other programmes and actions include improved access to irrigation through 'Pradhan Mantri Gram Sinchai Yojana', enhanced water efficiency through 'Per Drop More Crop', continued support to the Mahatma Gandhi National Rural Employment Guarantee Act (MGNREGA) and the creation of a unified national agriculture market to boost the income of farmers. The country ranks second for agricultural land area (157.35 million hectares) in the world and is the largest producer of spices, pulses, milk, tea, cashew and jute. It is also the second largest producer of wheat, rice, fruits, vegetables, sugarcane, cotton and oilseeds1.

Despite these achievements, the agriculture sector has been confronted with several challenges especially challenges faced by small and marginal farmers such as lack of irrigation facilities, degradation of natural resources and low levels of awareness among the farmers about improved agriculture practices and use of appropriate technology. It requires urgent and active involvement of local stakeholders in decision making processes at the village level so as to apply their wisdom and indigenous knowledge in developing village-agriculture plans through a decentralised planning process which is in tune with the local needs and aspirations. To strengthen this concept, the government has taken new policy initiatives. Gram Panchayat Development Plan (GPDP) is one such effort which reinforces people and stakeholders' participation in the local planning processes.

Role of Panchayat in Agriculture Planning

After the 73

rd and 74th constitutional amendments, the Panchayti Raj Institution (PRI) is the major driver in the development of rural areas. It acts as a single window for implementation of all developmental schemes. PRI is the main planning and executive agency for all kinds of development projects at the Gram Panchayat level.

To prepare a good quality plan, quality of participation needs to be expanded and conscious efforts have to be made to ensure that every section of society participates in the Gram Sabha with active contributions on discussions towards identifying and prioritising development issues and suggesting optimum solutions.

For this exercise, Gram Panchayats should take the services of subject matter specialists so that the Panchayat can make better participatory micro-plans. Simultaneously, it can play a better role in preparing Panchayat level agriculture plans aligned with district vision and district agriculture plans.

The following steps can be taken to develop a decentralised Panchayat level agriculture plan:

• Formation of planning team and its capacity building

The first step involves consultation with the local community for the formation of a planning team to be constituted by the Gram Panchayat. Youth, women, government officials, PRI members should be the participants of this group. After the formation of the planning team, intensive capacity building exercises should be organised on the different aspects of decentralised planning such as vision building, data collection etc.

• Development of vision

In this step, the urgent needs and long term development requirements of the village should be discussed keeping in view a certain time frame with due consultation of community and concerned line departments/stakeholders. This vision document must be discussed with Technical Support Institutions (TSI), Block Agriculture Planning Unit (BAPU) and District Agriculture Planning Unit (DAPU) for qualitative inputs if required, so that Panchayat level vision statement can be aligned with block and district level vision to fulfil the state level vision.

• Data collection, analysis and identification of sectors

After the development of vision statement, the process of data collection starts which includes socio-economic status of households, literacy rate, caste group, land use pattern, source irrigation, major crops and its average yields and traditional agricultural practices. This practice of data collection should be done by a trained team of planning members. Data analysis by the team members should be the next step. During the process of data collection and its analysis, Panchayat should take the services of experts so as to improve the quality of data and its analysis. After the analysis of data, findings should be shared with the community members so that collective developmental strategies can be decided.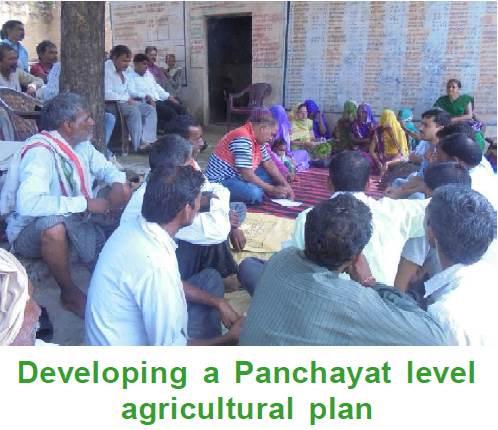 • Developing options for identified sectors
After the data analysis, following areas of intervention should be identified:
Soil and water conservation activities to control soil erosion.

Promotion of water harvesting.

Maximisation of irrigation use efficiency by increasing use of micro irrigation technology.

Promotion of integrated crop management practices.

Promotion of quality seeds.

Promotion of allied sectors such as dairy, poultry etc.
This will be developed by the planning team with due consultation of the community, experts, block and district administration. The Panchayat should also take the services of experts from research institutions, subject matter specialists etc. As a result, a design for sector wise development will come out vetted by the experts of different sectors. After the finalisation of the thematic sector, broader level discussions should be done for more suggestions and clarity of the strategies.

• Identification of resources and matching with needs

The next step is resource identification. Resources can be identified from different central and state sponsored schemes, tide and untied funds, MP/MLA funds, locally available natural resources, special purpose grants etc. After resource identification, the planning team should sit together and match the needs with the identified resources. In the process of resource mapping and matching exercise, the Panchayat should take the help of block, district administration and Technical Support Institutions.

• Approval of plans by the Gram Sabha:

After the preparation of the village agriculture plan, this should be discussed in the Gram Sabha for approval. If any changes are suggested by the Gram Sabha, the Panchayat should modify the plan as per suggestions and resubmit it to the Gram Sabha for approval.

• Integration of the Panchayat plan with the Block and District level plan

After the approval by the Gram Sabha, the plan should be submitted to the block for technical validation, compilation and aggregation at the block level. After the compilation of the Panchayat plan at the block level, the same should be forwarded to the district for compilation and aggregation in the district plan. The idea is that the Gram Panchayat plan will be consolidated at the block level. The plan prepared by all the blocks will be consolidated at the district level and the plan of the different districts will be consolidated at the state level.

• Submission to the Zila Panchayat for approval

After the compilation and preparation of district level plan, this should be presented to the District Planning Committee (DPC) for approval. If DPC suggests any changes, the district plan will be resubmitted in the DPC after incorporating the suggested changes by the committee.

• Monitoring

Once the plan is approved and taken for implementation, it is essential to closely monitor the progress. For this purpose, the Gram Panchayat should constitute the monitoring committee to monitor the work and present physical and financial progress at the Panchayat level. The same should be presented in the Gram Sabha meeting time to time so that in the case of delay in the work by a concerned agency, necessary action can be taken by the Gram Sabha and Gram Panchayat.

• Social Audit

The social audit should be organised by the Gram Panchayat at regular intervals so as to provide an opportunity to the Gram Sabha to assess the quality of work done and inspect the records. Before organising the social audit, wider publicity of the same should be done by the team members to inform the local people which can help towards ensuring increased participation of all sections of the society.

From the above discussion, we can conclude that agriculture planning at grass root level is the need of the hour. It should be done in a decentralised fashion with due participation of different stakeholders including government functionaries, line department officials, subject experts, Gram Panchayat members, women, farmers etc. ■

Chandan Kumar Mishra
ckmishra1@devalt.org

Sanghamitra Misra
smisra@devalt.org

Endnote


1 India Brand Equity Foundation (www.ibef.org)