Hiware Bazar- An Ideal Village

H

iware Bazar is a village situated in the semi-arid district of Ahmednagar in Maharashtra. Being in the rain shadow area of the Sahyadri range with less than 400mm of rainfall per annum, water is scare here.

In the 1970's and 80's, Hiware Bazaar faced acute water crisis and land degradation. Being dependent on rain fed farming this led to limited seasonal agriculture here. Deprived of their sole source of income, farmers migrated to surrounding towns and cities for work. Those who remained turned to local liquor production and distribution giving rise to criminal activities and started clearing the dwindling forest nearby for survival.

Things turned around in 1990, when the youth of the village started contemplating ways to remedy the situation. They elected Popatrao Baguji Pawar as their Sarpanch to lead the change. Together, the residents and the Gram Sabha (village council) created a strong participatory institutional set-up and adopted an integrated model of development with water conservation at its core.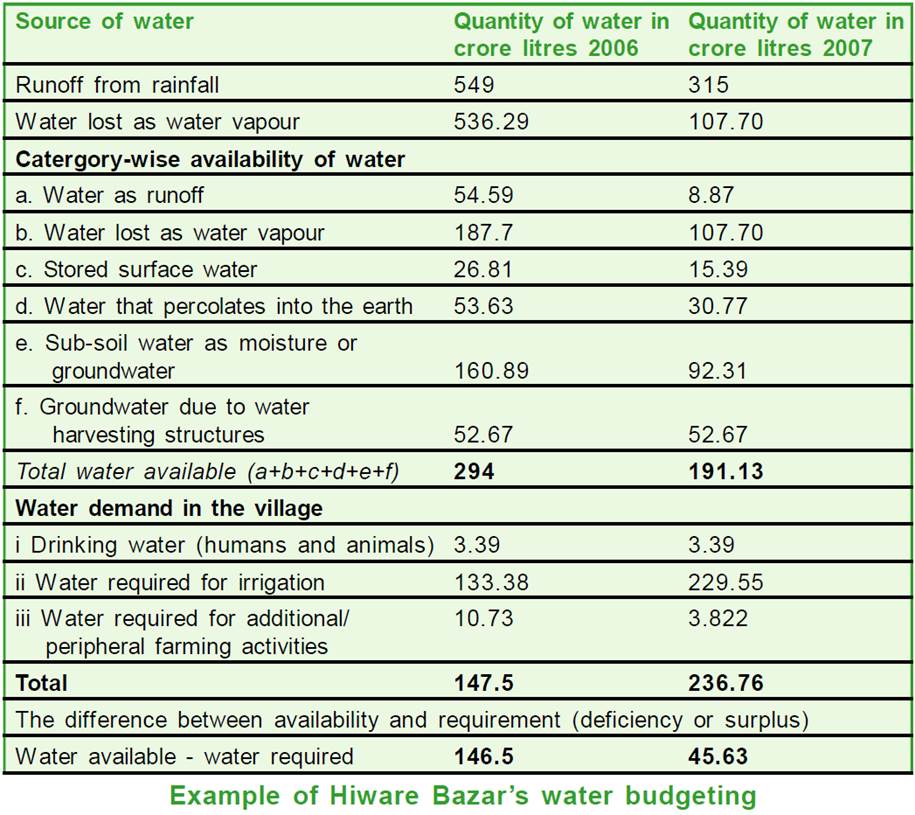 One of the Gram Sabha's biggest innovations has been its water budgeting exercise. Since 2002, Hiware Bazar has been doing an annual budgeting of water assisted by the Ahmednagar districts' groundwater department. Every year, the Gram Sabha measures the total amount of water available in the village by monitoring the groundwater level of the six observation wells identified in the village, along with the amount of total rainfall received measured by the village's 3 rain gauges. It then decides from the total water available, the amount of water that can be used and for what purpose. Water for drinking purposes (of humans and animals) and for other daily uses gets top priority. After budgeting for drinking water, 70 per cent is set aside for irrigation. The remaining 30 per cent is kept for future use by allowing it to percolate and recharge groundwater. Based on the water available for irrigation, the Gram Sabha prescribes the agricultural cropping to be taken up. See example of water budget below (Table 1).

As a result, land under irrigation has gone up from 120 ha in 1999 to 260 ha in 2006.

This practice of water audit has been very useful in ensuring sustainable agriculture. Overtime, the cropping pattern has undergone a change from food crops to cash crops. This has not affected the food security of the village as many families now buy food grains from the market. Additionally, water conservation has led to increased grass production, which in turn increased milk production from a mere 150 litres per day during the mid-1990s to 2,200 litres per day presently. The profits yielded from dairying and cash crops have resulted in a 73% reduction in poverty between 1995 and 2008. In 2006 the income from agriculture was Rs 24,784,000. This means an average per capita agricultural income of Rs 1,652/month. This is almost double the Rs 890/month income level for India's top earning 10 per cent of the rural population in 2004-05.

Hiware Bazar is a perfect case example of the social, economic and environmental benefits that can be derived from more involvement and planning at the village level. Owing to it's humungous strides in water management as well as agriculture, education, livelihoods, women empowerment and sanitation; Hiware Bazar has been declared as an 'Ideal Village' by the Government of Maharashtra. ■

Sonia Cyrus Patel
spatel@devalt.org

Reference


http://www.ceecec.net/case-studies/local-governance-and-environment-investments-in-hiware-bazar/