CLEAN-India Celebrates Eco-friendly Holi
Col. V. Katju


H

oli, the Indian festival of colours, gaiety, fun and frolic is associated with Lord Krishna and his Gopis. One can imagine the divine abandon with which the supreme Avatar (incarnation) mingled with his consorts spraying fragrant radiant colours at each other in hues of red, green and pink from flowers like tesu (Flame of the forest), harsringar, marigold, hibiscus, rose and other organic derivatives. The colours were good for the skin and did not harm the human body and had therapeutic value. Till the 1950s, families used to prepare their own colours from these dried flowers in the form of powders called gulal and boiled them to get concentrated, deep wet colours.

Such a colourful Holi was soon overtaken by commercialisation which started providing exotic colours but in a highly dangerous form. Toxic chemicals are being used to get the desired colours :
| | |
| --- | --- |
| l | Purple from Chromium Iodide |
| l | Red from Mercuric Oxide |
| l | Green from Copper Sulphate |
| l | Black from Lead |
| l | Glitter from Mica and glass |
All these are highly dangerous to the skin, eyes, respiratory tract, can cause renal disorder and some are even carcinogenic. They do not wash away easily, get mixed in drains and sewage systems and pollute water bodies and the soil. The festival, which used to be a healthy revelry of both men and women, boys and girls, is no longer an exuberant, healthy event. Womenfolk shy away in fear of being splashed and smeared with toxic colours, enamel paint, and even cow dung.
Action Plan
To make people aware about these eco-friendly natural colours, CLEAN-India has spearheaded a campaign against toxic Holi colours. Our message for Eco Holi is "Holi Ke Rang, Phoolon Ke Sang". Workshops have been carried out in numerous schools of Delhi, Noida and Gurgaon and 17 other CLEAN-India centres. CLEAN has spread awareness and imparted training to make simple eco-friendly Holi colours among thousands of school children and teachers. Here the students were apprised of the harmful effects of the Holi colours sold in the market and were taught how to make natural and safe colours at home. The excited students promised to spread this message to their friends and family. Many people have returned to natural colours for Holi.
Some of the comments from our students:
| | |
| --- | --- |
| l | I never knew that I could make Holi colours on my own from flowers and leaves, Prerna, Class VII |
| l | Now I can have my own palette of colours to play Holi.: Ravi, Class VIII |
| l | I hated Holi because grease and other dirty Holi colours made me sick. Now I look forward to it. Sweta, Teacher |
In Delhi, CLEAN-Delhi has been fortunate enough to get full support from the Delhi government in spreading awareness on a mass scale. In close co-ordination with Delhi Government and the active encouragement of the Chief Minister Smt. Sheila Dikshit, CLEAN-Delhi took upon itself to propagate eco-friendly Holi colours for the festival on 29 March 2002. The slogan was: "Khelo Holi Naturally" and "Holi Ke Rang Phoolon Ke Sang". The Delhi Government was gracious enough to provide a stall at Delhi Haat, near the INA Market. The Environment Systems Branch of Development Alternatives geared itself for the task. The main objectives were :
| | |
| --- | --- |
| l | Create awareness among the citizens regarding the harmful effects of toxic, chemical based colours. |
| l | Introduce eco-friendly colours based on organic ingredients, which were easily available. |
| l | Provide additional income to marginalised groups of the weaker sections of society and women in the rural sector. |
CLEAN-Delhi children were asked to create awareness among the communities. They took a pledge not to use synthetic colours in their homes and (alongwith their parents) impressed upon the various Residents Welfare Associations in their zones on reviving the traditional ways of playing Holi. The tribal self-help groups of women in Newari Block of Tikamgarh District, M.P. went on an overdrive. Under the watchful eyes of D.A. professionals at TARAgram, the regional centre near Orchha, the plan took shape. Four
types of coloured to be prepared:

Red – from rakt chandan and rose
Green – from henna and tulsi
Yellow – from turmeric and marigold
Wet Colour – from dried tesu flowers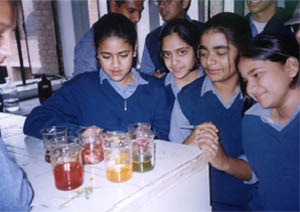 Students preparing natural colours for Holi

Production at TARAgram

The Hand-made Paper Unit at TARAgram was asked to manufacture gift packs along with kalawa, the sacred orange-yellow thread for wrapping the pack. Care was taken to ensure that no polythene was used for packaging. The gift packs were made by 40 Sahariya Tribal Women who work in the Handmade Paper Unit at TARAgram. Customised packaging was done for Dr. Morepen Group of pharmaceutical industry on receipt of firm orders. Turmeric, which is widely grown in the Bundelkhand region was procured. Self-help groups were given instructions to ensure quality production in terms of consistency, correct mix of ingredients and soothing colour. Tesu flowers were collected and dried and put in packages having instructions on preparation of water colours like boiling the dried flowers in correct quantity of water, keeping it overnight and diluting it with water for a soothing yellow-orange fragrant colour.

Strategy

As it was the first year when these colours were being introduced, the strategy was to produce a limited number of packages. Shops in various markets of Delhi were contacted for their co-operation as any change would be resisted by wholesalers and retailers who do brisk business with synthetic colours during this one-day festival.

The shopkeepers were initially hesitant to take large quantities even after an assurance that unsold colours will be taken back. They were also coaxed to retain minimum profit margins, keeping in view society's commitment to lend a helping hand to the low income group and poorer sections of the community.

The Armed Forces also showed keen interest, especially the Engineer-in-Chief's Branch at Army Headquarters and Rajputana Rifles Regimental Centre. The latter took a bold step to completely ban toxic colours in the Regimental Centre and gave strict orders to the civil contractor not to keep them in the canteen.

Distribution & Sale

As the auspicious day neared, the sales picked up. Two women members of the self-help group from Newari were invited to Delhi and managed the stall at Delhi Haat, explaining to the shoppers the ingredients and methods of preparation. Very soon, awareness was created. CLEAN-Delhi schools were most generous and co-operative in not only purchasing sizeable quantities for themselves but also taking packets for their local communities, explaining to the people the benefits of eco-friendly colours. Ms. Naini Jayaseelan, Secretary Environment in the Delhi Government, not only gave a helping hand but also did a bit of marketing herself.

For the Delhi markets, it was a novelty, something they had never seen before and a replacement of the hideous toxic colours for which they never realised there would be an alternative. Children who had gone out with their parents for Holi shopping were so receptive of the novelty that they prevailed upon their parents to spend a bit extra for the natural colours. Such a care for the environment by those at this tender and formative age was most heartening to see.

Although the introduction of these eco-friendly colours was miniscule keeping in view the large population, it has been a grand leap forward in creating awareness about eco-friendly products.

Conclusion

CLEAN-India Programme has taken propagation of eco-friendly colours during Holi rather seriously. It is a part of their social commitment of campaigns against environmental degradation practices. Once the awareness is created, the citizens will join in wholeheartedly to create a movement, which will act as a soothing balm on the wounds that we human beings have inflicted on Mother Nature.

A tiny spark will certainly ignite a fire of consciousness, a realisation of being in tune with nature. We have to think what we can give to improve the environment and not what we keep on taking endlessly from it, far beyond our needs.

We are confident that a radical attitudinal change will result during the Holi of 2003, reminding us of our culture, our traditions and the Divine flute-playing Avatar (Lord Krishna) in his Ras Leela, a communion between Purush and Prakriti, in tune and in step, during this wonderful festival of colours, joy, fun frolic.

q
Holi with Natural Colours

After learning how to make our own natural colours for Holi from CLEAN-Delhi, all the students of our school motivated others to use natural colours and were successful.

My neighbours and relatives were also inspired. They swore they would use only natural colours on Holi. Everyone promised to give some material next Holi to make natural colours for fun and for the safety of everyone around.

Dewakshi Dua
VII E, Delhi

Every student of our school is a part and parcel of CLEAN-India programme starting from Nursery to Class XII. The most important difference it has made is the positive attitude towards the environment. To quote a simple example, no child in our school plucks a single leaf from the plants planted.

Another is that we all celebrated Natural Holi this year. Each and every student learnt and made a variety of natural Holi colours for his or her family. Not only that, the packets in which they were packed were made from old circular papers. All the students made the colours with enthusiasm and many even made them for their friends and neighbours. Even I made a lot of colour and convinced my entire neighbourhood to use them instead of the toxic chemical colours.

Ms. Nita Ganguly, Teacher, Delhi

Holi : The fest of natural colours

The fest of colours is here,

So open your eyes and ears.

Play Holi with Non – Toxic colours,

And have a safe and fun filled Holi every year.

Use red sandalwood powder

To make a red colour,

And haldi for a beautiful sunny yellow,

And Tesu flowers soaked in water

Gives a wonderful orange mellow.

Raghav Srivastav
VII , Delhi