Paper Recycling
A learning experience for students

Deepti Gumber

deepti@sdalt.ernet.in
"An idea that helps create something good out of nothing"
Paper is required and used for anything and everything one can think of. With hundreds of final uses, paper satisfies many important human needs. In fact, it is an integral part of everyday life. The technological advance with computers and photocopiers has increased the consumption and wastage of paper. Indian consumption of paper is five kilograms per capita, with an expected growth rate of 6-7% per annum over the next five years.
By using paper carelessly, we contribute to the depleting forest cover, drastic climate change and water pollution. For every ton of paper, the paper industry guzzles up 2.8 tons of dry timber and 24,000 gallons of water, besides electricity and other resources. Pulp and paper industry is a major contributor in terms of air and water pollution.
Recycling of paper not only saves trees and minimises pollution, but also reduces the waste problem by utilizing waste material like used paper, cotton rags and unwanted biomass.
Benefits of paper recycling
Waste reduction
l

Paper accounts for a significant amount of municipal waste

l

Recycling paper means less waste and disposal problem

l

Energy conservation


60-70% energy savings over virgin paper production

l

Resource conservation


l Recycled paper uses 55% less water and helps preserve our forests

l

Pollution reduction


Recycled paper reduces water pollution by 35%, reduces air pollution by 74%, and eliminates many toxic pollutats

l

Livelihood creation
Recycling of waste paper creates more jobs
If each child saves one sheet of paper a day, then 40,000 trees are saved per year by students alone!
It is with this mission that a few schools in Delhi have installed the TARA Mini Paper Recycling Plant with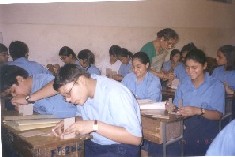 support from Department of Environment, NCT Delhi. The students have done significant work in reducing the paper waste generated in their schools. Secondly, the students themselves are involved in the recycling process, which helps in understanding the various resources and efforts put in for making paper.
The TARA Mini Paper Recycling Plant is an appropriate system to turn waste paper, cotton rags and other such waste into paper for all purposes. The plant is based on an effective and yet simple technology, with which even a child can turn waste paper and cotton rags into valuable products.
The plant is a self contained system for recycling small quantities of waste material i.e. upto ten kg per day.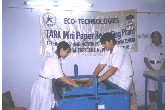 The basic raw material for manufacturing hand made paper comprises cotton rags, denim waste, waste paper and draft waste. The various steps involved are sorting, chopping, dusting, pulping, sheet formation, pressing, drying, calendering and cutting.
Students are also trained on making paper products like folders, penholders, material for display board, lampshades, teaching/learning aids etc. Students have creatively made their own cards, files, folders, invitation cards and certificates for the school. Working on a paper recycling plant demonstrates the concept of recycling waste into 'wealth'.
The real success of the programme is visible in the seemingly simple acts like: students exchanging books in a new academic session, indirectly saving paper and thereby trees. Students of various Delhi schools have been enthusiastically involved in segregating paper waste, collecting and recycling the same. The Department of Environment, NCT Delhi has also helped some environmentally active schools like Green Fields School and many others to set up the plant.

Remember - to use paper is to have an impact on our environment. Our greater goal should be to promote reduction of consumption.

q
Recycle Paper at home!

*

Shred the waste paper and soak it overnight in water.

*

Blend it in a mixer-grinder with a paste of fenugreek (methi) seeds. For colour, add natural colouring agents like Turmeric powder (Haldi), etc.

*

Put water in a pan with a wire-mesh inside.

*

Pour a cup of the blended paper pulp over the mesh and spread it evenly.

*

Lift the mesh and drain the water.

*

Place the mesh on one side of an open newspaper and close the newspaper.

*

Carefully flip the newspaper so that the mesh is on top of the pulp.

*

Press a flat wooden board on the newspaper to squeeze out water.

*

Open the newspaper and take out the mesh.

*

Keep the newspaper open for drying. Dried leaves and petals can be spread on the sheet while it is wet.

*

Once dried, peel off the sheet from the newspaper.

*

Lightly iron the sheet under a piece of moist muslin cloth.