Waste is a Part of Our Daily Life and Lifestyle
62 million tonnes of garbage are generated everyday by 377 million people li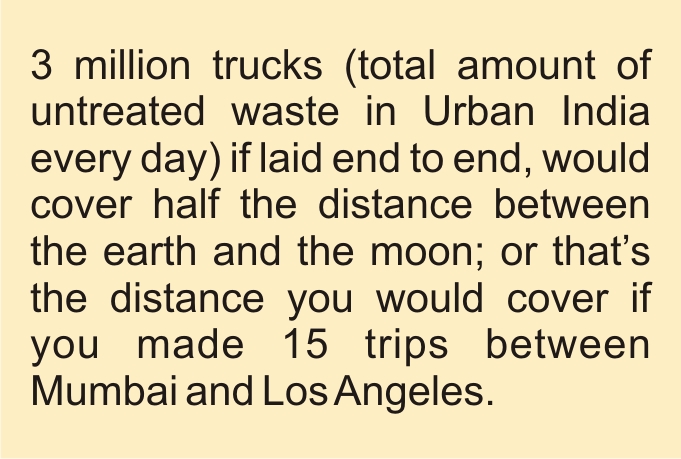 ving in urban India. Our country has now become the world's third-largest garbage generator. However, it is not the amount of waste generated that is as much of an issue as the fact that more than 45 million tonnes, or 3 million trucks worth of garbage is untreated and disposed of by municipal authorities everyday in an unhygienic manner leading to health issues and environmental degradation. (Mallapur, 2014) Waste management is vital for the well-being of generations today and in the future.
The Sustainable Development Goals have duly recognised this concern. There are four specific targets that aim to reduce waste generation. These are:
12.5 - By 2030, substantially reduce waste generation through prevention, reduction, recycling and reuse.
6.3 - By 2030, improve water quality by reducing pollution, eliminating dumping and minimising release of hazardous chemicals and materials, halving the proportion of untreated wastewater and substantially increasing recycling and safe reuse globally.
9.4 - By 2030, upgrade infrastructure and retrofit industries to make them sustainable, with increased resource-use efficiency and greater adoption of clean and environmentally sound technologies and industrial processes, with all countries taking action in accordance with their respective capabilities.
11.6 - By 2030, reduce the adverse per capita environmental impact of cities, including paying special attention to air quality and municipal and other waste management.
Apart from the direct impact of waste management on the above four targets, waste management also impacts achievement of many other goals. Achieving sustainable development and well-being for all cannot be achieved without understanding and addressing the links of waste with social, economic and environment dimensions. Some critical ones are as follows:
1. Resource Efficiency and Livelihoods: Given that the world has already surpassed its resource footprint over its bio-capacity, economic models have realised the finite nature of resources. Efficiency of resource use for catering to the increasing demands of people will be the new economic challenge. Wastes/ by-products from domestic, commercial and industrial processes can be viewed as new resource streams. 20 million people currently make a living by picking up waste from dumps (Waste Aid, 2015). Waste management with an objective of re-utilisation and re-processing being a new upcoming economic sector has the potential of generating more formal employment opportunities in developing, managing and running the waste-resource value chain.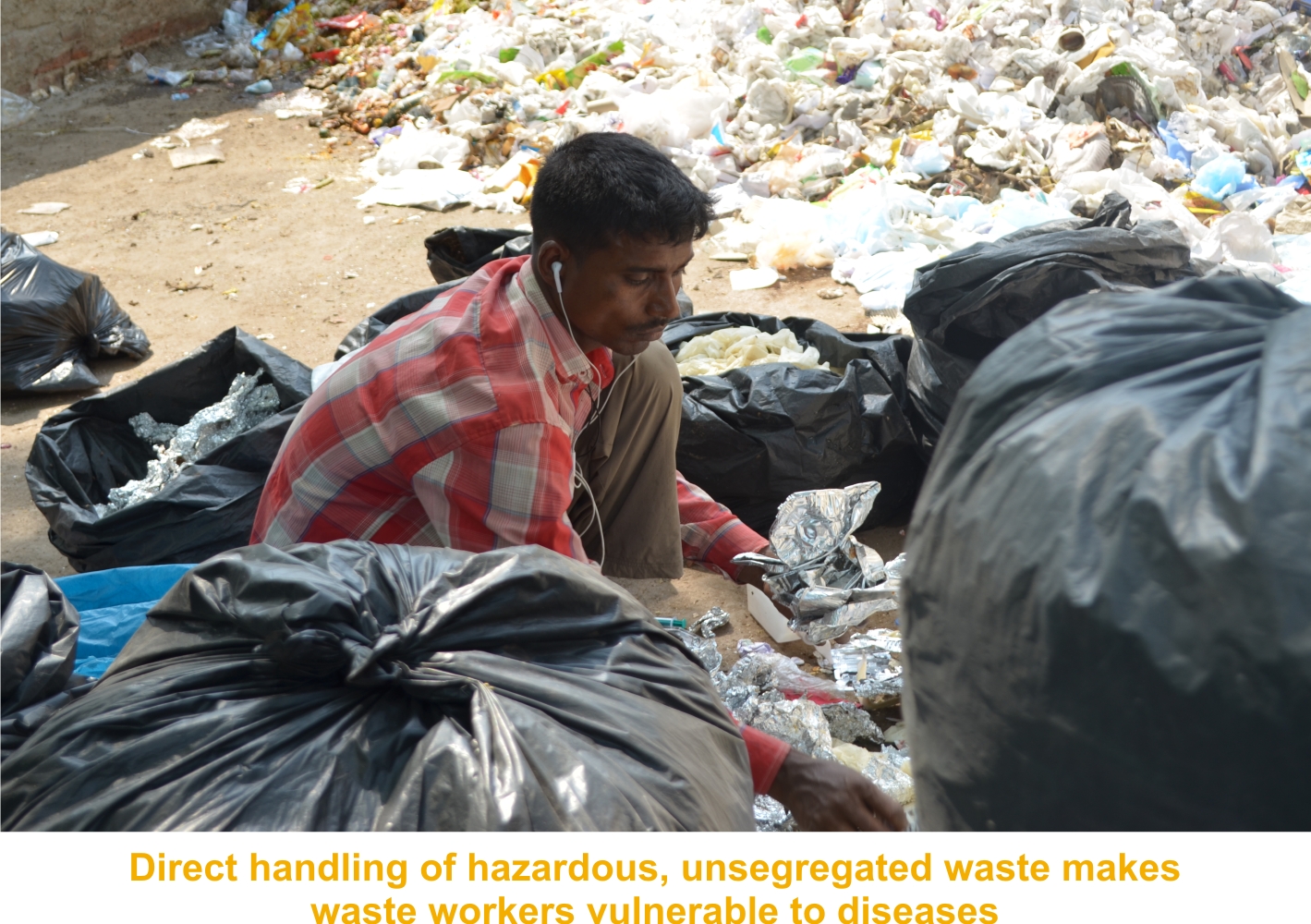 2. Health and Well-being: Waste that is not properly managed, especially excreta and other liquid and solid waste from households and other establishments poses a serious health hazard and leads to spread of infectious diseases. This is due to waste contaminating the air when burnt and leaching into the surface and ground water leading to air and water pollution. Domestic waste poses a serious threat, since it is mostly organic and ferments. Direct handling of sanitary and hazardous waste can result in various types of chronic diseases with waste workers and rag pickers being the most vulnerable. Incineration results in emission of various pollutants in the air which can lead to chronic cancerous diseases. (Waste Aid, 2015). Health impact on the population due to hazardous waste exposure ranges from cancer to genetic interference, birth disorders, immunity system breakdown and neurological imbalance. (Vani, Bhaumik, & Nand, 2017) According to the World Health Organisation, 22 types of diseases can be prevented or controlled by improving solid waste management in India (Mallapur, 2014).
3. Environment: Open dumping and burning of waste damages peoples' health, pollutes the land, air and water and leads to climate change. 40% of the world's waste goes in open dumps (Waste Aid, 2015). These wastes are extremely hazardous to the environment. Waste in the form of air emissions contaminates air quality. Waste that leaches into surface and ground water causes biological contamination of drinking water sources and soil degradation. It is crucial to treat and manage such wastes in a sustainable manner. ■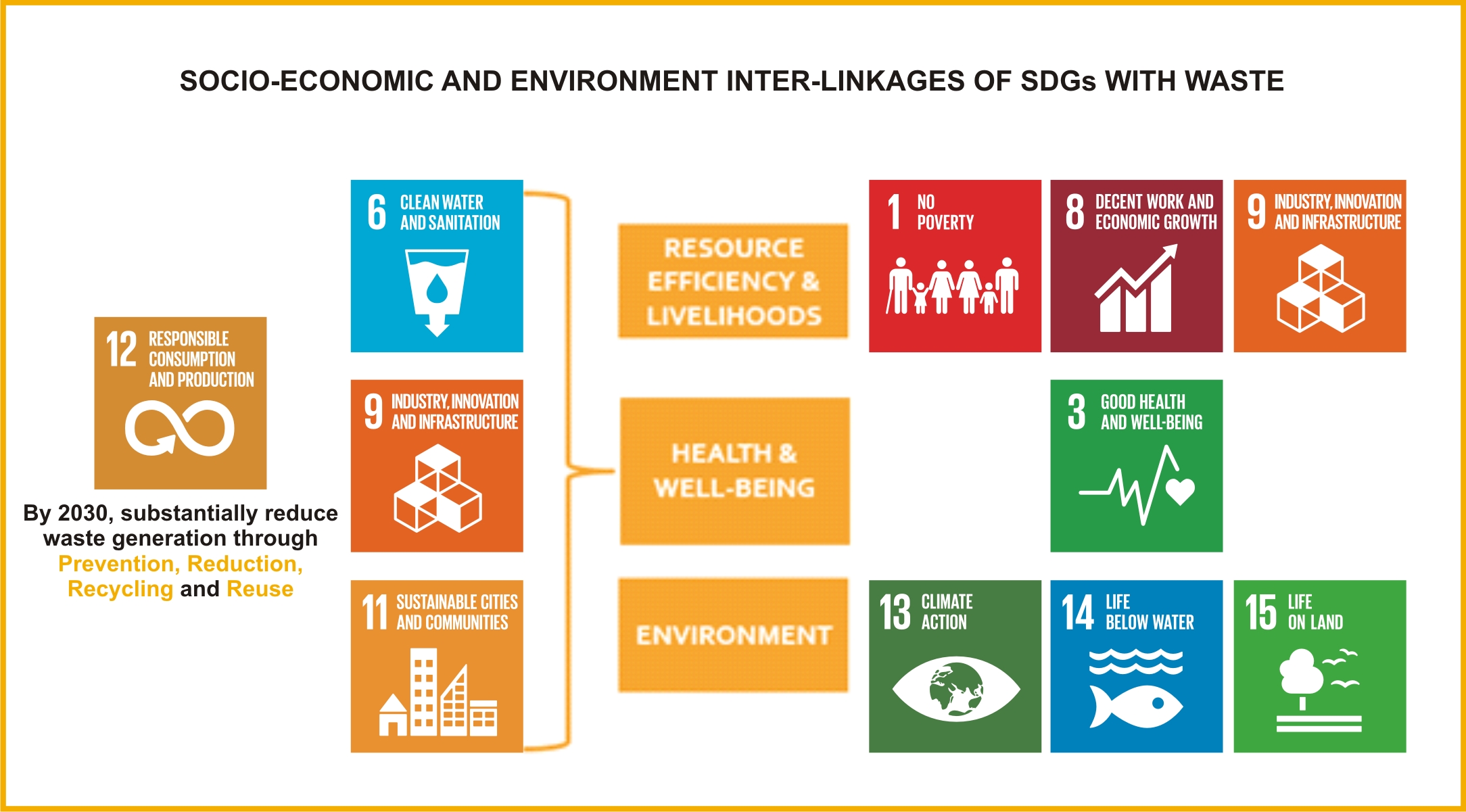 Anshul Bhamra
abhamra@devalt.org