Women Empowerment at a Global Level
Empowering women to participate fully in economic life across all sectors is essential for building stronger economies, achieving internationally agreed goals for development and improving the quality of life for families and communities.
The empowerment of women is often identified as an important aim of international development policies and many donor agencies now include women's empowerment in their development plans and strategies. Although empowerment is often conceptualised as a process (Cueva Beteta 2006)1, most quantitative studies have been cross-sectional, comparing individual women with others in their communities or societies (Malhotra and Schuler 2005)2.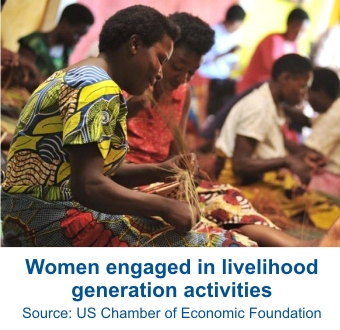 Women in research studies are usually compared with their pre-existing situation and how they have evolved to become more powerful, influencing and independent. These studies can be valuable for cross-national comparisons (UNDP 1995; Ibrahim and Alkire 2007)3 and for documenting changes over time. It is important to keep in mind that the meaning of empowerment indicators are likely to evolve over time and that these changes too should be taken into account, both in developing interventions to foster women's empowerment and in documenting empowerment processes.
This article tries to present the global scenario of projects working on women's empowerment and the research methodologies being followed to monitor the outcomes and impacts on the ground.
Fostering Women's Economic Growth through Special Economic Zones
The International Finance Corporation along with the World Bank under their Gender Action Plan has prepared a case study on Fostering Women's Economic Growth through Special Economic Zones in Bangladesh. This study examines the role that Export Processing Zones (EPZs) can play in creating initiatives that promote women's economic participation as a way to boost trade-zone competitiveness and generate sustainable jobs. This case study is based on findings from a combination of stakeholder interviews, qualitative factory-based research and desk research. The primary research included 45 one-on-one and group interviews with civil society groups, workers' organisations, government and private-sector stakeholders (including international buyers and factory managers). The major impacts from this project are as follows:
Benefits to women: Direct benefits through increasing female workers' health awareness and their access to information and services both within the factory clinic and through outside referrals.
Benefits to business: Programme delivered a $3:$1 return on investment in the form of reduced absenteeism, reduced turnover, and increased productivity4.
Initiative for the Economic Empowerment of Women Entrepreneurs Project
In 2008, Africare began an Initiative for the Economic Empowerment of Women Entrepreneurs Project (IEEWEP) with funding by Exxon Mobil. The goal of the project was to increase women's income and participation in local businesses in Southern Chad. In a society that relies heavily on agriculture, IEEWEP streamlined the way women farmed and took their goods to the market by training them on better agricultural practices and opening two new agro-processing centres5. In the past three years, more than 1,000 women have worked through a graduated business development project, which has diversified their income sources and increased their annual income by approximately 70%. It has been researched and validated by third party evaluators that IEEWEP is working on the women's group effectively. The researchers have taken a broader perspective and included both qualitative and quantitative indicators of women empowerment in their research.
Women Economic Empowerment Community Infrastructure Improvement Project (WEE-CIIP)
AWAZ Foundation Pakistan: Centre for Development Services is implementing the Women Economic Empowerment – Community Infrastructure Improvement Project (WEE-CIIP) since May 2010 in Pakistan. This project is supporting the economic and social empowerment of disadvantaged rural women in selected 50 Union Councils of four districts of South Punjab (Muzaffargarh, Vehari, Rajanpur and Multan)6. The project uses a right based approach to pursue its agenda of providing a solid solution to alleviating poverty. In addition, the project will build the capacity of local government to be able to monitor the road work as well as act as a catalyst for destitute women to support establishing their enterprises / small businesses.
The major impacts of the project have been as follows:
• 1875 rural poor, widows, marginalised and vulnerable women were identified and provided with job opportunities.
• 3250 km earthen road has been repaired and maintained in 50 Union Councils of four districts (Multan, Muzaffargarh, Rajanpur and Vehari).
• 750 rural poor women developed their businesses and started income generation activities through their savings during their two years employment. As a result their 1534 children enrolled in schools who were earlier involved in child labour. 26 women (divorced and widows) became married.
• 1410 women capacitated in business development, basic health and human rights. As a result 1125 women have built latrines in their houses and proper use of these latrines has started. These women are now well aware of their inheritance rights and they have stopped many early marriages in their villages.
• Health insurance facility has been given to 750 women and they are getting benefits through panel hospitals.
• Mobile phones have been provided to all 1875 women for communication and mobile banking.
Global Women's Economic Empowerment Initiative by Swasti in collaboration with Walmart
To empower female garment factory workers and to create a productive workforce, Swasti with the support of Wal-Mart Foundation, has been implementing the Global Women's Economic Empowerment Initiative. By 2017, this programme aims to reach 60,000 women who work in factories that supply products to Wal-Mart and other retailers. The programme will be implemented in 150 factories in India, Bangladesh, Honduras, El-Salvador and China. In India, the programme is implemented by Swasti in 15 factories across the three states of Karnataka, Gujarat and Tamil Nadu and has so far reached about 13,876 factory workers.
Through this programme, Swasti has been able to impart foundational training to about 9487 factory workers in 13 factories. Swasti has also been able to reach out to about 147 families of factory workers through the 'Family Orientation' programme7. The intervention has started to show phenomenal outcomes in the lives of women with improved self-confidence and a positive attitude towards life in general. The programme has also sensitised the workforce about gender equality with women being provided equal opportunities. Swasti has been able to create increased awareness on health, personal hygiene, nutrition and on ways to increase one's savings. Workers have now become aware about informed leave. This is resulting in reduced absenteeism, increased productivity and sustained interest in the workplace.
To conclude, it might be observed that India has enacted many constitutional and legislative provisions for empowerment of women. Many development schemes especially for women have also been launched for improving their lot. Such measures have started giving positive outcomes relating to women's problems. But the position of women in our country still leaves much to be desired. Top priority should be given in our developmental plans for improving female literacy and creating skills and capability among women for enabling them to stand on their own feet. Unless the process of development is properly engendered, it shall remain endangered. ■
Parul Verma
pverma@devalt.org

References:
1 Betata CH, 2006, "What is missing in measures of Women's Empowerment? Journal of Human Development"
2 Malhotra A., Schuler S. R.2005, "Women's empowerment as a variable in international development"
3 UNDP 1995; Ibrahim and Alkire 2007, "Women's empowerment revisited: a case study from Bangladesh"
4 Gender Action Plan 2011, "Fostering Women's Economic Empowerment Through Special Economic Zones, Comparative Analysis of Eight Countries and Implications for Governments, Zone Authorities and Businesses In Partnership with Canada and the World Bank Group"
5 Africare, 2014 "https://www.africare.org/ africares-approach/womens-empowerment/"
6 AWAZ Pakistan 2014, "AWAZCDS-Pakistan's contribution to end early age marriages & empowering destitute women & Young people through Legal Rights Education"
7 SWASTI 2016 "http://www.swasti.org/ global-womens-empowerment"