Women's Federations -
Paving the Way for a Better Tomorrow
Over the last two years, Sahyogini Mahila Mandal (SMM), a women's federation in Jhansi has established itself as a pioneer in collectivising and empowering poor rural women to institute a model of women leadership that is resulting in improving quality of life for themselves, their families and their communities.
The federation was formed in 2014 with support from NABARD and Development Alternatives with the mission of socio-economic empowerment of women aimed at social recognition, income generation and self-reliance. It comprises of members of 250 women self help groups from 31 villages. Capacities of these women have been built to emerge as local change agents in promoting awareness amongst the community members regarding social and environmental issues and influencing local development to be equitable and responsive.
A nukkad natak team, named 'Kashish' (appeal for) comprising 20 federation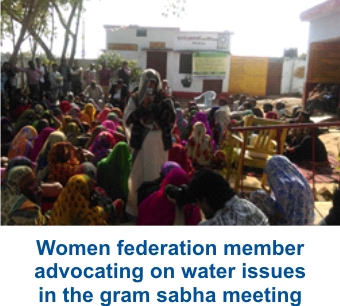 members has been formed to carry out the agenda of creating awareness amongst the community for WASH behaviour change as well as on the need and importance of participation in local governance processes. This team has conducted behaviour change communication in over 30 villages through nukkad nataks, training workshops, promotional campaigns, advocacy and dialogue under different projects of Development Alternatives and NABARD.
30 members of the federation have been trained as Community Resource Persons (CRPs) to streamline all the physical and financial operations of SHGs in Jhansi which helps not only to fast track the financial inclusion process of active SHGs but also helps in the revival of defunct SHGs. Under the leadership of SMM, the community of Punawli Kalan village of Jhansi emerged as decision makers in a self-sustained model of WASH governance through the establishment of a 'Community Owned Community Operated' (COCO) water supply management system ensuring safe drinking water at the doorstep of 350 households - a major victory in the battle against gender discrimination related to water management, faced over the last five years. The federation has also taken significant leadership in influencing local governance processes in 5 villages of Jhansi by means of mobilising participation of the community especially the women in Gram Sabhas, raising voices for collective development instead of individual benefits and participating in the integrated village micro-planning processes.
SMM has also improved the economic status of women members by providing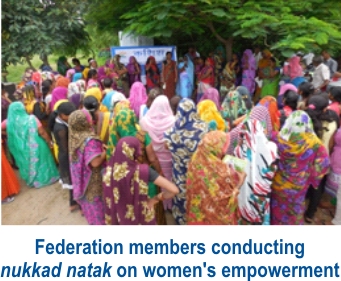 them opportunities to link into different entrepreneurial activities. It has facilitated credit services worth INR 1.5 Lakh to 10 different SHG members to support livelihood generating activities like agriculture and animal husbandry, as well as to help in fulfilling basic amenities like children's education and construction of household toilets. In order to manage the economic service delivery in a lawful way, 100 members of SMM have been joined to form a company named Udita Producer Company, which has been registered under the Company's Act 2013 for undertaking dairy allied business operations. SMM has provided credit support to Udita for initiating business interventions. In this effort, a total profit of INR 20,000 has been attained through operating two micro-enterprises of animal feed at Badagaon block and by marketing and selling of water purifiers and solar lanterns amongst the communities. In the last two years, SMM has achieved a turnover of INR 9.5 Lakh as a cost of providing different socio-economic services to the community.
The rapid growth of SMM in only two years acknowledges that access to proper exposure, education, opportunity and recognition can enable rural women to take initiatives for their development into their own hands and thus drive the growth of society towards sustainability, thereby proving what was said by Pandit Jawaharlal Nehru "When women move forward-the family moves, the villages moves, and the nation moves". ■
Mahua Tripathy
mtripathy@devalt.org