Driving Sustainability in
Social Housing
India has witnessed different schemes and programmes to bridge the gap between price and affordability of social housing. Social housing, here, signifies housing which serves the housing needs of the low-income groups with the provision of ensuring access to physical, social, environmental and financial well-being. Currently, Rajasthan is facing a housing shortage of 11.5 lakh dwelling units (as of 2011).
Rajasthan - Key Initiatives
The centrally enforced schemes like Jawaharlal Nehru National Urban Renewal Mission (JNNURM) 2006 and Rajiv Awas Yojana (RAY) 2009 has managed to deliver total dwelling units of 39,924 in Rajasthan (as of 2011), with JNNURM achieving 75% and RAY achieving 33% of their respective targets. The state sponsored scheme - Mukhyamantri Jan Awas Yojana 2015 has managed to achieve around 70% of its target. One of the key drivers for the successful delivery of dwelling units has been the incentives given and promotion of sustainable initiatives (like installation of rainwater harvesting systems, use of alternative building materials like fly ash, provision of education centres, health cares and commercial centres within the premises if the dwelling units are more than 250).
Kiron ki Dhani, Jaipur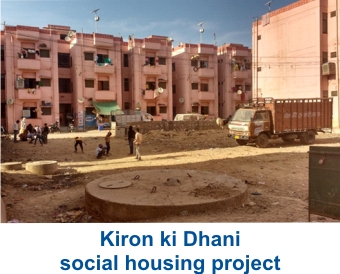 Kiron ki Dhani, situated near a wholesale vegetable market called as Muhana is well connected and located on the Jaipur - Delhi highway. This project was undertaken under the Rajiv Awas Yojna for resettlement of the Kiron ki Dhani slum. The community comprises of daily wage earners, most of them working in Muhana mandi. The project was handed over 18 months ago. This social housing project comprises of 1104 dwelling units with 100% EWS as the target group. Size of each of the dwelling units is in alignment with government norms i.e. 328 sqft (G+2). The project has been developed with partnership among Government of India (Centre, 50%), Government of Rajasthan (State, 20%), Jaipur Development Authority (ULB, 20%) and Beneficiaries (10%).
Analysis through the lens of social, economic and environmental sustainability
Social Sustainability: In terms of social infrastructure, Kiron ki Dhani performs fairly well. It has access to water for day to day usage due to availability of a water reservoir nearby. Every dwelling unit has a toilet with all sanitary fittings.
However, there is no waste collection management system in place for the complex. Other factors that hinder the social sustainability of this housing project are the lack of provision for incremental development, absence of commercial spaces within the development, dedicated and developed open spaces and a parking lot.
Economic Sustainability: Kiron ki Dhani has used locally available building materials like marble for flooring and fly ash bricks for the walls. The cost of construction is approximately INR 1100- 1200/ Sqft.
On the flip side, no initiative was taken to access formal housing finance institutions and thus avail credit based subsidy for the community. The housing project lacks in terms of innovative marketing techniques to reach customer and other business investments in and around the area to create more employment opportunities.
Environment Sustainability: Other than the use of fly ash bricks and solar panels for street lighting, Kiron ki Dhani housing project lacks in terms of environment sustainability. Initiatives are seen only in terms of compliance with building code, by laws and hazard resilience. The project lacks in terms of creating thermally comfortable spaces as use of concepts such as insulation, passive ventilation, passive lighting, energy efficient appliances, suitable solid waste management, community training for maintenance issues and waste water management have not been used.
Conclusion
Provision of basic infrastructure like waste collection arrangements, access to sanitation and use of alternative construction technologies and building materials can act as catalysts to ensure the sustenance of social housing. Poor communication and lack of training of the community members for use of new building technologies resists the wide acceptance of the technologies by the public. Community training for use of these new technologies and conducting awareness programmes are key to breaking these resistances. ■
Srijani Hazra
shazra@devalt.org
References:
1. MoHUPA, GOI, 2012. (n.d.). Report of The Technical Group On Urban Housing Shortage (TG-12).
2. MoHUPA. (2016). Vacant Houses - Lok Sabha Starred Question No. 256. Retrieved December 15, 2016, from http://164.100.47.190/loksabhaquestions/annex/8/AS256.pdf
3. Ministry of Housing and Urban Poverty Alleviation, Government of India. (2016). Schemes and Missions. Retrieved from Ministry of Housing and Urban Poverty Alleviation, Schemes and Missions: http://mhupa.gov.in/User_Panel/UserView.aspx?TypeID=1267
4. Census of India 2011