Low Carbon Cement Supporting
Sustainable Development Goals
Cement is one of the largest produced construction materials in the world. According to the World Business Council for Sustainable Development (WBCSD),1 the total volume of world cement production in 2014 was 848 million tonnes. The sheer quantity of its production puts it amongst the top contributors of human CO2 emissions. The major contributor of CO2 emissions in cement production is process emissions i.e. production of clinker, one of the main constituents of cement. In 2014, cement production contributed about 8% to global CO2 emissions, 4.1% of which came from clinker production2. Cement production also consumes natural resources such as limestone. Though the earth's crust is rich in limestone, the huge volumes of cement production and projected demand world-wide puts huge pressure on this resource. It is estimated by the Ministry of Commerce and Industry that all cement grade limestone resources in India will be exhausted in 41 years owing to ever increasing demand of cement. Thus to save resources and reduce CO2 emissions, use of clinker in the cement mix should be as minimum as possible. Cement industry around the world has recognised this and has shifted to blended cement by replacing clinker with fly ash and slag. Both are industrial wastes. However, the availability of industrial waste varies with the region. As per a Cement Sustainability Initiative report, use of fly ash and slag in worldwide cement production has not increased since 2007 while limestone use is constantly increasing.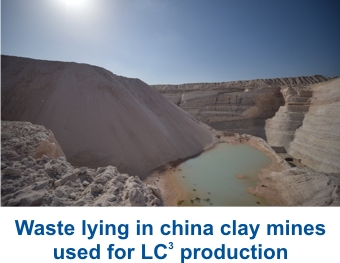 A new cement blend has been developed by a consortium of premier research institutes and think tanks from India and Switzerland (EPFL, Switzerland, IIT-Delhi, IIT-Madras, IIT-Bombay, TARA, New Delhi and CIDem, Cuba through a project supported by Swiss Agency for Development and Corporation). Major efforts in research of the cement and pilot production have been made in India. The cement blend uses 50% clinker, 15% non-cement grade (waste) limestone, 30% waste china clay from mines and 5% gypsum. The blend has two major advantages for sustainable production - one, about 45% of raw material in the blend is waste and two, clinker, the most energy and emission intensive constituent of cement is reduced to 50%. Waste china clay is calcined at 800-900˚C and ground with clinker, gypsum and waste limestone. The produced cement is named as Limestone Calcined Clay Cement (LC3). Life Cycle Analysis reveals that LC3 production can reduce CO2 emissions up to 30% and save up to 50% limestone as compared to conventional cement. The LC3 cement is found have comparable durability and strength as compared to conventional cement. Suitability of the cement for construction has been tested through various demonstration buildings constructed in India. There are enormous volumes of china clay available throughout the world. Interestingly most suitable clays for production of LC3 are overburdens i.e waste clay from china clay mines.
Adoption of Limestone Calcined Clay Cement (LC3) as a general-purpose cement by the cement industry will contribute towards achieving Sustainable Development Goal 9 (Industry, Innovation and Infrastructure, Goal 11 (Sustainable Cities and Communities), Goal 12 (Responsible Consumption and Production) and additional support to Goal 13 (Climate Action). ■
Vaibhav Rathi

vrathi@devalt.org
Footnotes:
1 World Business Council for Sustainable Development
2 Source: Olivier JGJ et al. (2015), Trends in global CO2 emissions; 2015 Report, The Hague: PBL Netherlands Environmental Assessment Agency; Ispra: European Commission, Joint Research Centre