Climate Resilience of Smart Cities in India


Cities and Climate Change

A

s the world moves closer towards the Paris Agreement coming into force and limiting global warming to below 2 degrees Celsius, there is a clear understanding that the impacts of climate change have already begun. Cities account for 70% of the greenhouse gas (GHG) emissions and are poised to be an important element in climate action. Cities as compared to rural settlements emit a lot of GHGs, utilise more energy and have a high transportation use. They also change natural ecosystems in order to create unnatural living spaces for inviting more population. Being responsible for accelerating global warming, they therefore bear the brunt of it as well.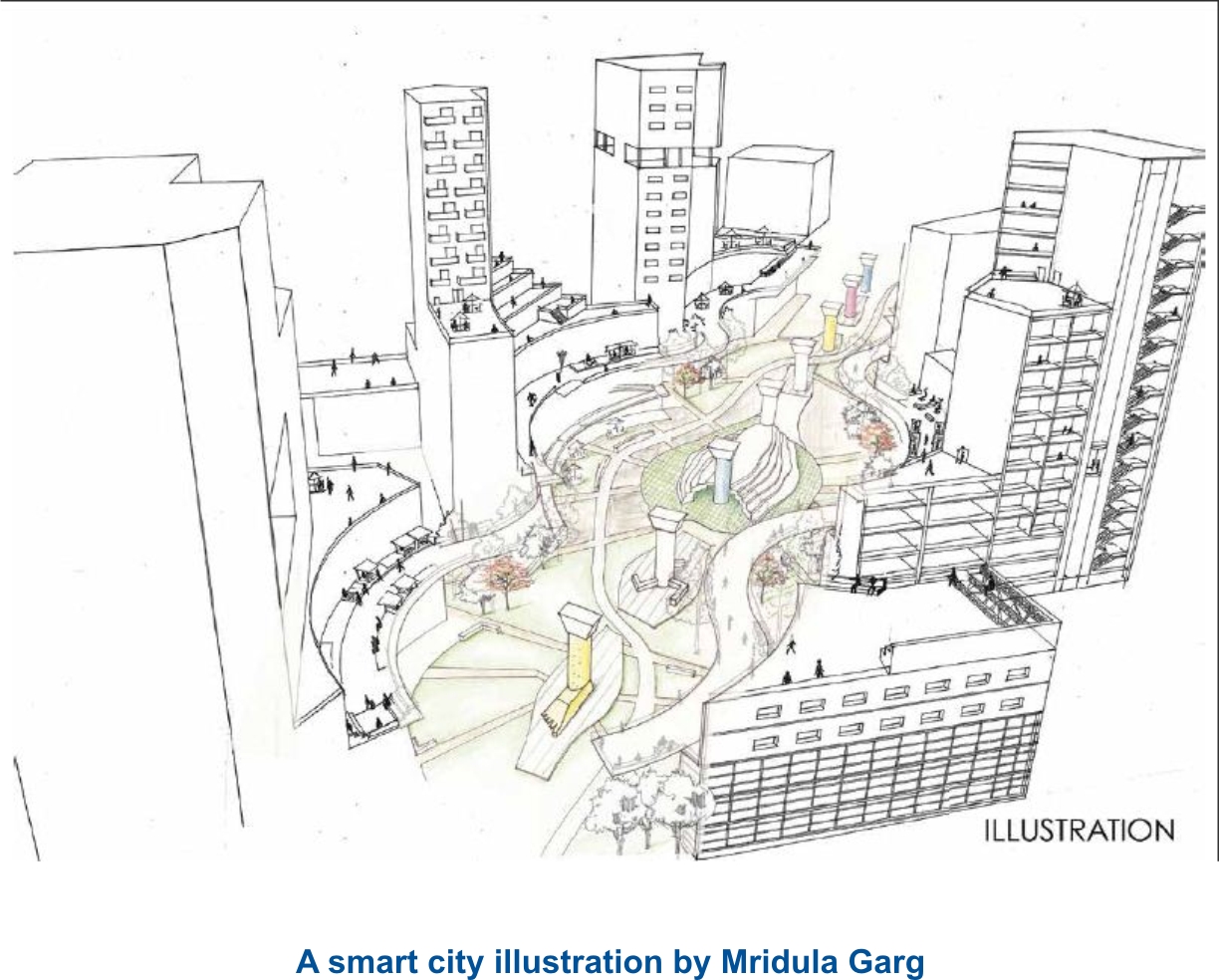 Every week with an increase of about one million in the urban populace, more than half are added to slums and areas with inadequate facilities. This adds to the overall climate change vulnerability especially in pockets inside cities that have inadequate infrastructure. Additionally, cities also pose as incubators for climate change solutions. At the last Conference of the Parties (COP21) in Paris in 2015, cities came across as leaders in responding to the threat of climate change.
India's Urban Scenario
In India, cities are growing ushering in a new urban age. According to the 2011 Census of India, there are more than 377 million people residing in urban areas. As the Indian populace moves towards an increased urban presence, the Government of India (GoI) has launched many programmes to enhance the quality of urban life and tackle the challenges faced by Indian cities. Some of the major urban initiatives are Atal Mission for Rejuvenation of Urban Transformation, the Swachh Bharat (Clean India) Mission, Pradhan Mantri Awas Yojana on 'Housing for All', National Heritage City Development and Augmentation Yojana (HRIDAY) and the Rurban Mission. But the Smart Cities Mission stands out as the most popular. The programme aims to create 100 smart cities in order to improve the standard of living in urban spaces as well as improve the local environment in the cities. The Smart City Mission aims to achieve these goals by applying technology-heavy solutions in order to make the most efficient use of available resources and infrastructure.
The GoI avoids any particular definition of smart city and leaves its conceptualisation a vague one. The idea is to assess cities based on 'the level of development, willingness to change and reform, resources and aspirations of the city residents'. The Smart Cities Mission aims to promote core infrastructure and solutions to increase 'sustainable and inclusive development.' In the core infrastructure of a smart city, the GoI highlights that it would include: adequate water supply, assured electricity supply, sanitation including solid waste management, efficient urban mobility and public transport, affordable housing especially for the poor; robust IT connectivity and digitalisation, good governance especially e-Governance and citizen participation, sustainable environment, health and education, safety and security of citizens particularly women, children and the elderly.
The overview of the mission conveys that the focus is on creating a technologically smart city. Technology is an important part of the city and can help in recognising citizens' needs and improving transport, energy use, urban design etc. However, there are issues such as dealing with climate change impacts which need priority and good governance. Technology is only helpful to the point that it helps make evidence based policy and planning giving citizens the resources to create accountability for their leaders.
But the fact of the matter is that increase of number of extreme climate events in India could well be inferred as the impacts of climate change. The heatwave in Telangana in 2015, Chennai floods in 2015 and Srinagar flash flood in 2014 are all erratic disasters that pose as a reminder for the need of cities to be climate resilient. Ashoka Trust for Research in Ecology and the Environment (ATREE), Bangalore in their analysis showed that smart cities will require strong infrastructure to adapt to climate change impacts as well as reduce emissions and waste in order to contribute to global mitigation. Diversified economic opportunities will make cities better equipped to adapt to climate risks.
How do we Enhance Climate Resilience?
What is required is that Smart Cities look closely at enhancing their climate resilience. Resilience is important for not just climate adaptation but also to maintain the social, infrastructure and economic integrity of the city. Smart city planning must be seen with a climate lens to enhance its resilience. In urban societies, the resilience depends on slow changing variables such as climate, land use, nutrient stocks, human values and policies. A variety of factors ranging from increasing pollution leading to deterioration of air, water and food quality, perverse subsidies that encourage unsustainable use of resources, closed institutions that do not adequately respond to the needs of society can degrade resilience of urban areas. In order to mitigate hazards, a climate resilient smart city must have a focus on strong disaster resistant infrastructure, policy and response capacities in cases of potential disasters.
As the World Bank in its volume 'Climate Resilient Cities' highlights that 'For cities, resilience is enhanced by knowledge of risks and tools and resources available to confront threats and build on opportunities.' Cities are good starting points for productive collaborations. They are the connection to the global arena. The tools for creating resilience are available in the international market but creating solutions requires political will and cooperation across stakeholders and sectors.
Resilience to disasters, creating sustainable infrastructure and risk disaster contingency plans should be made an important component of any smart city plan. Further, adaptation and resilience planning programmes cannot be addressed in silos. Rather they should be addressed together and incorporated in every aspect of the Smart City development. The narrative of resilience should be a part of smart cities from land use planning to transport and housing.
Conclusion
This year two major events are slated for cities - Habitat III, the bi-decennial meeting which outlines the contemporary vision for the 'Urban Agenda' aiming to produce a declaration that reflects the world's urgent urban needs and Agenda 2030, Paris, Sendai aiming to address mass migration, refugees, increasing conflict, resource crunches and climate change and inequality.
The overlapping of three agendas – climate, development and cities - will be the focus this year as the previous year for both Climate and SDG processes. In 2016, Habitat III and COP22 are potent opportunities for India to harmonise its understanding of the problems and opportunities posed by growing urbanisation. These will feed into India's biggest challenges such as poverty, deteriorating quality of life and environmental degradation.
India expects to accommodate around 40% of its population in urban centres by 2030. The landmark policy initiatives mentioned earlier that the GoI has taken to transform and rejuvenate its urban areas must address the infrastructure deficit India faces due to economic growth and increased urbanisation. Climate action is an asset that can produce mutual benefits. For living up to the Nationally Determined Contribution targets to UNFCCC that India has ratified to contribute to keeping the global temperature below 2 degrees Celsius, the smart cities should lend their hand. We should take use of the SDGs and the global framework to design our smart cities. The delivery of such needs will require a new way of urban planning, funding and political will. ■
Syed A A Ishaqi Farhan
sishaqi@devalt.org
References:
Berkowitz, M. & Dasgupta, A. (2016). Making Climate Resilience a Core Part of City Development.100resilientcities.org. Retrieved 1 October 2016, from http://www.100resilientcities.org/blog/entry/making-climate-resilience-a-core-part-of-city-development
· C40. (2016). C40.org. Retrieved 1 October 2016, from http://www.c40.org/why_cities
· Chatterjee, P. (2016). Home to colossal urban population, India is ignoring Habitat III. Citiscope.org. Retrieved 1 October 2016, from http://citiscope.org/habitatIII/news/2016/09/home-colossal-urban-population-india-ignoring-habitat-iii
· GoI,. (2015). What is Smart City?. Delhi: Government of India.
· Padma, T. (2016). Will India's 'Smart Cities' Be Climate-Resilient?. The Wire. Retrieved 1 October 2016, from http://thewire.in/20883/will-smart-cities-be-climate-resilient/
· Panda, R. (2015). From smart cities to climate smart cities. The Hindu Business Line. Retrieved 1 October 2016, from http://www.thehindubusinessline.com/opinion/from-smart-cities-to-climate-smart-cities/article6753913.ece
· Prasad, N. (2009). Climate resilient cities. Washington, D.C.: World Bank.
· Schleeter, R. (2015). Why Cities are the Solution to Climate Change: Q&A with Ani Dasgupta. Wri.org| World Resources Institute. Retrieved 1 October 2016, from http://www.wri.org/blog/2015/01/why-cities-are-solution-climate-change-qa-ani-dasgupta
· Towards making our cities smarter, cleaner and climate resilient. Justclimateaction.org. Retrieved 1 October 2016, from http://www.justclimateaction.org/towards-making-our-cities-smarter,-cleaner-and-climate-resilient.html
· What is Habitat III?. (2016). Citiscope.org| Citiscope. Retrieved 1 October 2016, from http://citiscope.org/habitatIII/explainer/what-habitat-iii.