India's Waste Woes: Is Waste-to-Energy the Answer?
Increasing industrialisation, urbanisation and changes in the pattern of life, which accompany the process of economic growth, give rise to increasing quantities of waste leading to increased threats to the environment. India's 377 million urban folks are generating 62 million tonnes of waste every year. According to a government task force report on waste to energy published in 2014, if the growing urban population coupled with the nation's burgeoning economy, purchasing power and consumption patterns are factored in; the total urban waste in India is likely to rise to 165 million tonnes by 2031. These figures are a major cause of concern and if waste materials in such quantities are left untreated each year, India will need 454 sq. km, or one-third of the size of Delhi, for dump sites alone.
There has been a global push to convert 'waste to wealth', with a recent emphasis on promoting the concept of 'Circular Economy' which is an alternative to the traditional linear economy (make, use, dispose). In the circular economy, we keep resources in use for as long as possible, extract the maximum value from them whilst in use, then recover and regenerate products and materials at the end of each service life. In a circular economy, economic activity builds and rebuilds overall system health. The concept recognises the importance of the economy needing to work effectively at all scales – for large and small businesses, for organisations and individuals, globally and locally.
Transitioning to a circular economy does not amount to adjustments aimed at reducing the negative impacts of the linear economy. Rather, it represents a systemic shift that builds long-term resilience, generates business and economic opportunities, and provides environmental and social benefits.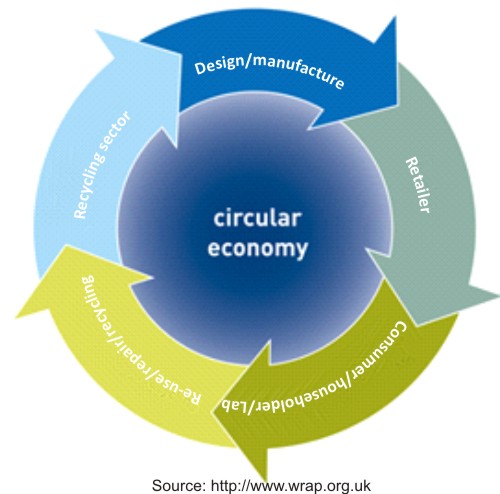 Waste-to-Energy Plants in India
According to newspaper reports, China has 300 waste-to-energy plants in place, with the government setting a target of disposing a third of its garbage through energy plants by 2030. Whereas Currently, India has only six waste-to-energy plants. Three of the six are in Delhi - the 24 MW Narela-Bawana plant run by the Ramky Group, the 16 MW Okhla plant of the Jindal Urban Infrastructure and the 12 MW Ghazipur plant of IL&FS. The other three small plants are located in Jabalpur in Madhya Pradesh (9 MW), Solapur in Maharashtra (3 MW) and Shimla in Himachal Pradesh (1.75 MW), according to data shared in a reply to a Lok Sabha question in December 2017.
According to a newspaper report published in 'The Hindu' in February 2019, nearly half of India's waste-to-energy (WTE) plants, meant to convert non-biodegradable waste are lying defunct. The country's inability to segregate waste has resulted in the existing plants working below capacity, states an analysis by the Centre for Science and Environment.
The key reasons for WTE plants not working in India are the plants' inability to handle mixed solid waste and the high cost of electricity generated by them that renders it unattractive to power companies. This track record, however, has not stopped the government from betting big on WTE. NITI Aayog, as part of the Swachh Bharat Mission, envisages 800 megawatts from WTE plants by 2018-19, which is 10 times the capacity of all the existing WTE plants put together. It also proposes setting up a Waste-to-Energy Corporation of India, which would construct incineration plants through PPP models. In addition, the Ministry of Urban Development has received 53 proposals from 22 states with a potential to generate 405.3 MW of electricity under the Swachh Bharat Mission, which are currently under various stages of construction or tendering, according to a report by the Centre for Science and Environment's magazine, 'Down to earth'.
Segregation at Source is Key for Sustainable Waste Management
Rather than focusing on segregation at source, spreading awareness, preparing action plan for cities for waste management by adopting decentralised technologies; there has been emphasis on the need to have WTE plants across the country. Even smaller cities, ones with a population of 10,000-50,000 and waste generation of about 20 tonnes per day, are seen as potential WTE plant locations. For any city, to adopt a technology for processing waste, first an inventorisation on its generation as well as composition of solid waste is required.
The new Municipal Solid Waste Management Rules, 2016, seem like a step in this direction. With 'segregation at source' at the heart of these rules, the new rules have mandated source segregation of waste in order to channelise waste to wealth by recovery, reuse and recycling. Waste generators would now have to segregate waste into three streams - biodegradables (kitchen and garden waste), dry (plastic, paper, metal, wood) and domestic hazardous waste (diapers, napkins, mosquito repellents, cleaning agents etc.) before handing it over to the collector.
Institutional generators, market associations, event organisers and hotels and restaurants have been directly made responsible for segregation and sorting the waste and managing in partnership with local bodies. In case of an event, or gathering of more than 100 persons at any licensed/ unlicensed place, the organiser will have to ensure segregation of waste at source and handing over of segregated waste to waste collector or agency, as specified by the local authority.
All hotels and restaurants will also be required to segregate biodegradable waste and set up a system of collection to ensure that such food waste is utilised for composting / bio-methanation. The rules mandate that all resident welfare and market associations and gated communities with an area of above 5,000 sq. m will have to segregate waste at source into materials like plastic, tin, glass, paper and others and hand over the recyclable material either to authorised waste-pickers and recyclers or to the urban local body.
Post segregation, as per the new rules, it has been advised by the government that the bio-degradable waste should be processed, treated and disposed of through composting or bio-methanation within the premises as far as possible and the residual waste shall be given to the waste collectors or agency as directed by the local authority.
In what many see as a not-so welcoming move, the new Solid Waste Management Rules, 2016, emphasise on the promotion of waste to energy plants as well. The rules mandate all industrial units using fuel and located within 100 km from a solid waste-based Refuse-Derived Fuel (RDF) plant to make arrangements within six months from the date of notification of these rules to replace at least 5 per cent of their fuel requirement by RDF so produced. The rules also direct that non-recyclable waste having calorific value of 1500 K/cal/kg or more shall be utilised for generating energy either through RDF not disposed of on landfills and can only be utilised for generating energy either or through refuse derived fuel or by giving away as feed stock for preparing Refuse-Derived Fuel. High calorific wastes shall be used for co-processing in cement or thermal power plants.
It would be challenging to see how segregation at source shall work on the ground according to the SWM Rules, 2016. Urban local bodies (ULBs) should invest in preparing an action plan on waste management in accordance with the Solid Waste Management (SWM) rules, 2016 within a time-bound approach. The fundamental issue with waste management in India is that it is always someone else's problem. A massive awareness campaign in association with communities, NGOs, students and other stakeholders needs to be planned to push for better implementation of these rules. ■
Akash Vohra
avohra@devalt.org
References