Community Watershed Development: Rehabilitating Degraded Lands and Creating Sustainable Employment


C

ommunity participation is necessary to achieve sustainable development outcomes at the local levels. Development Alternatives (DA) is the designated Project Implementing Agency (PIA) to develop watershed areas for 10000 hectares of land under the Rajiv Gandhi Mission for Watershed Management (RGMWM) in the Datia and Tikamgarh districts of Madhya Pradesh. These districts lie in the semi arid rain fed belt of Bundelkhand in Central India. This project is significant as it is planned, implemented and monitored by the community through the development of user groups and watershed committees.

The Rajiv Gandhi Mission for Watershed Management project aims to restore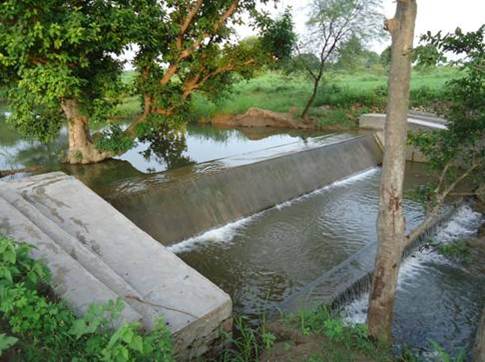 the ecological balance of these regions by harnessing, conserving and developing degraded natural resources such as soil, vegetative cover and water in such areas through the watershed approach. The outcomes include prevention of soil run-off, regeneration of natural vegetation, rainwater harvesting and recharging of the ground water table. This enables multi-cropping and the introduction of diverse agro-based activities, which help to provide sustainable livelihoods to the people residing in the watershed area. An important aspect of the project is community participation. Local people and stakeholders are integral to the planning, development, implementation of this project. Pariticipatory Rural Appraisals, community mobilisation and development of local institutions are carried out for effective participation.
Self Help Groups
SHGs have been constituted in the watershed area with the help of Watershed Development Teams (WDT) from amongst poor, small and marginal farmer households, landless-poor agricultural labourers, women, shepherds and SC/ST communities. These people depend on the watershed area for their livelihood and are provided with a revolving fund of an amount decided by the Nodal Ministry.
User Groups
User groups have been formed of people who are the most affected by each work/ activity. The user group consists of those who derive direct benefits from a particular watershed work or activity. The user groups maintain and operate the assets created under the project in close collaboration with the Gram Panchayat and the Gram Sabha.
Watershed Committee
The Gram Sabha has constituted a Watershed Committee (WC) to implement the Watershed project with the technical support from DA. This committee has been registered under the Society Registration Act, 1860. The Watershed Committee (WC) comprises of at least 10 members, wherein some members are representatives of SHGs and User Groups, SC / ST communities, women and landless persons in the village. One member of the technical watershed development team has also been included. A suitable person is elected from the village as the Chairman of the Watershed Committee. The secretary of the Watershed Committee (WC) will be a paid functionary of the Watershed Committee (WC). The Watershed Committee receives funds for watershed projects and utilises the same for undertaking its activities. It ensures transparency in decision making, convenes regular meetings, monitors all financial transactions as well as ensures resource and uses agreements among the user groups based on the principles of equity and sustainability.
Still in its early stages, the project is being operated by the community and for the community with the support of DA. An insight into the rain fed regions reveals a grim picture of poverty, water scarcity, rapid depletion of ground water table and fragile ecosystems. DA is encouraging the development of community watershed approach as a means to increase agricultural production while arresting ecological degradation in rain fed and resource-poor areas over time. This project possesses the potential to improve rural livelihoods through participatory watershed development with a focus on integrated farming systems for enhancing income, productivity and livelihood security in a sustainable manner. q
Dr. Krishna Murari
kmurari@devalt.org