Reviving Traditional Water Bodies,
One Tank at a Time
India is endowed with extraordinarily diverse and distinctive traditional water bodies found in different parts of the country, commonly known as ponds, tanks, lakes and others. They play an important role in maintaining and restoring the ecological balance. They act as sources of drinking water, recharge groundwater, support biodiversity and provide livelihood opportunities to a large number of people.

India is facing a major challenge in the management of freshwater in view of rapidly growing population and increasing agricultural, industrial and other requirements. As the economy of the country is witnessing rapid growth, management of freshwater resources becomes all the more important.

Tanks in India have fallen into disuse due to lack of care, poor governance systems and encroachments. Storage areas of many tanks have become agricultural fields, while some have been transformed into residential areas. Such tanks may continue to exist on records but, for all practical purposes, they have disappeared. Catchment areas of many tanks have become degraded and encroached. A large number of tanks are facing heavy siltation, and their water holding capacity has also got reduced. Most of these tanks today are not fully functional due to a number of reasons. Efforts have been made to review these tanks but they are not sufficient and require a long-term strategy to review and make these tanks functional.

Improving the health of water bodies is of utmost importance for meeting the rising demand for water, as they provide various ecosystem services.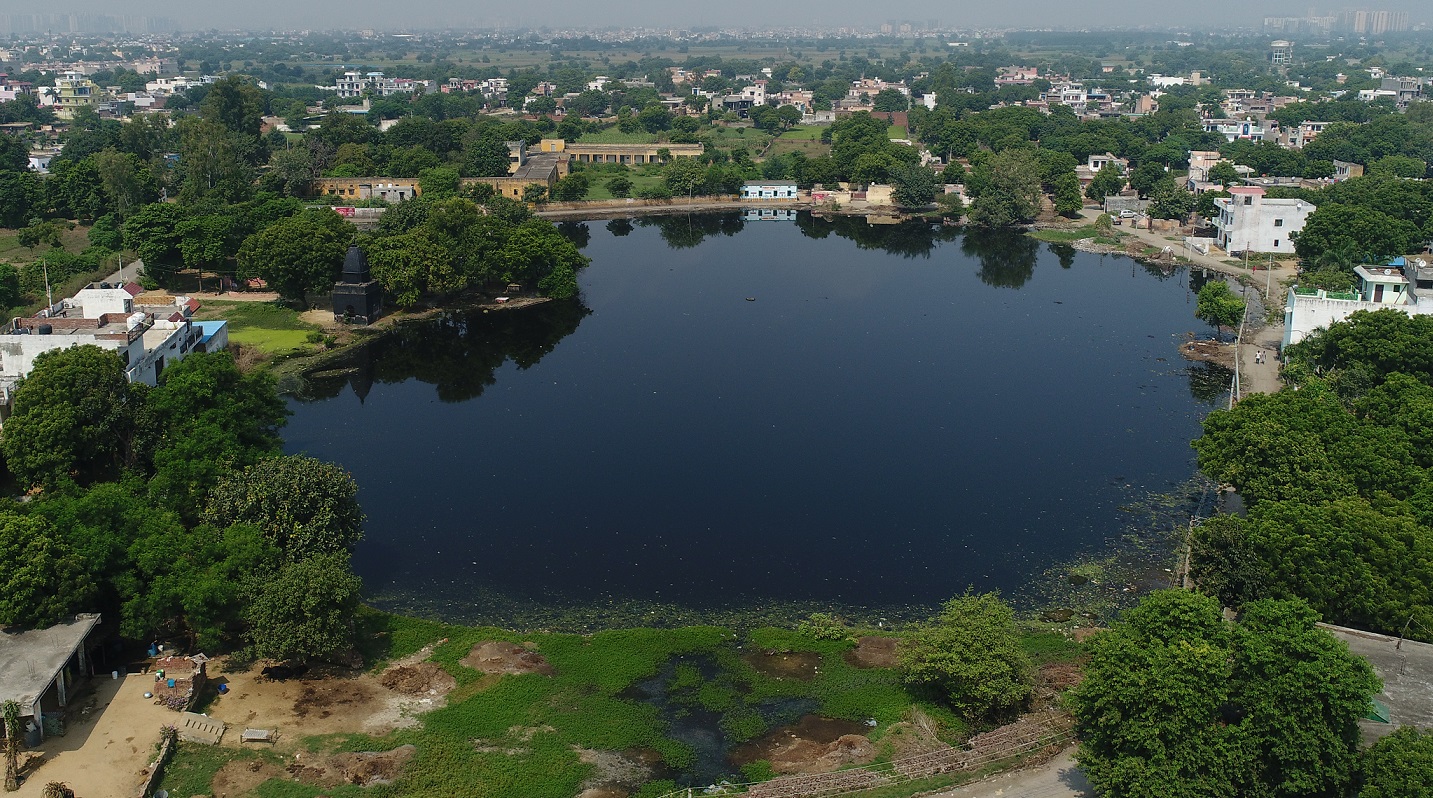 Scenario in Gautam Buddha Nagar district of Uttar Pradesh
One such initiative taken to restore the traditional tank ecosystem was undertaken by Development Alternatives in collaboration with HCL Foundation. The initiative, called 'Humare Talab Humari Pehchan', aims to work on tank rejuvenation in Dadri tehsil of Gautam Buddha Nagar district of Uttar Pradesh. The project focuses on rejuvenating the lost water body ecosystem in the area, while also strengthening the lost tree cover. The tanks in the area were not properly managed due to various reasons and needed immediate attention. This was done by planning specifically around each tank and conducting plantation drives in four villages, namely, Dujana, Kachera Varsabad, Bishnoli and Talabpur Hathipur.

Recent data from the Central Ground Water Board shows that water level in Gautam Buddha Nagar area is depleting by 1.5 metres every year. This trend of depletion is witnessed continuously for the past five years. Environmentalists say that the major cause of this depletion is over-extraction of ground water for construction purposes, and warn that if the same rate of extraction continues then the water will start depleting at the rate of two meters annually, which could lead to a severe water crisis.
There are hundreds of water bodies in the region, but they are hardly evident today. Proper restoration and rejuvenation of these water bodies along with afforestation can bring back the lost green patch in the area.

Interventions made in the area
To get to know more about the tanks and the community living in the vicinity of them, a baseline survey was conducted. This survey provides us with information regarding uses of these tanks and their pre and post-intervention conditions. It also focuses on the level of awareness people possess regarding the tank ecosystem and biodiversity.

From the households surveyed, it was found that nearly 58 per cent of them had tap water facilities and there is no dependency on the tanks for water for either domestic or irrigation purposes. Villagers said that the tanks have not been cleaned for decades.
The project work has been divided into three parts: Assessment, Action and Awareness.
The assessment part, which was done through the household survey, gathered information about the location and condition of tanks and the tank ecosystem, and the knowledge of community members regarding the need and importance of tanks.

The action part majorly focused on the work done on the field after gathering the basic knowledge on the condition of the tanks. It includes methods and technology such as de-watering, de-siltation and bund construction for cleaning and rejuvenating the tanks.

Lastly, the awareness part was designed to create awareness among the community regarding the conservation of tanks and biodiversity through street plays, wall painting, awareness campaigns with community and schoolchildren, and inculcating in them a sense of ownership towards the natural resources in the villages.

Impact
A total of eight tank water bodies were rejuvenated by creating additional water storage capacity, which went up from 11,28,333 cubic metres to 11,65,436 cubic metres, that is, an average of 45.53 per cent, by deepening them. Drainage lines of 510 running metres were treated and 1,686 running metre of bunds were constructed. The green cover was increased in the four villages by planting 866 trees on the bunds of tanks.

It was observed that it is necessary to involve the younger generation as they are the ones who will carry on the knowledge of water conservation and it will be helpful to rejuvenate water bodies with their new ideas.

Conclusion

Efforts are required at the infrastructural, institutional and social levels for rejuvenating these water bodies. The project worked at all the dimensions mentioned above, thus providing an end-to-end sustainable solution that focuses on improving the health of these water bodies and also inculcating a sense of ownership among community members towards their protection and maintenance.

Efforts are required at both ends: on one hand technological interventions with the panchayat are necessary to bring tanks into their original state, whereas on the other hand awareness and capacity building campaigns and drives are needed to enhance the understanding among the community on importance and conservation of the water bodies.

However, the issues of lack of data, encroachments, siltation, unsystematic solid waste disposal, polluted water, etc. have to be taken into consideration too.

Traditionally, water was seen as a responsibility of citizens and the community collectively took the responsibility of not only building but also of maintaining water bodies. This needs to be brought back into the system. Thus, an integrated approach taking into account the long-term sustainability, starting from the planning stage, looking at every water body, is required.■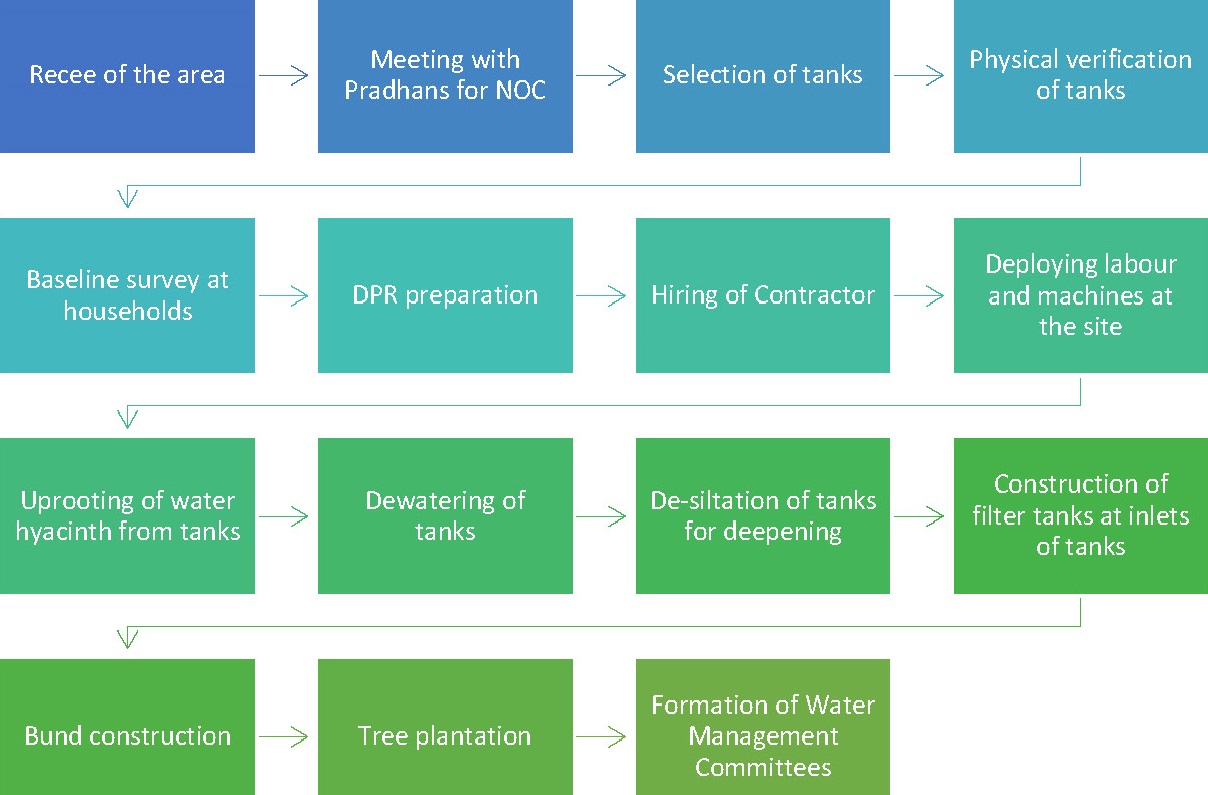 Figure: Tank-specific planning done for each tank in the four villages

Anisha Gupta
agupta@devalt.org