Safeguarding Water Bodies with Community Participation

Water is the most important natural resource for maintaining life. Unfortunately, water supply is now getting dry at an alarming rate. India has 18% of the world's population but just 4% of the world's water resources. Development Alternatives (DA) has made ongoing efforts to safeguard water bodies and raise community knowledge about water conservation and water body preservation.
DA's initiative, 'Humare Talab Humari Pehchan', aims to work on tank rejuvenation in Dadri tehsil in Gautam Buddha Nagar district of Uttar Pradesh. According to the Central Ground Water Board's Ground Water Resources Assessment of 2017, Dadri's groundwater condition is classified as "semi critical". The groundwater table has receded below 30 metres in Gautam Buddha Nagar due to excessive use. According to the baseline survey completed under DA's initiative, over 58% of the 354 houses surveyed in Dadri had tap water facilities, and there was no reliance on tanks for water, either for domestic or irrigation purposes. One of the key reasons for this is the poor state of the district's water tanks.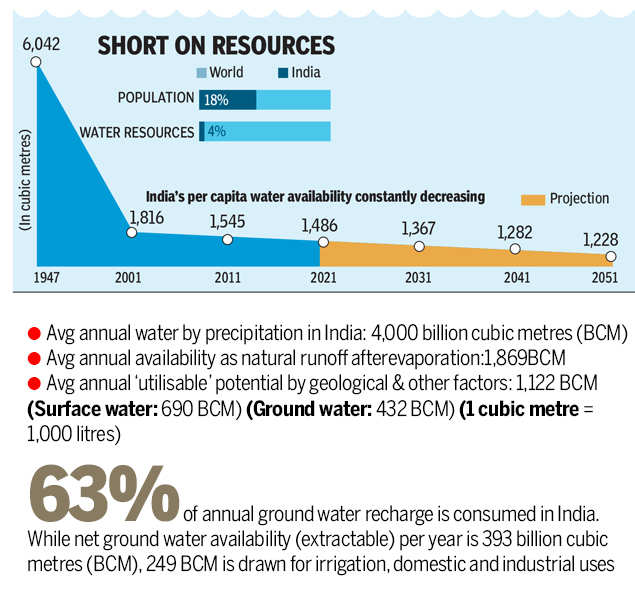 Image source: https://timesofindia.indiatimes.com/india/national-water-policy-in-the-pipeline-but-states-still-divided/articleshow/73681298.cms
The acceleration of industrialisation, combined with high population expansion, has hastened the process of water depletion. Some of the key factors contributing to tank deterioration include a lack of systematic drainage, which allows untreated water to infiltrate clean water bodies, and improper waste management. Furthermore, inadequate tank management due to a lack of tank ownership by community members and a lack of emotional attachment to the surrounding water bodies is a source of concern.
Thus, as part of the DA's 'Humare Talab Humari Pehchan' initiative, a number of big activities, such as wall painting, street plays, and 'Paani ki Paathshala' were planned to raise social awareness in the four villages selected in Dadri tehsil: Dujana, Kachera Varsabad, Bishnoli and Talabpur Hathipur. The campaign reached out to 328 children and educated them on the necessity of water body protection.

An essential step taken by India to address the issue of water conservation was the enactment of laws and rules in the form of the National Water Policy 1987 (revised in 2002 and 2012). Its goal is to assess the current situation and provide a framework for the development of a system of laws and institutions, as well as a plan of action with a unified national perspective. Some of the actions taken by the central government in accordance with the principles indicated in the third National Water Policy (2012) are as follows:
The Inter-State River Water Disputes (Amendment) Bill, 2019 was introduced in Lok Sabha on July 25, 2019 and was subsequently passed.

Ministry of Jal Shakti has prepared a draft National Water Framework Bill and draft River Basin Management Bill, 2018.

Dam Safety Bill, 2019 was prepared and introduced in Lok Sabha on July 29, 2019, and was subsequently passed.

National Water Informatics Centre has been established under the National Hydrology Project.
The policy specifically states that water must be managed as a community resource held by the State under the public trust doctrine, while also emphasising the necessity to handle water as an 'economic good'. Furthermore, the new policy purposefully ignores a critical point: prioritising competing water users, allowing for flexibility in distributing water for industrial use even at the expense of agriculture.

Another important step that aims to preserve water bodies is the Wetlands (Conservation and Management) Rules, 2017. Wetlands are habitats that are continually or seasonally saturated with water. Mangroves, marshes, rivers, lakes, deltas, floodplains and flooded forests, rice fields, coral reefs, marine areas no deeper than six metres at low tide, and man-made wetlands such as waste-water treatment ponds and reservoirs are examples of wetlands. Wetlands are home to 40% of all plant and animal species, but covering just around 6% of the Earth's terrestrial surface.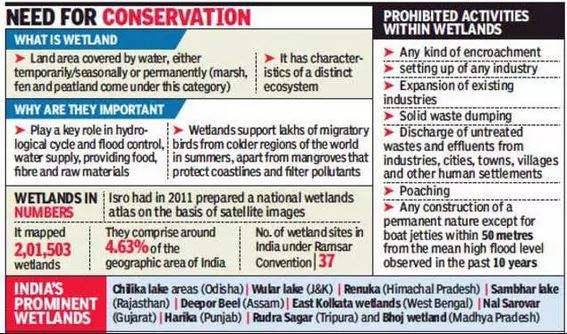 Image source: https://www.civilsdaily.com/story/wetland-conservation/
Growing population pressure on natural resources, exacerbated by migration, leads to a shortage of urban space and, as a result, reclamation of wetlands. Another issue is that several agencies prescribe the use of India's wetlands, resulting in authority overlaps in areas such as wetland reclamation. Wetlands are managed by the Union Ministry of Environment and Forests, although other agencies like as ministries/departments of fisheries, ocean development, agriculture, water resources, power, and tourism also come in the picture.

Way forward
Water scarcity necessitates a reconsideration of water management. Groundwater is constantly overexploited, and states compete for surface water. We must consider water to be a source of concern. A systematic, regional and multi-disciplinary strategy to water preservation is lacking. We must perceive the tank as an ecosystem, not just a source of water for cultivation. There is a need to investigate how local users perceive wetlands in order to raise awareness among them about their diverse uses and to foster an environment in which local users become emotionally connected to the preservation of natural resources within their community by claiming community ownership over them. Individual and societal responsibility for wetlands protection and development must be addressed through improved governance mechanisms and the application of laws and policies. Additional public-community partnerships can also help with wetlands maintenance.■
References:
1. https://www.downtoearth.org.in/blog/water/challenges-in-the-management-of-water-in-india-58275
2. http://cgwb.gov.in/GW-Assessment/Categorization%20of%20AU.pdf
3. https://www.hindustantimes.com/noida/gb-nagar-groundwater-table-depletes-again-worst-decline-in-greater-noida-s-gulistanpur/story-mCg1rURcYaZVzQCsG683eK.html
4. http://jalshakti-dowr.gov.in/sites/default/files/NWP2012Eng6495132651_1.pdf (link to National Water Policy, 2012)
5. https://pib.gov.in/PressReleasePage.aspx?PRID=1607166
6. https://www.downtoearth.org.in/news/national-water-policy-2012-silent-on-priorities--35952
7. https://www.downtoearth.org.in/coverage/flawed-laws-9817
8. https://yamuna-revival.nic.in/wp-content/uploads/2019/02/Wetlands-Conservation-Management-Rules-2017.pdf (Link to Wetland Rules, 2017)

Shaurya Garg
sgarg@devalt.org