Influencing Financial Flows
for a Sustainable Future

Directing Economies through Finance
Finance is an important component of any economy. The direction of financial flows enables an analysis of the kind of economic growth experienced by a country and the expenditure and investment made in certain sectors (proportionate to the priority sectors), and the skills required. So far, the world has regarded economic growth as a prerequisite for poverty reduction, human advancement, economic stability etc. However, the kind of economic development processes that have been adopted have exerted significant pressure on the environment, thus undermining the capacity for future development to take place.
The global community has in the past decade come to a global consensus that the current economic development (overexploitation of natural resources, high dependence on fossil fuels, increasing population etc.) have been the biggest cause of climate change and environmental degradation. While these challenges of climate change and environmental degradation might seem as isolated phenomena, their impact on human life and livelihood irrespective of the stage of economic development a nation is in, have been severe.
In order to meet these challenges, new strategies will need to be adopted that lead to economic growth and greater social equity both for the present and future generations, while preserving the environment and responding to the increasing impacts of climate change. In this case, one of the important mechanisms is the appropriate flow of finances towards low-carbon and resource-efficient economies.
For a transition to a greener econo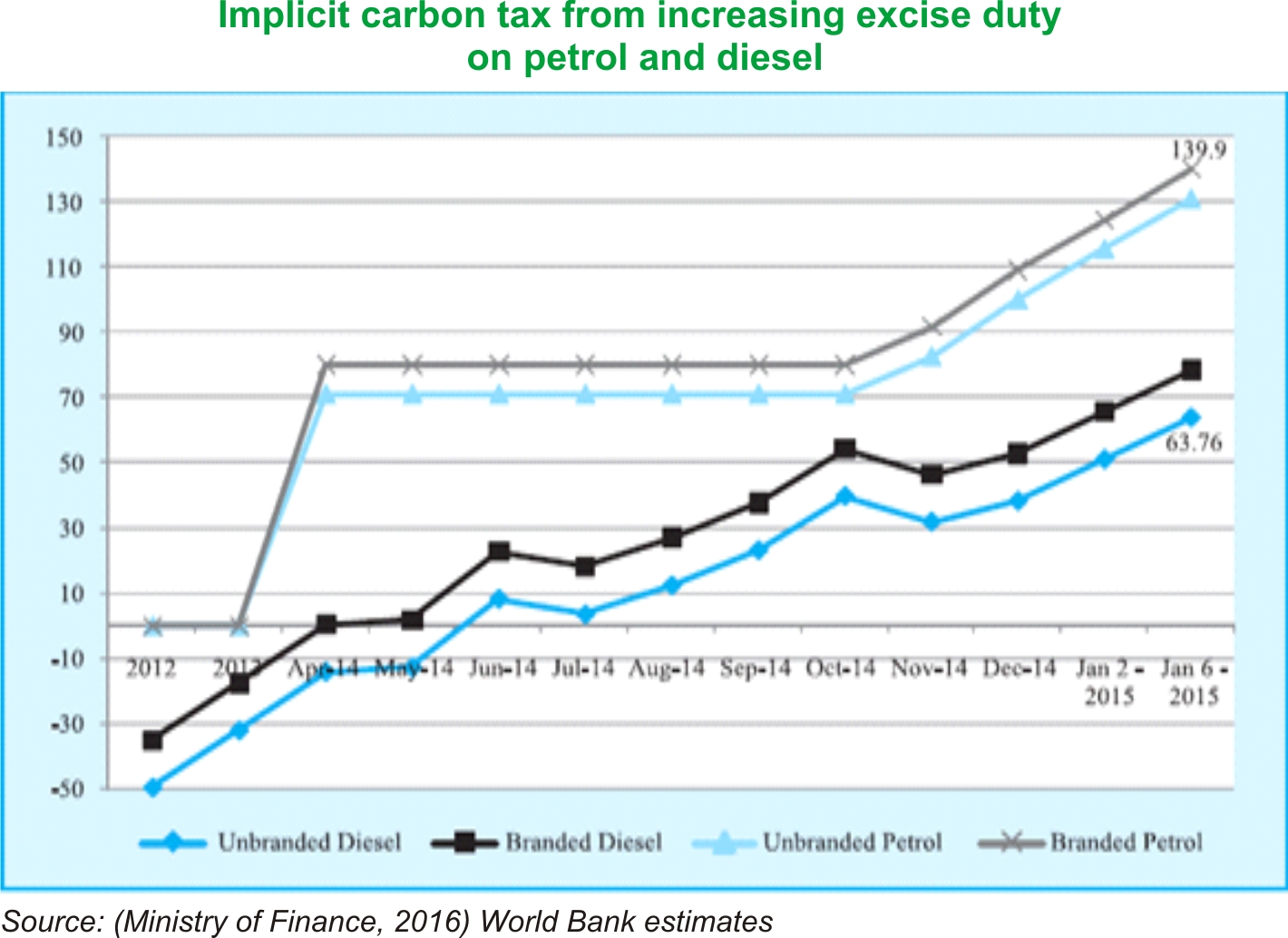 my, finances are to be mobilised by smart public policy and innovative financing mechanisms . A pertinent example is the scale of investment made by developing countries against that of developed countries in the renewable energy sector. According to the UNEP report titled, 'Global Trends in Renewable Energy Investment 2016', developing world including China, India and Brazil committed a total of USD 156 billion (up by 19% in 2015) in new renewables capacity, compared to the developed world's investment of USD 130 billion which was down 8% in 2015 . Experts around the world have stated that such a leap in investment has been the result of a conducive environment that governments have created for greening of capital markets and encouraging market innovations that bolster national initiatives to green economies.
While it is imperative that the global/ national markets see finance as a means to greater environmentally sustainable and inclusive processes, it is the government agencies and the effective voice of civil society that will guide and support this transition to a greener and more inclusive economy.
Public Financing Instruments
In the role of driving the economy, government functionaries play the role of providing subsidies and taxation, commit to sustainable public procurement, help grow new markets in environmental services, improve investor confidence and support and guide private sector finance.
India has taken a number of actions that are targeted towards curbing the use of fossil fuels and incentivising the renewable energy sector through various fiscal measures. The fiscal policies are now gradually shifting from a carbon subsidisation regime to one of significant carbon taxation regime.
The figure above illustrates the rising carbon tax equivalent to US$ 70 per tonne of CO2 (Unbranded Petrol) and US$ 42 per tonne (Unbranded diesel) since October 2014. This has resulted from change in the excise duties imposed on these petroleum products. This has steeply risen the implicit carbon tax to what is now considered reasonable at US$ 140 for petrol and US$ 64 for diesel (upto January 2015).
Re-Financing through Government Programmes
Given India's growth trends both in terms of its teeming population and the growing resource demands, India has over the years acknowledged the need to take into account the opportunities and challenges as well costs and benefits of green economy policies in the context of sustainable development and poverty eradication. While the first ten 5 year plans of the Indian Government had largely focused on economic growth, from the Eleventh Five Year plan (2007-2012) onwards the government has given greater emphasis on social policies of sustainable development with the 12th five-year plan titled, 'Faster, Sustainable and More Inclusive Growth'. In order to achieve this, the government has adopted a series of methods of action that range from environmental legislations like Biological Diversity Act, 2002; National Rural Employment Guarantee Act, 2005; Energy Conservation Act, 2001 to targeted initiatives like the National Action Plan on Climate Change (NAPCC) under which lie 8 Missions that target various green economy policies. The other initiatives include Smart Cities Mission, Skill Council for Green Jobs, Swachh Bharat Mission etc.
Agricultural Sector: The agricultural sector plays a vital role in India's economy, with approximately 58% of the rural households depending on agriculture as their principle means of livelihood. Agriculture and allied sectors (including agriculture, livestock, forestry and fishery) contributed to 15.35% of the Gross Value Added (GVA) during 2015-16 at 2011-12 prices (IBEF, 2016). While this sector is one of the largest contributors to the country's GDP, it is highly vulnerable to the risks associated with climate change and the decline in quality of land and water availability and quality due to over-exploitation and other mal practices of modern agriculture. In the recent past, the Government of India has recognised that sustainable agricultural growth is necessary to ensure food security and poverty eradication. It has thus planned several steps for the sustainable development of agriculture. The National Mission for Sustainable Agriculture addresses issues regarding sustainable agriculture in the context of risks associated with climate change by devising appropriate adaptation and mitigation strategies for food security, equitable access to food resources, enhancing livelihood opportunities and contributing to economic stability. Steps have also been taken to improve soil fertility on a sustainable basis through the Soil Health Card Scheme and to provide continued support to the Mahatma Gandhi National Rural Employment Guarantee Act (MGNREGA) that ensures the development of sustainable livelihoods and farmer welfare.
Renewable Energy Sector: According to the Planning Commissions Interim report of the Expert Group on Low Carbon Strategies for Inclusive Growth (April, 2014), India's per capita energy consumption, in terms of kilogram of oil equivalent (kgoe), 2008 was only 0.53, compared with the world average of 1.8. Given that India's primary energy requirements are going to increase considerably, India will require to address this challenge through ensuring sustainable modern energy access for all, in particular for the poor in a reliable, affordable, economically viable and socially and environmentally acceptable manner. In this regard, the Jawaharlal Nehru National Solar Mission was established to promote ecologically sustainable growth while addressing India's energy security challenge. It has been estimated that India's 100GW solar target is likely to create 1 million jobs by 2022 (NRDC & CEEW, 2015). In order to achieve this the government has been working towards setting up both robust regulatory and market based mechanisms to ensure use of solar power in the overall energy mix. Under the National Tariff Policy, 2006, State electricity regulators are mandated to fix a percentage for the purchase of solar power, so as to make it as competitive as coal-based power. Solar specific Renewable Energy Certificate (REC) mechanisms have been set up to allow utilities and solar power generation companies to buy and sell certificates to meet their solar power purchase obligations.
Forest Sector: The objective of the National Mission for a Green India is to ensure increased forest/tree cover and quality, improve ecosystem services and increased forest-based livelihood income. It further aims to ensure carbon sequestration of 50-60 million tonnes by the year 2020 through conservation and sustainable use of forest resources.
Green Accounting: Further, recognising the importance of Environment Statistics as a means to measuring green GDP, the Central Statistical Organisation has issued eleven issues of publications titled, 'Compendium of Environment Statistics' (1997-2011) presenting available data relating to the environment of the country. The compendium is aimed at helping the 'Expert Group on Green National Accounting' (August 2011) to develop a frame work for 'Green National Accounts' for India and to identify the data requirements for the implementation of the recommended framework.
It must be noted that while the Indian Government has taken considerable steps towards raising green finance through the National Adaptation Fund, budgetary allocations for the missions and tax disincentives like the Clean Environment Cess and the Infrastructure Cess, there continues to be little financial flow from the private sector, barring a few examples like Green Bonds developed by Yes Bank and Exim Bank that enable funding for renewable energy projects. Thus while India transitions to a greener economy, the role of Indian banks and financial institutions for facilitating this transition will be critical. ■
Pratibha Ruth Caleb
pcaleb@devalt.org
References:
Frankfurt School-UNEP Centre, 2016. Global Trends in Renewable Energy Investment 2016, s.l.: Frankfurt School of Finance & Management gGmbH.
Ministry of Finance, 2016. Economic Survey 2015-16, s.l.: National Informations Centre, Government of India.
UNEP, 2012. Green Economy-Finance, s.l.: United Nations Environment Programme.