Empowering Women through ICT

Microsoft Unlimited Potential Programme

Though the Indian Information Technology industry is expected to touch a figure of $87 billion in terms of its worth for the current fiscal year, a major part of the population in rural India is yet to be a part of the IT revolution.

The Microsoft Unlimited Potential program (MSUP) is a landmark initiative to bridge the gap in IT skills across rural India, particularly amongst the disadvantaged sections and women. Microsoft, in partnership with TARAhaat, Development Alternatives, began the Microsoft Unlimited Potential (MSUP) program in 2004. TARAhaat's ICT-enabled network provides a scalable and sustainable vehicle to deliver this program to women in dispersed regions at affordable costs. The roll out of the programme in the TARAhaat network has clearly demonstrated its potential to create a dramatic and substantial difference in the lives of young women who were so far denied access to quality education and training. Their newfound confidence and self-reliance is a source of inspiration for many young women and girls in their local communities.

Various success stories of empowerment and local role models have emerged as a result of this program.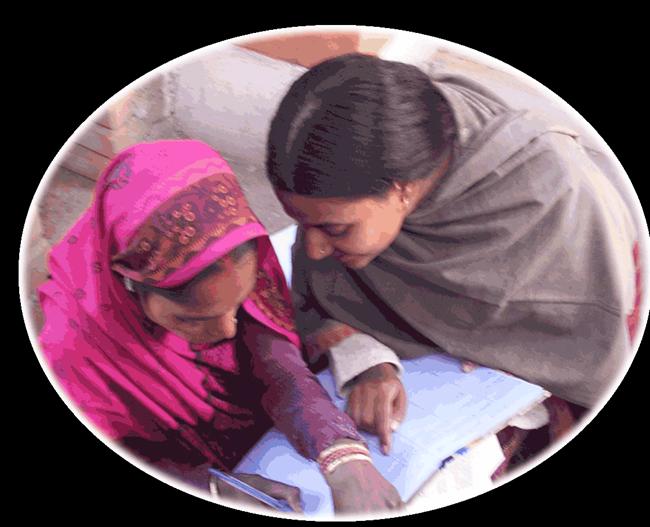 The ability to use ICT-based services has the potential to liberate women from their current state of constraints. They can apply this skill to access critical information, communicate with families and their support network and also equip themselves with skills that enable them to become gainfully employed. This will be a source of immense self-confidence and financial independence for women who have till date believed that their lives will never change. This new generation of women will be inspiring role models for other women, as informed parents for their own children and responsible members of their communities. The project operates in a social environment that imposes enormous socio-cultural barriers and constraints on women to become self-reliant. These beliefs have taken root over centuries and across generations of rural families and will only change over time.
The project has addressed these serious challenges and delivered some positive results:
1. More than 7000 female students have been trained/are being trained under the MSUP Program.
2. 140 Female Master Trainers have been recruited and trained to deliver MSUP courses.
Activities Under the MSUP Program
Training: The intensive instructor training program has been developed, refined and is being executed to train the Master Trainers so that they can deliver the best education to their students. The quality of curriculum delivery is being closely monitored and refresher trainings are being provided periodically to ensure that the Master Trainers are equipped to deliver the program. Master Trainers are also being trained to counsel women and young girls to ensure an impressive rate of program registrations.
Mobile Master Trainers: The highly innovative concept of Mobile Master Trainers (MMTs) has been developed and implemented in a large scale to extend the reach of the program to the disadvantaged girls and women who, for a variety of social and economic reasons, cannot travel to their nearest TARAkendras. Mobile Master Trainers deliver a short-term IT course with an efficient proportion of theory and practicals, which is available at the doorstep of the female students in villages.
Capacity Building of TARAhaat's Team: TARAhaat is in a big expansion mode. It has spread its TARAkendra network in 8 states of northern India. Territory Offices have been set up and potential franchisee partners have already been identified. For the efficient rollout and execution of the MSUP program in new areas, intensive capacity building of TARAhaat's local operations teams was required. Field teams have been trained extensively on program implementation. Their progress and effectiveness is being tracked and monitored regularly. The operations support team based in New Delhi ensures that the field teams, specifically the new ones, have the requisite support and capacity to meet the program deliverables.
Outreach and Marketing Initiatives: These measures are critical to the success of the program. A school contact programme in the form of a contest called 'Disha' was launched to create the awareness about the IT and its applications in life. It was run in more than 100 schools and generated a huge awareness about TARAhaat, which resulted in a large number of walk-ins at various TARAkendras.
TARAhaat also organises an IT Olympiad, a national level rural IT talent hunt programme every year. This programme intends to generate awareness and motivation among the rural youth to grasp IT education. Apart from these events, awareness about MSUP is being created through road shows, free demos, wall paintings, posters and leaflets containing a message targeting the rural youth, especially women. These outreach initiatives are innovative and interactive to ensure that the message reaches out to the intended target audience.
Identifying and Supporting the MSUP Spokespersons
Role models who can demonstrate the transformational power of IT training and are a key to breaking down the barriers faced by girls and women in the conservative society in rural India are being appointed as MSUP spokespersons in TARAkendras. They disseminate the benefits of IT training to large groups of girls and women. A spokesperson may be an ex-TARAkendra student or a woman from local community with a respectable image in the society.