ICT and Rural Entrepreneurship
In keeping with its mandate to empower rural and marginalised communities through Information and Communication Technology (ICT) with the purpose of enabling them to integrate with the mainstream economy, TARAhaat's ICT-enabled Enterprise Development and Support Services (EDSS) is an exciting step forward. EDSS focuses on providing entrepreneurship opportunities to youth, women and self-help groups through the rapidly expanding network of TARAkendras, TARAhaat's rural business-cum-community centres. EDSS components add critical dimension to the scope of services provided by TARAhaat and the development/experiment in ICT-enabled services for rural India!

EDSS! Sounds Good, But What's it all About?

EDSS is an innovative experiment in addressing a critical need in rural India's employment. The unique and comprehensive ICT-based EDSS supports aspiring and established entrepreneurs through every element of the business life cycle.

There are certain primary components of the service:
• Enterprise packages provide both technical training in a specific type of business, imparting the fundamentals of how to manage the enterprise and also imparting customised concepts o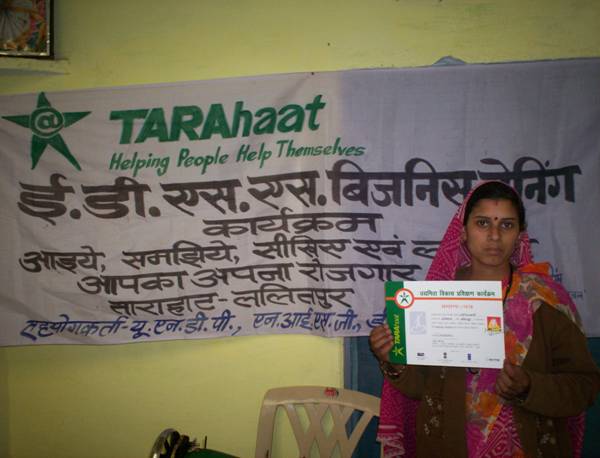 n how to establish market and financial linkages.
• An Entrepreneurship Development Programme is customised for the background and life experience of rural citizens, to enhance their understanding of how to set up a business, and plan and manage the same.
• An Ask the Expert and an online FAQ service provides ongoing business support, all in the local languages and in the local idiom. Additionally, an outreach programme to identify potential entrepreneurs is currently being rigorously field tested to ensure that the EDS products benefit the maximum number of individuals.

Local Consultants (TARAgurus)

Local consultants, known as TARAgurus, represent the virtual teacher physically, assist the entrepreneurs with on-site problems, and provide standard services such as project proposal corrections, creating linkages, etc.

Integration with Backend Processes

To meet the objective of the EDS programme, it is mandatory to identify and negotiate partnerships and alliances with the government, and corporate and civil society organisations. Several avenues for building such alliances have been explored, and selected alliances have been either consummated or are in final stages of negotiation. Some of the principal ones are the Regional Rural Bank, Nehru Yuva Kendra Sangathan, Regional Employment Exchange Bureau, Uttar Pradesh Udyog Mandal, Central Bank, District Industries Centre, Khadi and Village Industries Commission, NABARD, etc.

Yes! ICT is working!!!

The best part of our experience with EDSS is, yes, it is working. All the earlier doubts have been laid to rest. Indeed, it is contributing more than what was expected in terms of quality consistency, learning and adaptability. The complete transformation can be witnessed through glowing testimonials and entrepreneurs along with the increasing demand of the aspirants to join the ICT-based entrepreneurial training programmes.

With more then 100 successful entrepreneurs and 700 changed lives, of which 36% were women, EDSS has contributed significantly, playing a vital role in their rural peoples' improved living standard and local economy.

Outcome of EDSS Services

EDSS has helped many entrepreneurs in transforming their dreams into reality, ranging from both farm- and non farm-based enterprises including poultry farms, dairies, grocery shops, computer centres, pickle factories, candle-making units, beauty parlours, hotels, eateries, cycle repairing shops, etc.

Entrepreneur Development Programmes for TARA Akshar Trained SHGs

Either a large segment of India's population is unemployed or it is not in a position to participate in the growth process and share the benefits just because it is illiterate. Unemployment is an equally serious problem for individuals, especially women from poor families who tend to have little or no education. The consequence is either unemployment or low productivity jobs with very little pay, keeping the people and their families trapped in the vicious cycle of poverty. Without any concerted action, illiteracy and unemployment can impede growth and development of the country. Many Initiatives have been executed. However, the major limitation of existing programmes is the availability of only one part of the solution, which is either a literacy programme or a rural entrepre-neurship programme. Additionally, most of the literacy programmes are ineffective and too long in duration, and most of the entrepreneurship programmes lack facilitation of meaningful and viable enterprise options as also the inadequacy of market, technical and financial linkages. Most important is the need for capacity building support throughout an enterprises' life cycle, a facility that is largely nonexistent. In order to address this challenge, in association with the OXFAM Foundation, DA has successfully implemented one phase of TARA Akshar and EDP together. For the first time, both these components are integrated. Here, TARA Akshar teaches the illiterates to read and write in a remarkable 30 days and EDP trains the unemployed on key business skills. With the OXFAM Foundation, we have trained 100 SHG women and the second phase of this initiative will take place soon.


Web Support Services

During the EDSS implementation, we came across several challenges and constraints. We approached Hewlett Packard with a proposal detailing the possible solutions for the makeover of project. We also presented Hewlett Packard with some major challenges:

• Setting up of an online Ask-the-Expert service: Currently, a local domain expert advises the EDSS-trained entrepreneurs at each critical stage of their business life cycle. This expert has to travel extensively to provide support to these enterprises. Also, it is difficult to maintain the high quality of advice in the remote areas where DA is operational.

• Scaling up the programme on a national scale: Since EDSS is heavily ICT based, it requires laptops and projectors to impart training. Due to resource crunch, DA has not been able to scale up the programme.

The various components of the HP technology grant helped EDSS set up an effective online Ask-the-Expert service. It will further help the entrepreneurs access expert advice on an anytime anywhere basis. The scanner, located at an approachable TARA kendra, can be used by entrepreneurs to scan letters/queries in their local languages. Experts in cities can then review these scanned documents and this advice can be printed using a printer and delivered to the entrepreneurs. Laptops, along with wireless access points, will also provide these entrepreneurs access to the world of information at their doorsteps using the Internet. Thus, the best practices followed by similar micro enterprises elsewhere can be replicated in these enterprises.

Currently, EDSS uses two laptops to train 25-30 potential entrepreneurs every month. The HP grant will help in scaling up the programme at least four folds and help the expansion of EDSS programme in other areas too. It is expected that within three months, the exercise will take solid shape. The availability of additional laptops will provide DA the flexibility to offer simultaneous trainings in new areas. q
Praveen Manikpuri
pmanikpuri@tarahaat.com