'Capacity Building of Trainers' - The Missing Middle
India is going through a major transition. We are enthusiastically on our way to becoming an informed nation: knowledge-based economy. A knowledge based economy requires a new generation of educated and skilled people. The current government's 'Skill India Initiative', might indicate that we as a nation have embarked our journey on the correct path but there are still many speed breakers.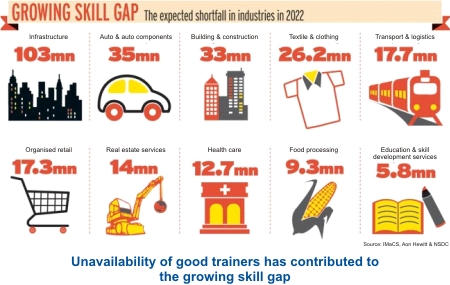 A knowledge based economy requires India to develop skilled workers and technologists who are flexible, analytical and who will lead the nation towards innovation and growth. These workers will be crafted by trainers who know their job well. Are we paying this enough attention? "It is a challenge to get the resource persons to train people. There is a huge shortage of trainers. The Ministry of Skill Development and Entrepreneurship (MSDE) is partnering with the Ministry of Defense and a MoU (Memorandum of Understanding) has been signed to meet the shortage," says Rajiv Pratap Rudy, Minister of State for Skill Development and Entrepreneurship (Independent Charge) and Parliamentary Affairs. Acknowledging this need, more than 60,000 defense personnel below the rank of Junior Commissioned Officer (JCO) retiring annually will be aligned with the skill training system so that they come out as skill trainers, he added.1
"Now that the Ministry has taken shortage of trainers heads-on by making a decision to create this large resource pool of trainers for skilling, they also need to pay attention to the 'Training of Trainers (ToTs)'. This is a must for any kind of capacity building initiative to be successful. We do basic TOTs on NSDC approved modules for all our courses in order to better equip our trainers. However, the need for qualified trainers and an ecosystem that realises the importance of the investments made towards the trainers is still missing. In all projects managed by us, annual TOTs have been a standard operating procedure and it has shown good results. Since trainers are better equipped and more aligned to the learning outcomes, it is clearly evident that trainees learn better and employers where our trainees get placed are happier. We feel that there is a huge scope for the work required to train the trainers, and we are in the process of conceptualising an entire 'Centre of Excellence' for Capacity Building of Trainers," says Manisha Mishra, Associate Director, Capacity Building Domain, Development Alternatives Group.
The quality of technical and vocational education imparted in vocational training institutions such as ITIs, polytechnics and others in the country has been a matter of concern among the policy makers. As S. Ramadorai, Former Chairman, National Skill Development Agency and National Skill Development Corporation aptly points out that the studies indicate that there is a lack of focus on development of trainer training programmes and career progression pathways for trainers have also not been defined. As trainers are critical to enhancing the quality of training imparted, it is highly important that this aspect is addressed on a priority basis. In this regard, industry is expected to play a crucial role and perhaps the right way could be setting up Centres of Excellence to provide trainers' training with international collaboration. Having regular "Train the Trainer" programmes along with the curricula and training infrastructure being current as per the latest industry requirements is crucial for success. Ramdorai emphasised that partnering with the industry experts for creation of a pool of trainers and instructors is a must do. The MSDE has already initiated a few initiatives like up gradation of the Vocational Trainer Training Institutes at various locations to create a pool of qualified trainers. IIT Bombay runs regular Train the Trainer programmes which are delivered to universities across India remotely using technology on similar lines as to how Massive Open Online Courses (MOOCs) are delivered. "Can we think of a programme where we mandate people for a 6-month service as trainers or master trainers after having completed 10 years of service in one organisation," asks S. Ramadorai, Former Chairman, National Skill Development Agency and National Skill Development Corporation.2
Training is a combination of the technical skills and the ability to impart knowledge. "Not all the trainers have the training delivery skills and this can be learned through the careful process of ToT programme. No matter how much technical skills the trainer has but imparting the same skills to others is a different art and science altogether. Under the ToTs, the trainer learns to:
Deliver effective and impactful training techniques.
Handling the trainees' questions and helping the slow learners.
Learning various training tools and methods and using them effectively to achieve the learning objectives.
Once the wrong techniques are mastered by the trainers on account of lack of guidance, then unlearning and correcting becomes very difficult. Therefore for an organisation, it becomes very important to develop the trainers' skills and organise regular ToTs,"says Madhuban Pandey who is Master Trainer for ILO, Enterprise Development courses and as well one of the founder members of TARA Livelihood Academy.
Industry interphase brings up the quality, "We were recently imparted a TOT by Imran H Khan, AVP Learning and Development FICCL. It was quite helpful in understanding dynamics of banking and microfinance industry. With time things change in the industry. Like with this demonetisation, electronic money transfer is a new thing," says Mohan Murari who along with other trainers of Gurukul attended TOT delivered by Imran on May 16, 2017. Imran validates this, "TTT sessions standardise delivery methods and quality of the programmes across all locations/ batches. This help trainers understand and learn new methods of course design and delivery e.g. role plays, case studies, activities etc. TTT's are very critical to us, as our policies and products keeps enhancing and changes need to be immediately communicated to the learners and course material needs instant updation."
Internationally also this need has been recognised. European Commission, Cedefop and the Thematic Working Group on Professional Development of Trainers in Vocational Education And Training (VET) contributed some guidelines out of which a few are listed below (Council of the European Union; European Commission, 2010).3
In Finland, all qualifications acquired in initial VET include an optional module-'Workplace Instructor Training'. Similar modules are included in some further and specialist vocational qualifications. Content of qualifications is defined by the relevant branches. Some branches will include a trainer module when the qualifications (designed before 2010) are revised and updated.
In Denmark, pedagogical training for VET trainers is provided as in-service training. The National Centre for Vocational Pedagogy offers a two-year diploma programme in vocational pedagogy introduced in 2010. It is based on interaction between theory and practice (Cedefop, 2010).
In Romania, a national standard was developed to coordinate better and guarantee a standardised approach to Training of Trainers working with adult learners. Since 2010, only trainers certified according to the standard can deliver all nationally-accredited training (Cedefop, 2013b). The standard is also the basis for validating and certifying competences acquired in non-formal and informal contexts. ■
Jyoti Sharma
jsharma@devalt.org
Endnotes
1 http://www.business-standard.com/ article/economy-policy/trainers-shortage-key-hurdle-to-skill-development-rudy-116012901097 _1.html
2 http://www.sciencedirect.com/science/ article/pii/S0970389616300891
3 http://www.cedefop.europa.eu/en/ news-and-press/news/guiding-principles-professional-development-trainers-vet