Capacity Building in Literacy Initiatives
How one looks at capacity building, can range from a strictly institutional understanding which is the optimisation of skills of either individuals or organisations, or it can imply the facilitation or consolidation of individual / organisational capacities to enable them to evolve and adapt to newer roles and responsibilities. In the realm of the development sector, capacity building as a term is sector agnostic. It could range from industry, energy, health to education.
Development Alternatives (DA), in its mission to provide sustainable livelihoods at scale has been running TARA Akshar+, an adult literacy programme in the rural interiors of India for over a decade. Literacy is the primary step to any form of empowerment, be it social, economic or political and TARA Akshar+ is a gradual stride in this direction.
In 2017, with the support of HCL Foundation, TARA Akshar+ was implemented in Hardoi district of Uttar Pradesh, where 1500 women became functionally literate and numerate. Along with building the capacities of rural illiterate women by making them literate and aware citizens, DA's flagship programme has also built the capacities of more than 30 local field staff in Hardoi. The programme works on an inclusive model wherein it is not just the target group who become part of the programme, but the community as a whole.
While most capacity building initiatives focus on hard skill training, TARA Akshar+ programme concentrates not just on training the field staff on the requisite technical training to conduct classes every day, but also skills persons on the softer aspects of their job. Before the adult literacy programme is implemented on the field, the locally selected field staff are trained for more than two weeks to enable efficient and effective implementation of the project on the field location.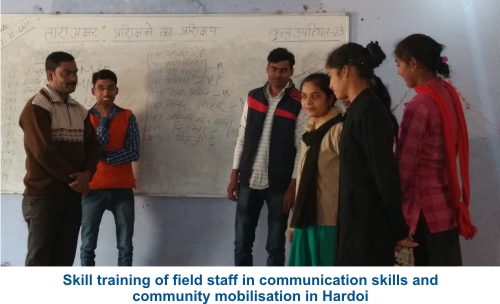 In this case, the complete field staff residing in Hardoi district of Uttar Pradesh were provided skill training on the usage of laptops and TARA Akshar+ proprietary software, process of community mobilisation, how to conduct a class etc concentrating not just on theory but on actual working and functioning by conducting short mock sessions of the entire 56 days programme. This was topped by building their capacities on the qualitative or softer aspects of the programme which would help them understand and gauge the idea behind TARA Akshar+ and the need and importance of literacy in our society. As many of the trainers come with some teaching experience, they are also trained on how to address a class of adult women and how adult learning is different from teaching children.
Additionally, capacity building sessions especially to build their communication skills were conducted keeping in mind the fact that these trainers would be the torchbearers of this programme in the villages and would take it forward through various teaching cycles over the course of two and a half years. As the programme is built on catering to the structural problem of illiteracy which has a direct correlation to early/childhood marriage, domestic violence, high infant mortality rate and other development indicators, the training included interactive and activity based sessions on gender sensitisation where the trainers were introduced to the concept of gender, its implications in our society and how their behaviour as well as the nature of the programme should always be free of biases.
For over a decade now, TARA Akshar+ has contributed not just in bridging the gap between illiteracy and literacy, but it has also ensured sustained livelihoods to thousands of people in a dual manner. The women who break the shackles of literacy are enabled to use the economic, social and political opportunities that become available to them. Furthermore, the constant training and support that is provided to the field staff helps them to secure a favourable livelihood not just during their engagement with TARA Akshar+, but also for the job opportunities in future. ■
Divya Mehrotra
dmehrotra@devalt.org