Evolution of CSR since Companies Act, 2013:
What worked and what didnít
India has been one of the few and probably the most prominent countries in terms of a rich tradition of Corporate Social Responsibility (CSR). Through philanthropy and trusteeship, distribution of wealth among those who needed it more has been an integral part of its history with companies like the TATA group and the Aditya Birla Group leading the front.
However, with the Companies Act 2013 coming to the fore, CSR has transformed into something more. The Act makes it mandatory for companies that fall under the criteria to spend 2% of their profits (after tax) for the previous three financial years on CSR. The Act has ensured that what was once perceived as charity is now being viewed more as a responsibility for most companies and not only some of the larger ones.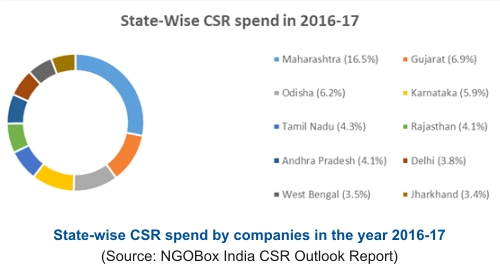 As expected, new trends have emerged in terms of CSR post the enactment of the Act. Initially, companies were more inclined to spend their CSR corpus on short term projects. However, slowly they have realised the importance of sustainability leading to more long-term projects. Due to this, there has been a marked rise in 2-3 year long projects, especially from the bigwigs in the corporate sector. This indicates an approach targeted towards sustainability as well as strategy. Companies are now willing to include CSR as part of their DNA. The Act has slowly catalysed the process of development in India and resulted in a wave of interventions across the nation targeted towards reducing inequalities.
However, there are a few chinks in the Companies Act that have unintentionally hindered the fulfilment of the very purpose it envisioned. A particular section of the CSR mentions how companies can spend 2% of their average net profits from last three financial years and focus on local areas around which they operate. Though the underlying principle of this section remains development, companies are expected to stay loyal to the locations of their operations eventually leading to disparities which are quite evident if we connect the dots. In a report by NGObox that analyses the CSR spends of top 100 BSE listed companies in India, it can be observed how states like Maharashtra and Gujarat, which also happen to have a large number of industrial units, have seen the most activity through CSR. As a result, states like Chattisgarh have fallen behind on the priority list.
Another issue that the Act does not adequately address is the action taken if companies fail to spend their prescribed CSR budgets for a year. The companies are only expected to provide an explanation regarding the same in their annual report, but that alone may not be enough to push the companies to spend more and contribute to the process of development. More accountability is required from all companies coming under the scope of this Act to fulfil their obligations.
Though these challenges remain, there is no doubt that the Act itself has revolutionised the way companies look at communities around them and understand what is needed by them. Since the enactment of the Companies Act 2013, approximately 3000 companies lie in the ambit of mandatory CSR. It has ensured accountability and opened up new opportunities for corporates, government, civil society organisations and communities at large to contribute to the process of social development. With the presence of regulatory bodies such as Ministry of Corporate Affairs (MCA), CSR has gained a much needed momentum and is well on course to create a lasting impact for the nation. ■
Tushar Tyagi
ttyagi@devalt.org