Solid Waste Management at Community Level


Barriers and solution
According to the World Bank, Report 1994, Municipal Solid Waste (MSW) includes refuse from institutions, market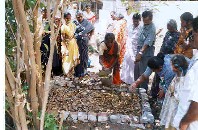 waste, yard waste and street sweepings. In other words, the term "municipal waste" applies to the waste generated by households and also waste of similar character derived from shops, offices and other commercial units. Levels of municipal waste production are directly proportional to levels of industrialisation and levels of income. Per capita waste generation varies between 2.75 and 4.0 kg per day in high-income countries, but is as low as 0.5 kg per day in countries with lowest incomes. In USA, 10,000 private firms are engaged in MSW services, collecting more than 80% of the waste. About seven percent goes to landfills and for the 73% resource recovery facilities are operated by private contractors.

Municipal solid waste is a heterogeneous mixture of paper, plastic, cloth, metal, glass, organic matter, etc. generated from households, commercial establishments, and markets. The proportion of different constituents of waste varies from season to season and place to place, depending on the lifestyle, food habits, standards of living, the extent of industrial and commercial activities in the area, and so on. Packaging materials are becoming an increasingly important component of municipal waste in developed countries. Recent estimates suggest that packaging materials account for about 30 per cent of municipal waste in the USA (US EPA, 1990).

Indian MSW Composition
Municipal waste in developing countries tend to have a higher organic and ash/grit content, and also a higher moisture content. It has been estimated that recyclable content in solid waste varies from 13 to 20% and compostable material is about 65 to 80%. A typical composition of Indian Municipal Solid waste is given in Table 1.

Table 1:Indianh MSW Composition
Descripition
Percentage by weight
Vegetable leaves
40.15
Grass
3.80
Paper
0.81
Plastic
0.62
Glass/ceramics
0.44
Metal
0.64
Stones/ashes
41.81
Miscellaneous
11.73
In India, waste generation is expected to increase to a mammoth figure of 300 million by 2047, i.e., from the present 500 grams to 945 grams per capita. The estimated land requirement for disposal of such huge quantum of waste would be 169.6 sq. kms as compared to 20.2 sq. kms in 1997. This escalation could be accounted to India's population explosion, change in consumption patterns among urban populations and relatively high spate of waste generation, which has a direct relationship with the amount of waste generated in a community.

Some Experiments


Solid Waste Management cannot be successful without the involvement of all stakeholders who have a vital role to play in successful implementation of the scheme. It is worthwhile to examine some of the initiatives in this regard.

Bhagidari Scheme in Delhi


The Delhi Government instituted the Bhagidari Scheme for ensuring close cooperation of the Residents Welfare Association (RWAs), civic agencies and the government. A step in the right direction was taken by getting a court order for compulsory segregation of waste at the household level from January 1, 2004. It is one thing to bring about a legislation and another to ensure its compliance and implementation. Like most environmental legislations in Delhi, (Section 353 (C) of the Delhi Municipal Corporation Act), there are very few, may be miniscule, who religiously segregate the waste at source. One can only deduce that such an activity does not exist perhaps in the Indian psyche. People do not see it as their responsibility but that of the municipality. In December 2003 (Hindustan Times 26.12.2003), the Municipal Commissioner of Delhi announced a system by which segregated garbage from homes would be transported to municipal bins through specially designed handcarts having two compartments. He further mentioned that the segregation system would reduce 50 per cent of the garbage going to landfills and thereby result in cost reduction. In the initial phase, zones were selected in colonies like Hauz Khas, Gulmohar Park, Vasant Vihar, Green Park, Safdarjung Enclave and Sewa Nagar. Due to various reasons, the scheme has not really taken off. As a matter of fact, in one zone (Sewa Nagar) the bins that were located on the side of a road had been pilfered. Only in some colonies, where RWAs decided to tackle the problem themselves, the scheme is working.

Bangalore Agenda Task Force (BATF)
As a part of the overall plan of the BATF, solid waste management has been taken up in a big way in Bangalore City. The whole operation has been outsourced to private agencies who provide the infrastructure right from Safai Karamcharis, their uniforms and caps, bins, trolleys and vehicles (dumpers) that pick up the collected waste and transport it to the composting site on the city's outskirts. The Safai Karamcharis have been given strict instructions not to collect the waste from households if it is not segregated. Their areas of responsibility are clearly demarcated along with their collection schedule. These areas are under supervisors of the contracted agency and hence, it is ensured that every place is kept clean. This exercise also has a few snags that will be discussed later.

Individual Effort in Rural Maharashtra
A 39 year old bank cashier, Ms. Asha Shivajirao Bhise, left her job and took up vermi-composting in a big way (Indian Express, 16.04.2004). With a total corpus of Rs. 15 lakhs, she set up a vermi-composting project and harvested 20 tonnes of compost in 40 days, which was picked up by farmers within days. It is an example of tapping commercial opportunities in solid waste management and total commitment by an individual.

Mumbai Initiative
Under the dynamic leadership of Ms. Kunti Oza, Clean Mumbai Foundation has taken up solid waste management with the help of corporate sector. 'A' Ward comprising (Cuffe Parade, Nariman Point, Strand / Colaba, Museum, Paltan Road Bora Bazar, Ballard Estate and Churchgate / Marine Drive) has been selected for the pilot project. A collection system has been organised and the wet garbage is taken to selected sites in parks that would have composting pits. Besides the provision of financial resources by the corporate sector, Brihanmumbai Municipal Corporation is providing supervisors at each selected garbage collection station. What is interesting in this scheme is the novel Pavement Tank Method of utilising waste at some sites. As there are high rise residential buildings without any space for garbage disposal, the residents provided funds for making rectangular brick tanks around trees on the lane pavements. Wet kitchen waste is also being put in the tanks and covered with dried leaves to prevent foul odour. The waste turns into compost by the aerobic process and provides essential manure to the trees. The area is kept clear of stray dogs and cattle.

Barriers and Solutions
As SWM is a concerted effort of all stakeholders – civic agencies, RWAs, communities, ragpickers, NGOs and the government – each one has to play an active role in making it a success. A negative attitude of one would have a profound negative effect on the entire scheme leading to its derailment.

Segregation
At the household level, segregation is vital. It does not take any time for an individual to put biodegradable and non-biodegradable waste in two separate containers. A bin for the kitchen waste is enough, as the non-biodegradable (or dry) waste can easily be put in a cardboard box. This exercise saves a lot of effort at the end of the chain. It has been observed that in Bangalore, the residents still continue with non-segregation that aggregates to giant proportions at the composting site. Delhi is far behind in setting up of such systems. A drastic attitudinal change is needed and individuals appraised of their responsibilities. It is no use blaming the municipal authorities and putting the onus squarely on them with the excuse that we pay municipal taxes and it is their duty to remove the garbage whether segregated or not. Our archaic custom of not touching waste created by ourselves has to change, earlier the better, as times will soon come when there will be no domestic help and all the members of the household would have to join hands to manage household waste themselves.

Waste Utilisation at Source


Quite a few urban areas, including the country's capital, have municipal parks both within and outside the localities. These parks are ideally suited for composting. At present, unsegregated garbage is collected from households by employed ragpickers / safaiwalas, who take it near a municipal dhalao. As non-biodegradable wastes like plastics, polythene, glass and paper do fetch a price, the safaiwalas unload the waste on the roads / lawns, carry out sorting for resale and leave the entire area a dirty, stinking place. It invites stray cattle and dogs who further spread the waste, leading to unhygienic conditions. Once enforcement of segregation is achieved, biodegradable waste can be collectively taken to the composting area and most of the non-biodegradable waste sold by the ragpicker as recyclable. This would reduce manpower and transportation costs for the municipality and ensure that only ten percent of waste goes to the so-called landfills, which are virtually dumping sites. The same ragpicker / safaiwala who could get an income of Rs. 3000 to 4000 (@ of Rs. 30 to 40 per month of collecting waste from 100 households) could be employed at the composting site. The profits from the sale of compost could be shared between RWA and the ragpicker.

Ragpickers
The ragpicker community is an important link in the SWM system. They can survive under Indian conditions as a result of two basic situations - the extreme poverty of large sections of urban communities, and the relatively high value of raw materials to be recycled. They are instrumental in segregating the waste and then taking away the non-biodegradable for selling to the Kabariwalas. This ensures an income of about one hundred rupees per day for an individual. The income not only provides employment but also recognises their important contribution to the society and prevents them from resorting to petty thefts and other anti-social activities. It is a laudable step towards "dignity of labour". Present day activities of ragpickers are not systematic and they scavenge around from one locality to another. Their movements in the early hours of the morning lead to suspicions and they are exploited by law enforcement agencies. All ragpickers in a particular locality should be brought together by the municipal authorities, assigned areas of responsibilities and introduced to the RWA. They could also be given the task of picking up segregated waste from households for which they could be paid a fixed monthly amount by residents. The ragpickers could also be trained to do composting and a certain amount from the proceeds of sale could be allotted to them.

According to Dr. Bhide of NEERI, a ragpicker picks up and feeds into the recycling chain between 12 to 15 % of the total waste generated. In case of Delhi, where the total waste per day is 6000 metric tonnes, the ragpickers (100,000 to 150,000) lift 720 to 900 tonnes, which is a daily saving of
Rs. 620,000/- to Rs. 7,75,000/- to the MCD. These figures clearly indicate an unnoticed or unacknowledged subsidy being provided by the ragpicker. Their activities are beneficial to the waste producer (households) and the civic agency. It also benefits the composting unit by saving them from sorting out a sizeable portion of the recyclables.

Municipal Corporations


Municipal Committees or Municipal Corpo-rations are the main role players in Solid Waste Management. A well coordinated plan involving all stakeholders will lead to efficient segregation, removal and utilisation of garbage. It will also reduce the work load of the agency and the amount of garbage to be sent to landfill sites. The municipal agencies have the responsibility to create awareness for which they can take the assistance of the media. Advertisements in local dailies and audio-visual publicity through radio and TV will help in bringing about attitudinal changes. They can also inform the citizens about their role; who all can be contacted for guidance; the programme of action; and other agencies like NGOs who are involved. The strategy for implementation would be :
| | |
| --- | --- |
| l | Detailed method of collection from source to landfills |
| l | Safai karamcharis and their duties |
| l | Method of clearing municipal dhalaos |
| l | Contribution in setting up SWM systems in communities |
| l | Organising the work of ragpickers for non-biodegradable waste |
| l | Availability and provision of trucks / dumpers and timings |
| l | Allotment of land, mostly in municipal parks for composting by communities |
| l | Arranging sale of compost through various retail outlets |
| l | Financial support to RWAs in the form of both fixed and recurring costs. |
The civic agencies should also plan a viable marketing system to ensure that vermi-compost is sold. They should ensure cleanliness at the municipal dumps (dhalaos), close coordination between their safaiwalas and ragpickers, be answerable for the overall cleanliness of the area and prevent their employees from taking on side-jobs, thus helping the ragpicker earn a decent income for their sustenance. The municipal authorities / civic agencies have to realise that such an effort on a large scale would result in reducing the load of their work force that could devote more time and personnel for general cleanliness. Hence, the onus of providing the market for sale of compost rests with them. They should either purchase the produce themselves or arrange for its sale to those who require, like farmhouses, horticulture and floriculture enterprises, etc. They should also give incentives to communities who are running such enterprises successfully.
NGOs
NGOs play a very crucial role in catalysing community action. The most workable method is to use the enthusiasm of children from schools in the neighbourhood. They have the expertise to systematically initiate the programme, put the system in place, monitor its progress and provide valuable guidance. It is recommended that a consortium of like-minded NGOs be formed and geographical zones allotted, keeping in view the aspect of total coverage of the town / city. The NGOs are required to impart orientation training and do hand-holding of RWAs till the system is set in place and starts working. To keep the interest alive, NGOs could organise competitions among RWAs. NGOs should also involve charitable institutions like Rotary, Jaycee, Lions, etc. for financial support.
Conclusion
The menace of solid waste in the urban sector has become a monstrous reality. Nothing substantial has been done in most of the towns and cities in the country. Although India has the most comprehensive Municipal Solid Waste (Management and Handling) Rules, 2000, it is just a directive on paper without any enforcement and implementation. Very little effort has been made to train and build the capacity of all stakeholders. Hence, there are all kinds of excuses given for its failure. The blame game continues. Most of the municipalities cite lack of resources to manage solid waste while the communities feel that they have not been involved. Resource agencies, like NGOs, want to take the initiative but do not wish to get involved till they have a complete assurance of cooperation from all stakeholders, specially the government and civic agencies. They also do not like the idea of volunteering without any financial back-up. BATF has ensured complete financial mobilisation in a coordinated manner. The residents feel that a great opportunity is going waste. The government should educate and inform people about such projects before executing any plan, so that the desired results are obtained. They should also understand the economics of a joint effort which would result in huge savings to the exchequer by way of privatisation and utilisation at source, leading to the reduction in manpower, transportation, health services and creation of livelihoods for the weaker sections of the society. It is a win-win situation with just a little extra effort to grasp the opportunity for making our cities clean and green.
Back to Contents