Solid Waste Management - The Namakkal Experience

Col. V Katju vkatju@devalt.org


The Present Urban Scenario

T

he Indian Urban Scenario in terms of waste management and disposal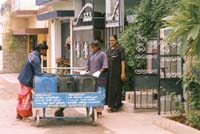 Waste collection at
Namakkal, Tamil Nadu
is bleak. Traditional methods of waste disposal under the purview of municipal and civic bodies have largely limited themselves to "collect and dispose" functions which are becoming inadequate to cope with its increasing quantity and changing nature. Waste has to be treated as wealth and needs to be viewed scientifically and holistically, recognising its natural resource roots as well as health impacts. Urban poverty is inextricably linked with waste. In India, over a million people find livelihood opportunities in waste collection. Hence, there is an urgent need to build upon existing systems instead of attempting to replace them blindly with models from developed countries. Delhi generates 6500 tonnes of garbage per day but only 5000 tonnes reach the sanitary land fills (garbage dumping sites). The Municipal Corporation of Delhi (MCD) has been actively engaged in devising various schemes for disposal, treatment and transportation of solid waste but is lagging behind in achieving a total solution to the problem. Even the judiciary is pulling them up for non-compliance in providing a status report in the matter by 2 February, 2005 (T01, 14 April 2005). The Delhi High Court had no hesitation in observing that the capital city has become an "open-dustbin".
Such a situation is prevalent not in Delhi alone but in most of the other towns and cities of the country due to rapid urbanisation and lack of civic infrastructure to cope with the problem. The municipal authorities are not entirely culpable for this menace. There is a need to bring about attitudinal change right from individual households to all stakeholders. Although change in mindset is not an easy proposition but understanding one's responsibility and dedication to make things work would facilitate clean and healthier surroundings. Initially, strict implementation and enforcement of environmental laws will pave the way for compliance. We have to get out of NIMBYS (not in my backyard syndrome) and contribute as responsible citizens living in a community which respects and understands nature and environment.
Barriers in total Urban Waste Management
Non-segregation of waste at source is a major issue in the chain of waste management. Individual households have an erroneous notion that garbage disposal is entirely the job of civic authorities. People, especially housewives, feel it irksome to segregate wet or bio-degradable waste from non-biodegradable waste like plastic bottles, glass, cans, wrappings, aluminium foil sachets, etc. The excuse is that they do not have bins which should be provided and they do not have time to segregate. A plastic covered bin and an ordinary cardboard box would suffice. They do not understand that a few minutes of their time would eliminate hours of sorting out the accumulated waste. Besides this, such an operation near a municipal dump (dhalao) by the ragpickers leads to unhygienic conditions, attracting cattle, dogs, insects and flies. We tend to walk past a dhalao, close our noses to the terrible stink but do not take time off to reflect as to what we can do to prevent such a situation.
The communities or Residents Welfare Associations (RWAs) give a very low priority to Solid Waste Management (SWM). For them security, water, lighting, etc. are more important. Although, most localities have parks within their boundary, somehow the very idea of composting waste at these locations seems to be an anathema. Those residents who reside near the parks have violent objection, citing foul smell and general unhygienic conditions. Ignorance breeds an attitude of resistance against any initiative. They do not understand that if the place is kept clean and kitchen waste in pits is covered with dried leaves the presence of foul smell is eliminated. Those who do understand the value of composting at source do not volunteer to help in any way and are content by saying "keep up the good work and we are with you".
Ragpickers, who are generally migrants in towns and cities, have a large contribution in waste management. It is a huge unorganised task force mainly comprising migrants from West Bengal, Assam and Bangladesh. As they start their work in the early hours of the morning they are looked upon with suspicion and any theft or trespass in colonies is blamed on them. The police and security agencies take advantage and extract whatever available money from them. In Delhi alone there are 1,00,000 to 1,50,000 ragpickers who save MCD Rs. 8 to 9 lakhs daily. At a smaller scale, in other towns and cities, these ragpickers are contributing substantially towards clean environment. As quite a few are foreign nationals and are involved in nefarious activities, they do not wish to come into the limelight. After collection of waste they do the segregation in the open, take away the recyclables, leaving the area dirty. SWM, to be successful, has to integrate them, make full use of them, thus providing them livelihoods to live with dignity and not as pariahs of society.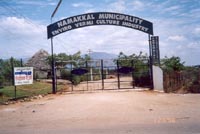 Municipal Corporations/Munici-palities have the biggest stake in SWM. However, even with a large force of safai karamcharis they are unable to carry out their task due to various reasons. In Delhi, as per the admission of MCD, 30 per cent of the 50,000 workforce are on leave at any one time. As a result 1500 tonnes of garbage lies uncollected every day. Most of the safai karamcharis working in localities show up for 3 hours in the morning. They are not accountable to the RWA's and the total responsibility of a clean residential area devolves on nobody. These karamcharis are paid government employees. However, they exploit the weaker sections of the society by not allowing them to take part in the management of the waste. They purchase rickshaws and fix up a door-to-door collection rate of Rs. 30 to 40 per month, making a neat Rs. 6,000/- per month in a locality of 200 residents, They employ a ragpicker to do the collection work who makes a living by selling recyclable waste which may be Rs. 50 to 100 a day. If this practice of sub-letting is banned, three to four women ragpickers can be given this task, provided proper uniform and given badges of identification. They would be made responsible for collection and general cleanliness of the locality 7 days a week, 365 days a year. They will also be responsible for not allowing any unidentified person coming in the locality. In addition, they can be trained for vermi-composting which will earn revenue for the RWA. The Municipal Authorities should also be made responsible for setting up retail outlets for marketing the compost at a negotiated price. With the huge savings in manpower, equipment and transportation, besides earnings through sale of compost, a part of the municipal budget should be allocated for tree plantation, landscaping, improving the general cleanliness of slum areas and providing better amenities like public latrines, proper drainage with soak pits, an efficient sewage system etc., which are so essential for an eco-city. Once awareness is created among citizens it will become a second nature to keep their towns clean, green and healthy.
The Namakkal Experience
Namakkal is a small district HQ town of Tamil Nadu, situated on the main highway from Salem to Dindigul. It is the first municipality in the country involved in privatisation of all components in SWM. By institutionalisation of door-to-door collection with segregation at source, manufacturing of vermi-compost from organic waste and sale of recyclable from inorganic waste, Namakkal has the distinction of becoming the only zero garbage town in the country. In order to achieve this they follow a ten point charter :
| | |
| --- | --- |
| 1. | Extend the scheme of door to door collection with segregation to entire town and make the streets and roads garbage free. |
| 2. | Introduce night sweeping at bus stand and important roads, etc., and maintain cleanliness 24 hours. |
| 3. | Extend the scheme of door-to-door collection and sweeping on Holidays and Sundays and make the town clean on all days by continuous sweeping. |
| 4. | Make the parks and burial grounds beautiful and attractive through NGO and voluntary agencies. |
| 5. | Remove encroachments on all roads and streets. |
| 6. | Prevent road-side hotels, lorry repair shops, etc., on the national highway and maintain it beautifully by planting trees. |
| 7. | Remove pigs and dogs from the town. |
| 8. | Levy service charges on hotels, Kalyanamandapams, commercial complexes and garbage generating industries. |
| 9. | Manufacturing of Vermi-compost from organic waste through voluntary organization / private agencies on B.O.T. basis, sell the inorganic recyclable garbage and convert the compost yard into Nandavanam. |
| 10 | Engage two mob-up teams with two auto model carriers to remove the waste then and there, round the clock, and make the town garbage free. |
Since door-to-door collection is being done by private groups, municipal safai karamcharis have been engaged for night sweeping on main roads, bus stand, markets and industrial areas. This activity is also being done on all Sundays and holidays. Sanitary inspectors have been appointed to impose spot fines upon those who resort to littering. For vermi-composting a unit has been set up 2 kms outside the town over an area of 8.53 acres. The compost is either sold or utilised for parks / gardens under the supervision of the municipal authorities.
This experiment has been successful due to a holistic approach with all agencies cooperating together under the leadership of the District Collector. The committee includes the district administration, the municipality, consortium of NGOs, women self-help groups, schools, market associations, industrial associations, RWAs and ragpickers. Although Namakkal is a small town, with a population of 60 to 70,000, it is having two major industries – body-building of 60 per cent of CNG tankers in the country and a very large and well-organised poultry industry. Hence, if no effort was made the town would have virtually turned into a garbage ridden town. Now an awareness has been created where every citizen accepts the responsibility of keeping the town clean and ensuring that nothing is thrown anywhere except in a bin.
Solutions
As utilisation of municipal solid waste is everybody's responsibility a holistic view has to be taken to achieve the desired results. NGOs have ample expertise in this field and can be usefully entrusted as consultants to bring out the desired results. In every town a pilot programme should be carried out and the success story should be circulated to other localities for replication. As a start, government housing localities should be selected like police lines, residential areas of government institutions, university and college campuses, etc., where local or outside interference is non-existent. Once a demonstrable unit is functional, nearby RWA office bearers could be invited for seeing for themselves the benefits. In turn, the RWAs should be given incentives for setting up the infrastructure and initial functioning of the unit, till they can themselves stand on their feet.
Children from the local schools should be trained for catalysing community action. Parent eco-clubs should be formed and during parents / teachers meeting, the involved NGOs could brief them on the benefits of usefully utilising waste. Some of these parents may be office bearers of their RWA and they can influence other residents to implement the scheme.
Ragpickers in a particular town (except those who are foreigners) should be systematically inducted into the scheme by allotting them localities with more interaction with RWAs. In this way, a large number of marginalised sections of the society will be provided with decent livelihoods. This will enable them to integrate into the mainstream of society and prevent them from carrying out unlawful activities. If women are employed, it will free the children from such tasks and they can then attend schools and at least get basic education leading to a decent employment. It will also prevent them from being exploited by law enforcement agencies. As they will be registered, the RWAs will be able to ensure their good conduct and in case of any mishap the culprits can easily be traced and brought to book.
Better coordination between RWAs and municipal authorities is essential. The municipal supervisor attached to a locality should be made accountable for its overall cleanliness and a part of the municipal budget could be allotted to the RWA for expenditure. A sense of cooperation and removal of suspicions, without incrimination, would help immensely. To make the scheme a success, the legislators (M.P., MLA, and Municipal Councillors) have to hold hands, irrespective of their party affiliations and render full support to the civil administrator (District Collector) to make things work. Finally, it has to be remembered that waste is wealth and a business package for sustenance of the scheme will be an incentive for the creation of a clean and healthy town / city. q
"It appears that man has lost his capacity to foresee and forestall. He will end destroying
the earth and with it, ofcourse, himself perish" — S. Nithya, CLEAN-Dindigul
Glimpses from Annual CLEAN-India Meet, New Delhi, 4-5 February 2005

Dr Alexander Spachis, Minister Counsellor, European Commission, India greeting CLEAN-India students
The CLEAN-Delhi stall
Best display of community action -
CLEAN-Bangalore
Participants visiting vermicomposting
site at Vasant Kunj
Demonstration of city farming
at Sanskriti School