Rating System for Streamlining
Fly Ash Brick Quality in Bihar
Development Alternatives Group (DA) intends to create a favourable policy environment in the state of Bihar for the promotion of fly ash bricks. In order to fulfil this objective, DA has developed a Quality Rating System (QRS) for fly ash bricks which will be implemented in the state of Bihar for large scale acceptance and market creation of fly ash bricks. The rating system will be implemented by DA throughout the state by assessing individual fly ash brick units operating in the state and certifying these units by assigning different ratings such as Class A, Class B, Class C and Class D depending on their capability to meet the quality criteria set by a Quality Rating System Framework.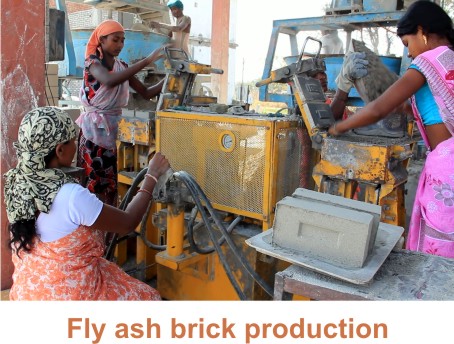 Objective of Quality Rating System
The objective of this rating system is to provide acceptable quality criteria based on compressive strength, water absorption, efflorescence and dimensional tolerance and assign different ratings to the fly ash brick manufacturing units, depending upon their capability to demonstrate production of consistent quality of the fly ash bricks.
Rating System Implementation Steps:
Step I: Formal enrolment of entrepreneurs using a set of enrolment forms.
Step II: Brick sample collection from the enrolled entrepreneur using a set protocol for sample collection.
Step III: Facilitating testing of bricks by a NABL accredited lab against the parameters as mentioned in the FABQRS system and validating the same parameters by testing bricks in Development Alternatives lab.
Step IV: Awarding A, B, C & D rating to the enterprises as per FABQRS.
Step V: Sharing the rating with entrepreneurs and providing technical training to B, C & D rated enterprises.
Step VI: Conducting 2 rounds of rating of enterprises to assess improvement.

Benefits for Entrepreneurs enrolling in Quality Rating System:
Quality rating award to the top three entrepreneurs will be given in an award ceremony organised with the state government for their quality production.
Certificates to all 'A' class entrepreneurs from Bihar Pollution Control Board and Development Alternatives Group for their quality brick production.
Possible incentives for 'A' class entrepreneurs from the state government so that they will be able to upgrade their production capacity.
Details of 'A' rating entrepreneurs will be updated on the website of State Pollution Control Board.
As an incentive six month technical support will only be provided from the technical team of Development Alternatives Group to 'B', 'C' and 'D' rated enterprises to help them achieve 'A' rating. Hence with early enrollment, enterprises can avail technical support for longer duration and they can fix their problems.
After providing technical support to enrolled enterprises, all the rating will be published on the website of State Pollution Control Board.
Entrepreneur can opt out of the programme at any point.
Other non-technical support to all fly ash brick enterprises.
Implementation of QRS in Nalanda District of Bihar:
The first phase of quality rating system was implemented in Nalanda district of Bihar. 8 entrepreneurs were enrolled for the quality rating system. Samples have been collected as per QRS protocol and testing was done at NABL Lab Patna and Development Alternatives, New Delhi. Three entrepreneurs got Class A out of eight and remaining five got Class C as per QRS. Technical support was provided to low class entrepreneurs for quality improvement. ■
Avinash Kumar
akumar1@devalt.org