Towards Waste Utilisation - Encash Fly Ash

Fly ash, also known as 'pulverised fuel ash' is a by-product after combustion of coal. Although ash is an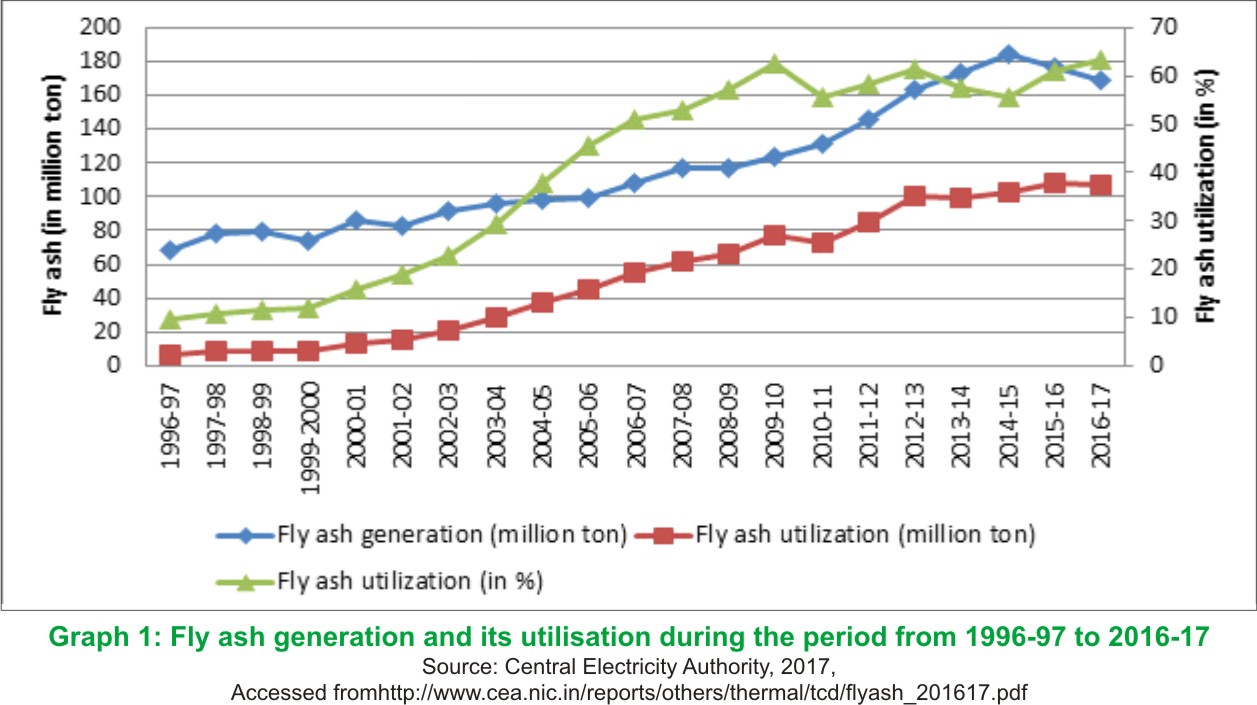 excellent construction material, poor practices lead to a large portion of it being dumped in shabbily maintained ash ponds which often pollute surface and groundwater.
About 70-75% of the total power generation in India is met from coal-based power plants. In 2016-17, 509.46 million tonnes (MT) of coal was consumed by thermal power sector and resulted in 169.25MT of fly ash generation. Out of this total fly ash generation, only 63% was utilised (CEA, 2016) and the remaining 37% was dumped (Refer Graph 1).
This article focuses on the relevance of utilising fly ash, as it converts waste and a potential pollutant into a raw material, saving other precious resources as well. Fly ash can be utilised in various ways in the construction sector (Refer Graph 2), cutting the use of both virgin material and energy.
Poor quality of Indian coal due to high ash content, results in enormous quantity of fly ash generation and this had thereby led to accumulation of large amounts of unutilised fly ash lying around. Moreover, a significant quantity of water is used for its disposal. The problems will worsen as India's power plants plan to scale up its coal use in the future.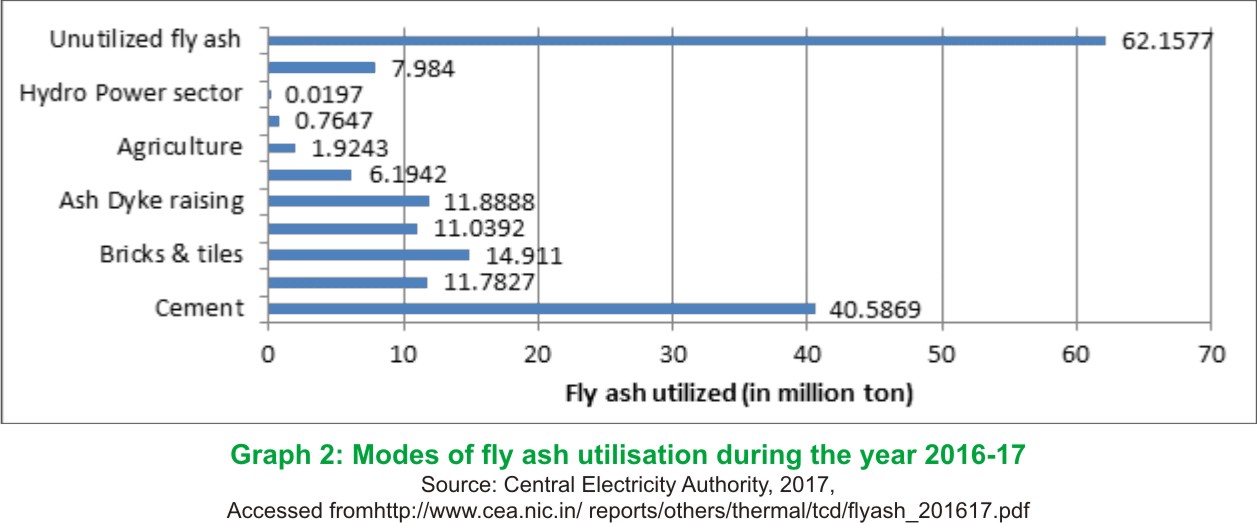 Currently, the cement sector is the largest user of fly ash accounting for nearly 24 per cent of the ash utilisation and putting 40.58 MT of fly ash to productive use. Brick manufacture and roads account for only 14.9 MT and 6.19 MT respectively (Refer Graph 2). The remaining 45.4 MT of ash is used for non-gainful activities like mine filling, raising low-lying areas, ash dyke constructions, etc. and 62.15 MT remains non-utilised.
Bricks and roads are potentially high-volume users of fly ash. Fly ash brick technology is an eco-friendly technology. The Development Alternatives team has done the below mentioned calculations to show the environmental benefits of using fly ash bricks:
conserves fertile soil (30 tonnes of soil saved per 10,000 fly ash bricks)
uses fly ash and other wastes (15 tonnes of waste utilised per 10,000 fly ash bricks)
reduces greenhouse gas generation (6.72 tonnes of carbon saved per 10,000 fly ash bricks)
conserves natural resource like coal (2.1 tonnes of coal saved per 10,000 fly ash bricks).
However, in spite of being high potential, there have been various barriers that have obstructed the 100% utilisation of generated fly ash.
Regulatory Efforts
Government of India has tried to promote utilisation of fly ash with several initiatives in the past few decades, but these had mixed outcomes. A significant rise in the fly ash utilisation was evident with the introduction of the fly ash notification, 1999, and its amendments in 2003 and 2009.Initially, the government incentivised fly ash use by measures like ensuring its availability free of cost. Utilisation of fly ash improved over the years, but barely kept pace with the rate at which fly ash was being generated. To improve matters, the erstwhile Ministry of Environment and Forests issued a notification on 14 September 1999 setting annual targets of fly ash use, with a target of 100 per cent utilisation by 2009. To achieve these goals, the notification included several measures including thermal power plants directed to make ash available free of cost until at least 2009. They were also required to set up dispute settlement committees which were to include representatives from the concerned state government departments and brick manufacturers' associations to resolve disputes over ash availability, transport, etc.
Other measures include directions issued to all local authorities to modify their building bye-laws to incorporate use of ash and ash-based products for construction. In case of non-compliance by kiln owners, the regional officer of pollution control boards has been given the authority to cancel the consent to operate and recommend cancellation of clay mine leases of the brick kiln. Government agencies were directed to come up with guidelines for usage of ash in construction, especially in building materials, roads and embankments.
The notification mandated use of fly ash by construction agencies. It also laid down annual fly ash utilisation targets for power plants to push them to find markets for their waste. These legislative measures had reasonable success - a steady rise in fly ash use occurred.
However, utilisation continued to lag behind the proposed targets. The legislation was modified in 2003, requiring detailed commitments from the user agencies. With these measures in place, fly ash usage rate rose to 50 per cent in four years. However, utilisation rate turned sluggish post-2007. In 2009, average utilisation of fly ash stood at 62 per cent. The legislation's target of 100 per cent ash utilisation was never achieved.
While it is true that transporting ash has been difficult from certain remote locations, yet this is not the case with the majority of the plants. In fact, fly ash use decreased by a few MT during 2010-11. One of the major reasons for this trend is suspected to be a provision introduced by the 2009 notification allowing sale of fly ash.
Since the utilisation rate has remained significantly below the 100 per cent target set by the 2009 ash notification, the government had proposed a new set of measures which required construction activities (namely buildings, roads and flyovers, reclamation and embankments) within 500 km of power plants to use only fly ash (or products made with fly ash such as bricks). The notification requires coal and lignite-based power plants to supply fly ash free of cost to construction agencies and to pay the transportation cost up to 100 km from such plants. Between 100 and 500 km, the cost of transportation will be shared by power plants and the construction agencies.
Way forward
Policy push is a major driver for accelerating the uptake of the technology. The concerns of the government regarding the management of fly ash are reflected in the policies and schemes formulated by the government. However, better enforcement of these policies is required. The state and the central authorities need to incentivise entrepreneurs to set up more units using fly ash. Market is the most important factor in facilitating a shift from the conventional resource inefficient technologies to fly ash-based technology. Increasing brick demand presents an opportunity to shift towards low carbon and energy efficient fly ash brick technology. Other drivers include heightened awareness among the entrepreneurs as well as consumers, ease of access of technology and the active engagement of civil society organisations in promoting fly ash-based technology. ■
Shruti Issar
sissar@devalt.org

References
CEA (2017), 'Report on Fly ash generation on Coal/Lignite Based Thermal Power Stations and its Utilization in the Country for the year 2016-17', Accessed from http://www.cea.nic.in/reports/others/thermal/tcd/flyash_201617.pdf
MoEF (1999), 'The Gazette of India Notification', Accessed from http://envfor.nic.in/legis/hsm/flyash.html