Encouraging Responsible
Tourism Post COVID

Travel and tourism are an important economic activity. It is already established that 1 tourist directly creates job opportunities for 5 people. This sector generated 4.2 crore jobs in 2019, contributing to 8.1% of the total employment of the country. It also played a key role in many conservation activities by empowering rural communities, preserving the country's natural resources and it's rich cultural and natural heritage. It is well acknowledged that travel makes people conscious citizens by exposing city dwellers to nature's healing. In a report by the Adventure Travel Trade Association (ATTA, 2017), it has been reported that demand for conservation tourism is increasing with time as 63% of the travellers seek experiential activities that brings them closer to nature and the local community.
COVID -19 crisis has impacted the travel and tourism industry very badly. Tourism industry has witnessed a loss of INR 10 lakh crore as estimated by The Federation of Associations in Indian Tourism and Hospitality (The Economic Times, 2020). The organised sector which comprises of big hotel chains, travel operators and agencies and airline industry has incurred a loss of INR 1.58 lakh crore as per CII report (The Economic Times, 2020). The unorganised sector has lost more than 90% jobs (The Indian Express, 2020) mostly comprising small MSMEs, trek guides, taxi unions and guesthouses. The data gathered from the National Mission of Himalayan Studies (NMHS) funded project villages exemplifies a loss of INR 2 lakhs as reported by Yashveer Rana from Kamad in Uttarkashi. Yashveer is a trek guide whose livelihood was majorly dependent on Chardham yatra tourist cycle who is now unemployed during the major tourist season. Other tourism dependent states such as Sikkim, Goa, Kerala are also experiencing a rough year with zero income through the tourism sector.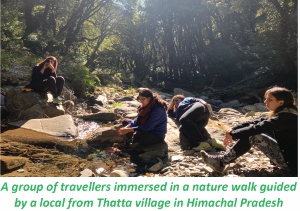 In the current scenario, it becomes imperative to offer 'Responsible Travel' experiences to domestic consumers. Development Alternatives through its tourism-based livelihood project has been instrumental in streamlining the conservation and livelihood agenda in two Himalayan states i.e. Himachal Pradesh and Uttarakhand. The project sanctioned by National Mission of Himalayan Studies (NMHS) aims at conserving natural resources while providing a sustainable source of livelihood to women and youth of the two states.
With the current global crisis, it is likely that the pandemic will pave way for 'Responsible Tourism' practices and instill the need for 'Slow Travel' experiences in consumers. To promote the above, it is crucial to develop travel experiences that are unique, accessible and reliable. Below are recommendations for reviving the tourism sector in a new way post COVID through an insight from the National Mission of Himalayan Studies (NMHS) initiative:-
Accessible and unique cultural experiences - Offering mindful activities to consumers that makes them environmentally conscious whilst also making the travelling experience memorable. Both the Parashar and Kamad-Thandi clusters are accessible and easy to plan vacations offering pristine natural surroundings and heritage beauty. To make memorable experiences; nature, heritage, culinary and agro walks highlighting the unique Himalayan culture have been curated. For adventure enthusiasts, eco villages offer easy treks while passing through various streams and waterfalls. Each of the walks will be guided by trained local community members.

Health and hygiene measures - All travel experiences, homestays, tour managers need to inculcate health and hygiene measures into their functioning and protocols. Even for communities trained in hospitality, the importance of hygiene practices needs to be re-emphasised by imposing strict guidelines. Post COVID, a new set of guidelines as promulgated by WHO and central government must be communicated to the community. Each of the homestay properties should follow safety standards as per COVID-19 protocols.

Responsible traveller practices - Investing in local communities must be promoted. Supporting local crafts, indulging in traditional cuisines, limited use of water, respecting ethos of hill communities are some examples of being a responsible traveller.

Digitisation - Travel industry will experience huge change by using advanced technology. A change has already been ongoing with virtual meetings and webinars. The change will also further be seen in online bookings and check-ins, marketing through only social media channels. The social media channels 'Parashar Ecotourism' and 'Kamad-Thandi Ecotourism' of the National Mission of Himalayan Studies (NMHS) initiative illustrates this well. The platform has been playing a key role in bringing behavioral change in consumers by sharing indigenous knowledge of the Himalayan region, promoting 'Responsible Tourism' practices and developing market linkages.

Exposure events - It is imperative to provide a platform for the community to showcase the Himalayan organic products and handicrafts. Events like Green Economic Coalition (GEC) and International Shivratri Fair held in Mandi, Himachal Pradesh are few of such events appropriate for providing exposure to the products produced by the community. The participation in the above two events provided exposure and hands on training to the community. The interaction with customers has benefited the community by boosting their confidence through customer dealings.
The idea is to create accessible and innovative approaches for the tourism industry. The responsible tourism-based model aims at an integrated approach of local and natural resources and building capacities of rural communities. The experiences offered under the 'Responsible Travel' umbrella are created by closely involving rural communities where travellers will be treated with local heritage, pahadi food and traditions and the expansive beauty of the Himalayas.
Resource sharing of knowledge, tools and skills amongst policy makers, civil society, NGOs and private sector is crucial for better decision making. Innovation and inclusivity are the key for responsible tourism-based model.
Policy-makers post COVID should continue supporting these concepts which over the time can bring a new lease of life to the communities in this region. This will go a long way in not only supporting the local community but also generating awareness among the urban city folks on the importance of preserving nature and protecting Himalayas for the bigger cause of saving the earth. ■
References:
ATTA, 2017. Adventure Travel Trends Snapshot, s.l.: Adventure Travel Trade Association.
https://economictimes.indiatimes.com/industry/services/travel/faith-doubles-loss-guidance-on-tourism-from-rs-5-lakh-crore-to-rs-10-lakh-crore-in-meeting-with-eg-6/articleshow/75553510.cms?from=mdr
https://economictimes.indiatimes.com/news/economy/indicators/indias-tourism-sector-may-lose-rs-5-lakh-cr-4-5-cr-jobs-could-be-cut-due-to-covid-19/articleshow/74968781.cms?from=mdr
https://www.newindianexpress.com/states/andhra-pradesh/2020/mar/20/tourisms-unorganised-labour-force-takes-a-hit-90-lose-jobs-wages-2119088.html
Tanya Issar
tissar@devalt.org