Why We Must Scrap
the Proposed EIA 2020
India ranks 168 in EPI Index 2020 that measures the environmental performance of 180 countries. All South Asian nations, except Afghanistan are ahead of India in the ranking. And yet, the Ministry for Environment, Forests & Climate Change (MOEFCC), Government of India, has published a new draft Environment Impact Assessment Notification 2020 that is designed to relax environmental standards in order to achieve "ease of doing business" for corporations and agencies who have shown scant interest in the environmental impact of their activities. If the changes proposed are accepted, we will surely reach the bottom of the pit.
What is EIA?
Environmental Impact Assessment or EIA is a set of instructions, rules and regulations that are used to evaluate the environmental impacts of various plans, policies, programmes and projects prior to the decision to move forward with the proposed action. The process helps to measure the project's necessity and its socio-environmental impact, gain public and expert opinion to approve it, come up with alternatives (if required), or completely reject the project. Empowered by the Environment Protection Act 1986 (EPA), the process is what guards our environment from being wiped out by development projects.
The EPA itself came in response to the 1984 Bhopal disaster which affected the environment and human lives - 10000 people died and more than 2 lakh people remain medically ill till date.
History of EIA Amendments
The important thing to understand is that the 11-page 1994 EIA notification was simple, direct and easy to read and understand even by villagers, even though it was amended 13 times. The 2006 EIA notification had already become very complicated and required expert assistance, with more than 39 amendments and 250 office memorandums relating to its implementation. The 2020 EIA notification is 80 pages and is very complex for ordinary people to understand.
What is the EIA Draft 2020?
Environmental Impact Assessment Draft 2020 is a notification released by the Ministry of Environment, Forest and Climate Change (MoEFCC) to replace the previous notification released in 2006. The public has been given time till June 30th, 2020 to voice their opinions and make recommendations, after which it will be fully functional.
Key Differences between EIA 2006 and EIA 2020 Draft
Below are some of the many changes that will come into effect if the current EIA 2020 Draft is approved. All these changes are unacceptable and harmful as they strip the protections placed on the environment by the previous 2006 notification.
Taking away the power of the public
Public consultation is a regulatory process by which the public's input on matters affecting them is sought.
The new draft will reduce the number of days the public has to raise their concern about a particular project.

More than 25 toxic polluting industries will be allowed to come up closer to densely populated areas and right at the borders of protected and ecozones without any public consultation.

Highways, expressways or ring roads 70 m wide could be approved in protected areas without public consultation or even a prior environmental clearance.
Introducing post facto approval
This means industries could potentially set up shop without the required environmental clearance and then pay a fine for it after the damage has already been done.
Mining dilutions
You can have less than 5 Ha mines in your backyard or 0 Km from protected areas without public consultation which is now illegal.

The government is not subtle in its encouragement of the commercialisation of mining, giving away public resources for the highest bid in coal auctions.

The draft EIA, if adopted, will allow any mining operation to extend their environmental clearance from 30 years to 50 years.

Any mining operation could also increase its capacity by 50% without the necessity of another environmental clearance.
Relaxed checks on industries
Apart from the extended time period, toxic industries have been categorised as "B2" . This means that without a public consultation a project could come up right near densely populated areas and at the boundaries of ecozones, protected or critically polluted areas.

Threshold values have been relaxed like in the case of coke ovens from 2.5 lakhs tonnes per annum threshold to 8 lakh per annum.

All industries have been given an extended Environment Validity Clearance from 5 years to 10 years!

The diluted Category B2 can also have large industrial estates even an area of 500 Ha which will result in frothing lakes and rivers, poor worker conditions, industrial accidents, environmental catastrophes.
These are the things a competent EIA should tackle and remedy. Unfortunately, the new draft lacks in character and therefore has lost this essence.
"Strategic" projects
The draft EIA 2020 introduces the term "Strategic". When classified as a strategic project, the public will not be able to access any information about the project.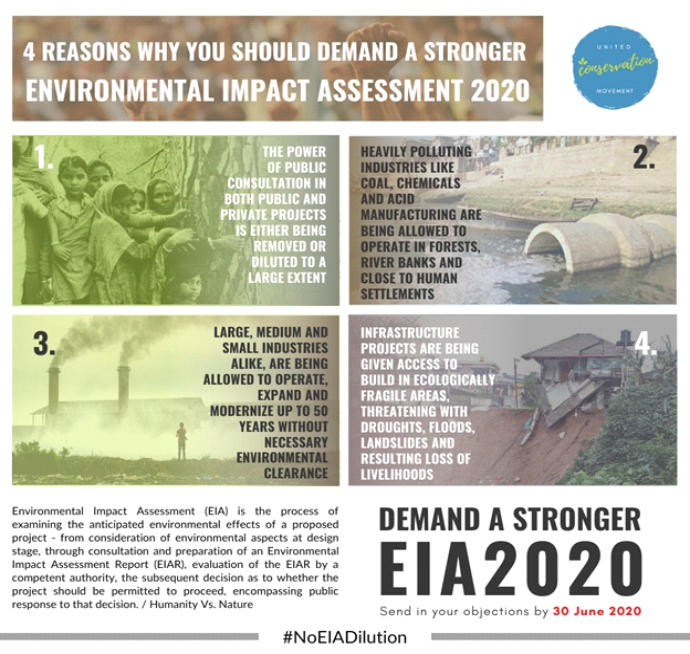 Is the EIA 2020 Draft Impartial and Just?
The EIA's goal since it's conception in 1994 was to set up proper regulations that were centralised, unbiased, and just, allowing for development only after all the environmental costs were taken into consideration. However the latest EIA Draft 2020 is partial towards rampant industrialisation and projects, with no regard for the environment. It dilutes many crucial points and legalises many currently illegal offenses that industries commit. Allowing the draft to replace the previous 2006 notification will only create dire consequences not only to the environment and its wildlife, but also to humans.
Most projects requiring environment clearance come up in village communities where the capacity to understand such complicated technical jargon, mostly in English is limited. The EIA 2020 draft has been published only in English and Hindi without any regional language translation which makes a large population of this nation completely unaware of the implications of EIA 2020 on their lives and livelihoods.
Draft EIA 2020 Impacting Lives and Livelihoods
Massive landslides in Karnataka and Kerala claimed lives of scores of people in 2018 and 2019. These were triggered by unscientific road widening and illegal quarrying. The brunt of these events is borne by poor communities like lower economic-strata citizens, workers, farmers and fishermen. It is now globally established that the economic losses arising from these disasters is far greater than the short-term economic gains that may be targeted by loosening environmental controls.
EIA 2020 draft if implemented would spell disaster to our environment and livelihoods. While it is desirable to have industrial growth and development, we have a responsibility to ensure that such development is ecologically viable and in the best interests of all stakeholders.
We have reviewed the EIA 2020 draft that was published in MoEF Parivesh site on 23rd March 2020. Apart from objecting to 22 dilution points of EIA, we propose over 30 points that need to be included to ensure EIA 2006 is strengthened for a better environmental health of our nation.
Send in your email response to the Environment Ministry: https://bit.ly/313EoK8 Last date is 30th June 2020. ■
United Conservation Movement
(With inputs from Dr. Claude Alvares, Goa Foundation)
unitedconservationmovement@gmail.com,
https://unitedconservationmovement.org/