Holistic Approach to Women's Health
The term 'Family Planning' was initially coined by Margaret Sanger to indicate 'to have babies by choice and not by chance', in her pioneering social work promoting use of contraceptives in the slum population of Harlem, New York in the early twentieth century (Srinivasan, 2014). In India, it was in the All India Women's Conference in 1935 held at Thiruvanthapuram, where it was resolved to champion modern methods of contraception as a part of women's right to have babies by choice and not by chance.
India was the first country to have a 'National Family Planning Programme' way back in 1951. Ironically, the terms 'family planning' and 'family welfare' were merely euphemisms for population control (Sarojini, Gupta, Ambhore, Venkarachalam & Nandi, 2014). Srinivasan (2014) states that there was a long held mistaken view that high population was the major cause for all the problems in the country, and if we are able to tackle this problem, all other problems will get solved. The government's anxiety over population growth and the resultant coercive population control measures invariably targeted women, especially the poor and underprivileged through sterilisations.
Since the inception of the family planning programme in 1952, the programme was ensconced in a "HITTS model" (Srinivasan, 1995; as cited in Srinivasan, 2014), that is, a health department operated, incentive based, target-oriented, time-bound and sterilisation-focused programme. Vasectomy or male sterilisation was regarded as the central point for fertility regulation and became an essential condition for family planning in the country.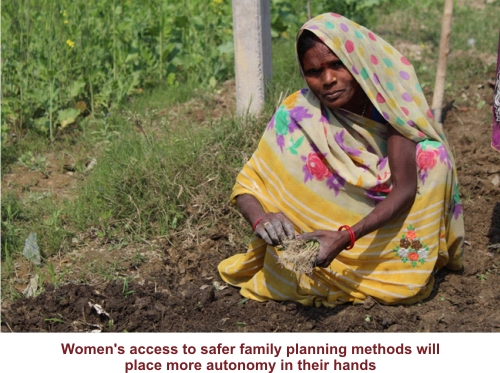 Evolution of Family Planning Programmes: Post the Emergency Period
The new government that assumed power in 1977 changed the name of 'family planning' to 'family welfare', and aimed to reduce the target on sterilisation through a programme of education and motivation. A revised population policy was adopted in 1977 which was completely against coercive sterilisation, and its approach was 'educational and wholly voluntary'. The period after 1977 came to be known as the 'Recoil and Recovery phase' (Srinivasan, 2014). It was here when female sterilisation began to replace male sterilisation, and thereafter became the dominant method of family planning in India. This was implemented through all the sub-centres and Primary Health Centres (PHCs) in the rural areas, without any coercion or mass camps for sterilisation, as it was done in the earlier years. Interestingly, with increase in tubectomies among women, fertility rates in some states showed a decline. For example in Tamil Nadu, the birth rate fell from 33.6 in 1970-72 to 23.1 by 1989. This was another reason why female sterilisations were encouraged on a mass scale through a camp approach, largely ignoring other modern methods of family planning such as condoms, oral pills, IUDs etc. (Sarojini, et.al, 2014).
Post the International Conference on Population and Development (ICPD) at Cairo in 1994, and the international women's movement, setting up fertility goals and related family planning targets by putting the onus on women was seen as an infringement of women's human rights and especially their reproductive rights. The consensus was that population policies should not be implemented with the sole aim of reducing fertility or birth rates, but also consider reproductive health, reproductive rights and gender equity.
Sterilisation Camp at Bilaspur, Chhattisgarh
Despite a revised population policy in place, on 8th and 10th November, 2014 four sterilisation camps were organised at Sakri Pendari, Gourella, Pendra and Marwahi in Bilaspur district of Chhattisgarh state. Almost 140 women were brought to these camps for sterilisation. The largest of these camps for 33 women was conducted in a short span of 3-4 hours, with a single laparoscope machine, in an abandoned private charitable hospital. This was a non-functional health facility that had been abandoned for many years. 13 women, all in their 20s or 30s died and 70 others were left in a critical health condition after the laparoscopic sterilisation at the camps. Among those who died were women from Dalit, adivasi/tribal and OBC (Other Backward Classes) communities. This raised the serious question about the careless treatment meted out to the poor and marginalised women and the clear violations of ethical and quality norms in the health care system.
This camp is symbolic of the widespread apathy of the health system and the glaring violations of accepted standards in sterilisation camps, which have been normalised and justified as responding to a large 'unmet need'. There was no provision for recovery rooms, and the women, just after being operated were made to lay down on durries that were placed in the corridors right outside the operation theatre. The women were also discharged within an hour or two after the surgery without been given any post-operative care. No transport facilities were provided to help them go back to their homes.
Another aspect that was highlighted in this camp was the issue of consent. It is crucial for the treating doctor to explain the procedure, the risks involved and the alternatives available to the patient. Any surgical activity done on the patient without his/her consent is considered as unlawful. Some of the families did agree to sign a form before the surgery and some said that the signatures of the woman were also taken. Yet, this was not followed by any information dissemination to the patient or counselling which would facilitate the aspect of 'informed consent' by the women.
Conclusion
The lack of attention paid to the needs of young couples, and to men's responsibility for contraception is a glaring omission today. Promotion of modern methods of contraception like condoms, which are safer and easier to use should be encouraged. Furthermore, the promotion of contraception through government policies should not be just directed at married couples, but also un-married people. The need of the hour is to have a more holistic population policy which aims at preservation of reproductive health of all genders from all sections of the society.
Development Alternatives, through its functional literacy programme TARA Akshar+ bridges the literacy to empowerment connect. Not only are the women made functionally literate, they are able to transform themselves into more aware citizens so as to have access to their rights and entitlements. In this pursuit, TARA Akshar+ under its mandate to empower communities has innovated a module on health awareness which is built to fill the gap between lack of awareness of the poor and marginalised communities on basic health issues. A large portion of this module incorporates various topics on women's health focusing on reproductive and sexual health. ■
References:
Ambhore, V., Gupta, J.S., Nandi, S. Sarojini, N., & Venkatachalam, D. (2014). Camp of Wrongs: The Mourning Afterwards. Retrieved from http://popdev.hampshire.edu/sites/default/files/uploads/Camp%20of%20Wrongs.pdf
Balasundaram, S. (2011). Stealing wombs: Sterilization abuses and women's reproductive health in Sri Lanka's tea plantations. Indian Anthropologist, 41, (2), 57-78.
Srinivasan, K. (2014). Family planning programs in India: An overview and need for a revision (Working Paper No. 216). Madras Institute of Development Studies.
Divya Mehrotra
dmehrotra@devalt.org