Women's Literacy Deserves 'Undivided'
National Attention

Survival of the fittest has been the mantra in the post Covid world. In our own way each one is trying to adapt. New technologies have evolved. Virtual modes of communication have truly promoted 'global culture'. Unfortunately, when the world moved one step ahead there are a few which are left four steps behind. Uneducated have been among such severely affected people.
As a nation we can progress when we choose the path for inclusive development. Ironically, India has by far the largest population of illiterate adults at 287 million, amounting to 37 per cent of the global total, a United Nations report said highlighting the huge disparities existing in the education levels of the country's rich and poor.1 India ranks 123 out of 135 countries in terms of female literacy rate. The number of adult female illiterates in India remains alarmingly high at around 168 million of whom majority are in the rural belts.2
There have been innumerable deliberations, discussions, discourses and actions taken for women empowerment and reducing the gender gap but all of this would not result in tangible outputs until we build capacities of women. While the world was busy learning new technologies to communicate, we had women in our villages and cities asking people to dial phone numbers for them as they cannot read. We still have women who are forced to choose the life of restricted mobility, no financial freedom, reliance on distorted information. As a result, we are gearing up for adding another crop of illiterate citizens.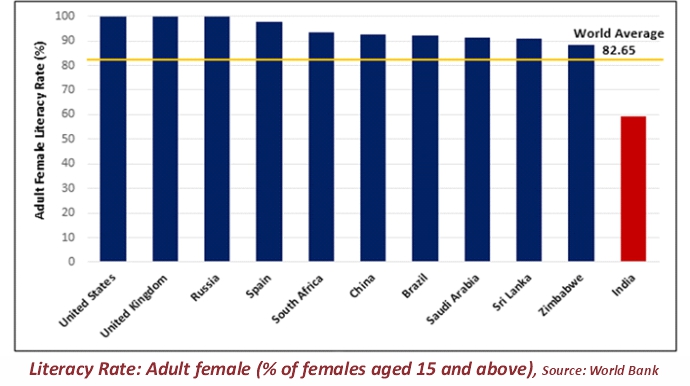 Literacy is strongly associated with mobility, social status, accessing services and living everyday life. A literate person can deal with day-to-day challenges much more easily and effectively than an illiterate person. The disadvantages are strikingly prominent for women in a society where we are already struggling with menaces like dowry, unreported rapes, female foeticide, high mortality rates due to anaemia in pregnancy, mensuration considered a taboo and the list is long. Without inclusion of informed women there is no other way to have 'inclusive society'. Ignoring this fact will result in distorted psychosocial and socio-economic lopsided clusters.
During the implementation of an Adult Literacy programme, TARA Akshar+, supported by IKEA Foundation, Development Alternatives team had witnessed some true transformations in villages. In an independent impact evaluation of the programme India Development Foundation (IDF) consistently found that TA+ learners are more likely to travel independently, are more aware and access government schemes and services more often. They are more confident and because of literacy, they now have access to new zones of interaction, within their families and in their larger communities. TA+ learners say that they now feel abler to deal better with their children and make informed choices. Shares Radha from Bhadhoh says: "Now I know that government provides monetary benefit on getting copper t done. I told my husband the same."
IDF's studies find an increased ability among TA+ learners to use mobile phones, which opens a door for new age communication world.
Case Studies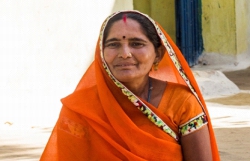 Guddi Devi
Address: Village Mainwara, Block Jakhaura, District Lalitpur, Uttar Pradesh
Occupation: Cluster Coordinator for SHGs
Guddi Devi has never been to school or received any form of formal schooling. The eldest of four siblings, Guddi's mother passed away when she was 10. An untimely death of her mother, sheer poverty and three younger siblings to take care of meant Guddi never had the opportunity to go to school. Her brothers and sister are educated up till class 8. Her father ensured they received education even if Guddi could not. Guddi was married at a tender age of 15 into an equally poor household. She would often work as a landless labourer on others' fields. There were times when she and her husband did not have enough to feed their children.
It was then that Guddi Devi decided to become a member of a local self-help group formed under the aegis of a nationwide moment in the 2010s. It enabled her to take small loans, save some money and organise finances. But being unlettered, she was dependent on somebody else to do this for her. It was not until her journey at TARA Akshar+ that Guddi Devi fully realised her potential to mobilise, organise and succeed. She is now a cluster coordinator for SHGs in 23 villages. Her job is to get all the groups together and mobilise more women to become a part of SHG's operations in their villages. Newly acquired literacy marked a real change in Guddi Devi's fortunes as she soon began leading her SHG and managing its books as well as conducting its bi-monthly meetings and in turn, saving large amounts of money.
Tasmim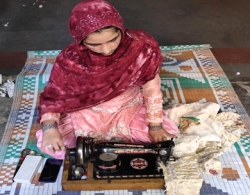 Address: Village Chhapur, Block- Bhagwanpur, District- Haridwar
Occupation: A TARA Saheli, An Entrepreneur (Stitching clothes, Embroidery Work) and the President of a SHG
Having a large family prohibited Tasmim to gain any formal education. With her father working as a labourer, the entire responsibility of the family's finances was on his shoulders. Since the wages earned by her father as a labourer were extremely low, her family's financial situation was very weak. Tasmim always wanted to learn to read and write and her life changed when she heard of an adult literacy programme, TARA Akshar+ being conducted in her village. She took her father's permission to join the programme and began her journey towards literacy and empowerment. After the 56 days' course, she joined Gyan Chaupali where she gained information through guest sessions conducted by Anganwadi workers, Asha workers and Doctors.
In Gyaan Chaupali, she also learned stitching and embroidery work and grew her existing business. Furthermore, Tasmim was determined to help other women acquire literacy, so once she became literate she undertook training and joined the TARA Akshar+ team in her village as a TARA Saheli. She would conduct various Gyan Chaupalis in her own village and travel to the neighbouring villages too. Full of ambition, Tasmim started her own SHG where she is designated as the president. Under her leadership, the group received grants from various sources including ₹50,000 from CCL.
Endnotes
1https://economictimes.indiatimes.com/news/politics-and-nation/india-has-highest-population-of-illiterate-adults-at-287-million-un-report/articleshow/29545673.cms?utm_source=contentofinterest&utm_medium=text&utm_campaign=cppst
2Census (2011), Ministry of Home Affairs, Government of India ■

Jyoti Sharma
jsharma@devalt.org
and Vyapika Kapoor
vkapoor1@devalt.org