Capacity Building in the Logistics Sector
Logistics sector is a very important sector as it supports almost all industrial activities. However, considering its importance and size, it is usually not given the attention it deserves. The logistics value chain consists of three segments - transportation, warehousing and value-added services. Skill requirements for each of the segments differs significantly.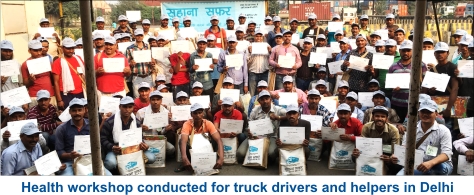 The logistics sector, currently is highly unorganised, leading to high level of complexity in the supply chain and problems of unskilled labour, undecided roles and lack of process-driven systems. Poor working conditions, low pay scales relative to alternate careers, poor or non-existent manpower policies and existence of unscrupulous practices have added to the sector's woes, creating the image of a segment that holds few fascinations for those seeking employment. There is a dire need to change social perceptions when it comes to logistics. While skill issues exist in varying degrees in all segments of the logistics sector, the most severe and immediate requirement for skill development is found to be in the road freight and warehousing segments. The road freight industry in India is worth about INR 1.42 trillion and is growing at about 6-8 percent per year . Road transport contributes almost 90% of the countries' passenger traffic and 65% of the freight traffic. According to the Ministry of Road Transport and Highways, 21 per cent of the total accidents in the year 2017 were accounted by heavy vehicles including trucks. The truck drivers are most affected due to long working hours, poor sanitation, poor food standards and poor pay packets. Ramanujam, CEO, Logistics Sector Skill Council, highlights, "The logistics sector in India has not had the benefit of any structured training for the entry level work force. All training has been 'on-job' resulting in inefficiencies. By optimising the skills of the labour force, we can make a positive change of up to 12 percent in the bottom line."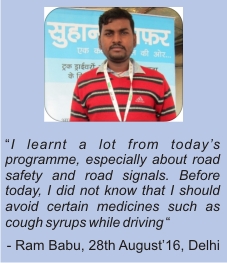 Understanding that the truck drivers and helpers are mostly on road, it was observed that despite being in the profession of driving, they have almost no knowledge or minimal knowledge of road safety pointers and traffic rules, norms and regulations, which often leads to irresponsible driving. Suhana Safar programme is one of its kind capacity building initiative towards skilling supply chain and is especially designed by the Development Alternatives Group to eliminate most of the significant challenges faced by truck drivers and their helpers' community including their families and transport executives in India. Contributing to sustainable development goals, the aim of this programme is to help containerised truck drivers and helpers to bring about changes in their everyday lives, and subsequently make them more productive and efficient in their work by improving their quality of life by enhancing their Knowledge, Skills and Attitudes (KSAs). The programme caters to the target audience in two ways. Firstly, by means of training and capacity building on WASH (Water Sanitation Health and Hygiene) and road safety and secondly through awareness programmes on various components like drug abuse, alcoholism, HIV/AIDS, general sanitation and hygiene practices etc.
Over a period of two years, this programme has impacted more than 7000 truck drivers in 3 states of India, contributing towards the overall well-being of the transport community. ■
Tanvi Arora
tarora@devalt.org
Reference
KPMG analysis report