Community Radio - Enabling Livelihoods
Community radios across the world as well as in India have emerged as people's radio stations that provide them with a platform to air their aspirations, concerns and talents along with relevant information for their social and economic development. The fact that as a medium of communication, it is local i.e. the reach is within a 10-15 klm radius and the reporters are people from the communities in the area helps to make a very strong connect with the audience. Nearly 200 functional radio stations serve vibrant communities in different parts of India. Community radios act as a bridge between the local rural communities and the outside world in the form of innovators, government officials and policy-makers for a two-way flow of information. The special thing about community radio stations is that they go beyond information dissemination and awareness generation to actively engage with key stakeholders for need assessment and devise effective strategies for sustainable development initiatives in the area. The approach used by them is participatory and collaborative which helps to empower and build a consensus for change.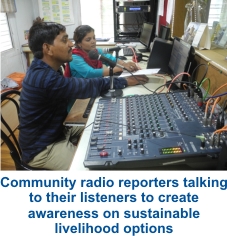 A case in point is the Ajeevika radio series run in collaboration with six community radio stations in the poverty stricken Bundelkhand region in Central India. Under a project titled 'Bridging the Digital Divide', this series has reached out to approximately 11 lakh people and has created awareness on sustainable livelihood options for the people living in these backward areas. Linking communities with information and knowledge about the possible diverse economic opportunities has been done efficiently and effectively with the support of community radio stations. Radio Bundelkhand, the community radio run by the Development Alternatives group in Orchha has been one of the key contributors in linking communities with local institutions that provide knowledge, skill building, credit support and technical support for new livelihood opportunities.
Under this project, communication modules were developed both for off-farm and on-farm livelihood options. Considering the needs, resources and opportunities for the people; most optimum dissemination methods were used in order to reach out to communities in simple, logical and interesting ways. Not just communication packages but also folk songs aired in the local dialect proved helpful in conveying messages on livelihood opportunities. Efforts were also made by the community radio reporters to hold narrowcasting sessions in villages wherein the radio programmes were heard by a group of village folks sitting together. This was followed by focus group discussions on the various alternative livelihood options.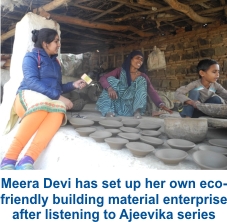 Nearly 40 case studies have been developed in collaboration with six community radio stations that narrate stories about people who have successfully established their own enterprises or have linked to viable livelihood options. Through a monthly report track, it was found that approximately 260 people have registered themselves for varied job profiles after hearing this Ajeevika series of radio programmes.
In the coming years, community radio stations aim to influence and empower a diverse population in there listenership areas through their radio campaigns converting passive listeners into active radio contributors. Through innovative initiatives, community radio stations engaged in rural development interventions in their respective regions can play an important role in increasing the access of communities to information, knowledge resources, support services and skills on a range of livelihood opportunities. By means of the ultimate goal of giving voice to the voiceless, creating and broadcasting programmes of local interest; community radio stations will continue to address the problems of local communities through infotainment. They will work towards enabling and empowering communities, especially women, young people and marginalised groups, so that they take charge of their own lives. ■
Mariyam Majeed
mmajeed@devalt.org