Capacity Building of Groups and Multipliers
Together we can and we will - this is the logic behind capacity building of multipliers and groups. More than a million people and an 'expert group' of over 3000 participants from over a hundred countries and six continents helped to establish the 'Sustainable Development Goals' (SDGs) on behalf of humanity. To achieve these SDGs, we need maximum participation where groups and multipliers can play a major role. Ultimate aim is for all resources to percolate down to the base of pyramid and for there to be equal and uniform availability of resources at the grassroots as well!
Self Help Groups - Simple Answer to Complex Problems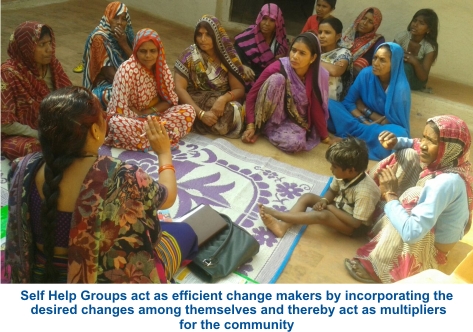 To activate multiple nodes of change and achieve scale, engaging change makers who multiply the desired outputs is a must. This was in fact well recognised in the Ninth Plan Document (1997-2000) of the Government of India which also laid emphasis on the participation of people in the planning process and the promotion of self-help groups (SHGs).
Voluntary in nature, SHGs are formed on areas of common interest so that they can think, organise and operate for their development. The group may or may not be promoted by government or non-government institutions. SHGs function on the basis of co-operative principles and provide a platform for the members to extend support to each other. It is important to mention that SHGs as a tool to address poverty became significant when the Reserve Bank of India (RBI) issued a circular in 1992 to link about 500 groups under the National Bank For Agriculture and Rural Development (NABARD) - SHG bank linkage pilot programme. This success has led to mainstreaming of SHGs into the financial landscape - especially the Indian banking system with about 94 million poor linked with banks through 7.5 million SHGs, availing collateral free credit. The poor and marginalised women who were termed as un-bankable have mobilised an amount of Rs. 33,000 crores as savings and issued loans to the tune of Rs 66,000 crores of which Rs 43,000 crores is an outstanding credit mobilised from banks. These poor women of SHGs collectively control financial business with an annual turnover of Rs 100,000 crores - much larger than many multi-national corporations in India!
Realising the potential of SHGs, many development organisations are focusing on mentoring SHGs. The World Bank has supported a few state led initiatives on community platforms in Andhra Pradesh, Tamil Nadu and Kerala for about two decades and later expanded to Bihar, Jharkhand and Uttar Pradesh. Their success led to the genesis of a massive community mobilisation initiative by the Government of India by the name of the National Rural Livelihoods Mission (NRLM) in 2011. NRLM has a mandate to promote about 8-9 million SHGs across 640,000 villages over the next decade, with an investment of Rs 15,000 per house-hold to support social mobilisation and livelihood promotion by building their capacities.
Amplification through Multipliers
Perfect example of how capacity building of multipliers can create change through ripple effect is the Anganwadi programme, started by the Government of India in 1975. As part of the Integrated Child Development Scheme, this programme reaches out to women in rural areas and urban slums to educate them on matters of basic health and hygiene, nutrition, pre-natal and post-natal childcare and child rearing. The Anganwadi workers of India are trained professionals who focus on health and educational needs of the children aged 0-6, thus bridging the gap between people and healthcare. Over the years, the Anganwadi programme has played a significant role in changing the lives of those it has reached out to. Infant and child mortality rates have dropped owing to the awareness generated by the Anganwadi workers. These workers have played an instrumental role in improving health standards, spreading awareness on breastfeeding and imparting education on first aid skills and various self-employment schemes.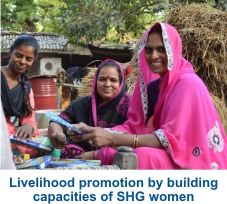 Many corporates have also started using capacity building of multiplier model as a marketing tool. Through Project Shakti Amma, Hindustan Unilever reaches over three million households in 100,000 villages in 15 states in India. Project Shakti has been replicated in Pakistan and Sri Lanka. In Pakistan, the Shakti Amma is called 'Guddi Baji' (Urdu for 'doll sister'). Guddi Bajis, who are trained to provide beauty care services, sell brands such as Lux and Fair and Lovely. During visits to rural customers' homes, they also teach them the importance of hand-washing, educating girls and registering births and deaths. In Sri Lanka, they are called 'Saubhagya', which means good luck. There are nearly 2,000 Saubhagya entrepreneurs in Sri Lanka and 1,100 Guddi Bajjis in Pakistan.

Fullerton Credit Company Limited has started a women empowerment initiative named Sakhi, in which a chosen woman from the community is trained in financial literacy through digital means and later she educates other women in the community. "Response to this initiative has been quite good. Chosen women who are also known as Sakhi imbibe the knowledge well because they know that they have to go in the community to teach fellow women. In fact, peer learning has been quite well accepted by the women. They readily listen to the stories in the tab operated by the Sakhis," says Hemant Lohiya, Manager CSR.

Recently, Society of Technology and Action for Rural Advancement (TARA), the social enterprise wing of the Development Alternatives Group reached out to 1, 20,000 primary school children in district Hamirpur through one round of capacity building session of 1165 teachers. In this tripartite collaboration including HUL, TARA and District Administration of Hamirpur, chosen primary school teachers acted as multipliers which made other teachers and school children aware on WASH. The school children further made their families aware on WASH practices.

Development Alternatives (DA) has also been working on promotion of 7 Farmer Producer Organisations (FPOs) in the drought prone Bundelkhand region of central India. About 2,000 farmers have been institutionalised and capacitated on improving farm productivity, improving access to agri-inputs, markets and technology thus, strengthening sustainable agriculture in the region. DA aims to double income of 20,000 farmers by 2022 through FPOs'.

Ongoing Global Initiatives

International Labour Organisation has been running capacity building programmes focused on multipliers. These include participatory approaches to improving safety, health and working conditions in informal economy workplaces in Cambodia, Thailand and Vietnam. Government officials, workers and employers have been trained to be participatory safety and health trainers.

Participatory training programmes like Work Improvement in Small Enterprises (WISE) and Work Improvement in Neighbourhood Development (WIND) are being increasingly applied in Asia for supporting grassroot initiatives in the informal economy workplaces to improve safety, health and working conditions.

Multipliers can be thought of as 'Opinion Leaders'. This is much talked about in other sectors like mass media, advertisement and marketing as well. According to the theoretical concept given by sociologists like Paul Lazarsfeld and Elihu Katz, multipliers act as active leaders who interpret the meaning of messages or content for less informed people. Be it SHGs, Aanganwadi workers, volunteers, small grass root level NGOs or any other influencers, if trained properly can do wonders as change makers. They have a strong reach in the community and they can be the means to achieve sustainable development goals. ■

Jyoti Sharma
jsharma@devalt.org

References:
https://medium.com/@designforsustainability/making-the-sustainable-development-goals-work-for-local-communities-everywhere-3f00bd5db31
http://www.yourarticlelibrary.com/india-2/self-help-group/self-help-group-shg-of-india-meaning-need-and-objectives/66718
https://www.impatientoptimists.org/Posts/2015/01/The-Self-Help-Groups-movement-in-India#.Wv56GKSFPIU
Status of Micro finance In India 2013-14 by NABARD
http://www.borgenmagazine.com/anganwadi-workers-of-india/
http://dccw.org/anganwadi_training%20.php


https://www.businesstoday.in/magazine/special/project-shakti-helped-thousands-of-women-and-also-men/story/195911.html
http://www.ilo.org/wcmsp5/groups/public/---ed_emp/---emp_policy/documents/meetingdocument/wcms_125988.pdf