Local Green Enterprises:
Possibilities to Reverse Trend of India's Jobless Growth

India is seen as a bright spot in the global economy landscape. It is one of the fastest growing emerging market economies in the world (IMF, 2017). What does this really mean to the people of the country?
Does it mean more, better and decent jobs for the people of the country?
Analysis (Mint, 2018) (Wire, 2017) shows that there are indications of jobless-ness nature of India's growth. Some other analysis reports (Mint, 2017) (The Print, 2018) point out to deeper concerns, highlighting, that there may be enough jobs but not decent jobs, not jobs that are well-paid. Most of the workers, 84% of all, whether self-employed, regular wage earners, contract workers or casual workers, were getting an income of less than INR 10,000 per month (Mint, 2017). Economic growth may lead to lesser jobs, if the strategies of economic growth do not emphasise on valuing labour. A very critical point here is how sectors and scales of these sectors need to ensure that they must ensure and enable better jobs and livelihoods for people.
Further to that, some studies (World Economic Forum) estimate that 85% jobs of 2030 have not been created yet. This means that there is need for huge investments in re-skilling and focus on quality education and skilling systems in the country.
Does it mean better ecological systems for the country?
Bright spot in the global economy surely means that India will become a global hub for production and services. This intends to translate into boom for industries and businesses with rise in demand of their products and services and higher economic activity. Service based cities of India like Bangalore, Gurgaon and Hyderabad are indications to the nature of development that service sector boom (IT, banking and insurance) can induce.
Industries and businesses are centres of mass consumption of our resources - water, fuel, minerals and other material sources. All of this majorly factors into the kind of air pollution levels city dwellers have to live in (due to traffic, industrial pollution); the quality of water in the area; and the waste castles and the environmental hazards associated with it. Many urban centres in the country have surpassed their ecological boundaries, where living standards have deteriorated. The recent Report on 11 out of the 12 most polluted cities on a World Health Organisation list were in India, is perhaps a manifestation of the same phenomenon. So economic growth may not translate to better ecological systems. In fact, it can degrade them further, unless adequate systems and regulations are set to keep checks and balances.
Capturing Global Lessons: Government of India's Approach to Address Jobless Growth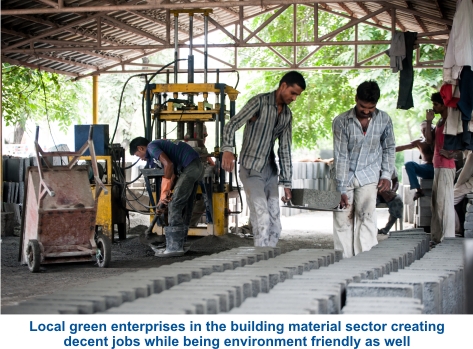 Existing government programmes (including new programmes like Skill India, Start-Up India, Make in India) may have marginally added few jobs to the overall demand-supply gap in selected organised sectors of employment, but none of them structurally addresses problems of prolonging joblessness within rural and urban areas (Wire, 2017). Further, there is a huge gap between the self-employed and those employed in the formal economy and a similar trend will only worsen the state of joblessness.
Global experience (Garikai 2011, Baptista et al, 2005; Stel & Suddle, 2005), innovation (e.g. Fritsch & Mueller, 2005), corroborates that there is a high correlation between the degree of poverty hunger, unemployment, economic well-being, standard of living of the citizens of countries and the degree of vibrancy of the respective country's SMEs. Local green enterprises are instrumental for transitioning towards a green and inclusive economy.
As a contribution to the economy and development, local green enterprises develop economies at the local level providing job and livelihood opportunity to the lower economic strata of society. In this way, they play a major role in including the poor and the marginalised in the mainstream development model. Local green enterprises (LGEs) bring value addition at the local level, unlike big businesses, where most of the value addition is at the end of the value chain. In this way, LGEs help in building the value of shared prosperity in practice and addressing inequities. LGEs are also the key ingredient for building resilience of development models. Clusters of small businesses build more diverse economic models versus big businesses. This is critical in building resilience of the system. In case of any shock, diversity in economic models ensures that there are recovery mechanisms to prevent total loss from the shock. Further, the most vulnerable group to climate change are the poor and the marginalised. Local green enterprises are usually enhancing their living conditions through better livelihood opportunities and thus enhancing resilience of local communities.
There are many cases from across the world that corroborates their role in providing poverty solutions, environment solutions and building a more resilient development model. According to EU, Micro, Small and Medium-sized enterprises are socially and economically important, since they represent 99% of all enterprises in the EU. They provide around 90 million jobs and contribute to entrepreneurship and innovation. In Netherlands, SMEs account for 98.8% of all private sector companies, contribute 31.6% to Gross Domestic Product (GDP) and employ 55% of the total workforce. At present, there are more than 10 million SMEs comprising 99 per cent of the total number of enterprises in China, contributing to 60 per cent of industrial output volume and 40 per cent of the total taxes and profits realised by enterprises in China. MSMEs account for about 91% of the formal business entities in South Africa, contributing to 55% of GDP, providing almost 60% of employment.
More prosperous nations involved state intervention in the form of higher investments in education (as a variable in human capital) linked with industrial demand over the long term, while allowing their employment base to expand with development of entrepreneurial capabilities and job opportunities amongst its people. This was complimented with procedural ease in setting up enterprises within organised sectors (Wire, 2017).
Policy shifts to move from Job-seekers to Job-creators: Investing in local green enterprises
Following are some policy levers that can support to build our economy such that it creates decent jobs, while working in the safe operating space of ecology:
Indian economy should determine the choice of investments in sectors that creates decent, well-paid jobs in the country. Choice of technology and scale should add to the current jobs or enhance the experience of jobs in the current sector, rather than replacing the jobs with capital investments. In the era where Artificial Intelligence is trending as the next revolution in the economy, it is very critical for India to define its principles of use of such technologies.
LGEs, especially manufacturing sector enterprises are particularly resource intensive and emit high quantum of pollution and carbon emissions. For India to fulfill her international commitments (Nationally Determined Contributions, Sustainable Development Goals), it is of high importance to invest in greening the current MSMEs and promoting green in future. On the other hand, India needs to identify economic sectors where there is a huge need and a high potential to set up LGEs. Some such upcoming sectors include waste, eco-tourism, decentralised renewable energy, organic agriculture-based enterprises.
Rural entrepreneurship in the country provides triple benefits of poverty eradication, economic and livelihood resilience, and provision of (basic) goods and services to the rural population in the country. It is therefore critical for Government of India to incentivise set up and sustenance of such local enterprises in rural India. Currently it holds a portfolio of INR 2.32 billion (ASPIRE) of the total INR 65 billion budget for MSMEs. There is limited attention to providing ecosystem for greening the MSMEs in the Union Budget 2018.
As a long-term measure, India needs to boost entrepreneurial instincts within the young demographic base and substantially invest in human capital via education systems and other knowledge and skill development initiatives. This will compliment the boost to LGEs and enable ecosystem for youth to aspire to be job-creators rather than job seekers. ■
Anshul S Bhamra
abhamra@devalt.org

References
http://citeseerx.ist.psu.edu/viewdoc/download?doi=10.1.1.188.5761&rep=rep1&type=pdf
Amitabh, U. (2018, April 2). Jobless growth a myth, not possible for India to grow at 7.3% with decelerating labour. Retrieved May 18, 2018, from Print: https://theprint.in/opinion/jobless-growth-myth-india-grow-decelerating-labour/46044/
Gopalan, R. (2017, December 19). India's jobless growth is a myth. Retrieved May 18, 2018, from Live Mint: https://www.livemint.com/Opinion/vq9GUtDmIQfoQnKHOSvnGK/Indias-jobless-growth-is-a-myth.html
Vyas, M. (2018, January 9). India's jobless growth is not a myth. Retrieved May 18, 2018, from Live Mint: https://www.livemint.com/Opinion/oIfsn1Djr4KpR1mNNe1zDN/Indias-jobless-growth-is-not-a-myth.html