Rebuilding the Enterprise Ecosystem:
Rural Enterprise Network, Sri Lanka
The world we live in today is marked by conflict. Ongoing conflicts - religious, ethnic and geopolitical continue to endanger the most vulnerable and destroy communities. Conflicts also severely disrupt economic and social activity. The livelihoods of those who live in former conflict zones take a hit, as the environment of the area has been made unsuitable for economic prosperity or entrepreneurial initiative.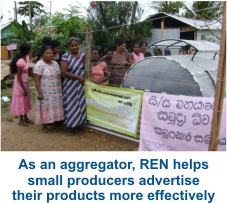 Such is the case of northern Sri Lanka, a region marred by the Sri Lankan Civil War, which went on from the 1980s to the 2000s. Although the war is no longer affecting the people and politics of the country on the same scale as it did earlier, the economic activities of the region, largely agriculture-based have not been able to recover, or to grow beyond their limited potential. It is here that an organisation like the Rural Enterprise Network (REN) is playing a key role in changing the economic landscape for small food producers.
REN plays an important role in providing access to markets for these rural food producers. Established in 2002, the network provides business development services (BDS) to producers in the region by helping them improve the quality of their produce and procure certifications of quality, develop a common brand for the producers who are part of this aggregation platform, forge market linkages and enable the transfer of technology, therefore providing a package of services that individual small producers would not have been able to access on their own.
The REN model has been tested and proven to power rural business in the southern region of Sri Lanka. The endeavour is now to apply the same approach to the conflict-affected northern region of the country. The promotion of sustainable practices among farmers is also a key focus for REN, as they help participating producers learn organic farming techniques. Although their future plans involve a growth in scale, aiming to reach 400 producers in northern Sri Lanka, the organisationís mission is to remain sustainable while also expanding. This stands as a notable example for other aggregators and proves that profitability and business viability by linking small rural producers to urban and international markets can co-exist with practices to increase social inclusion and sustainable practices which would have minimum impact on the environment.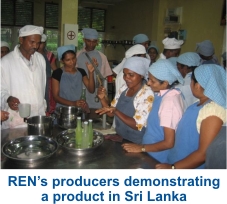 While agri-business aggregators are not unheard of in India and the rest of south Asia and the world, RENís model stands out for its adherence to sustainable practices even as it expands into a different geography, aiming to grow even further and reach more producers, as well as its drive to work in a former conflict zone, to re-build an economy where it is needed the most. This intervention is an important one as it aims to bring prominence and business viability to small producers in areas where the institutional framework required to access bigger markets is lacking.
The next steps that the Rural Enterprise Network plans to take include partnerships with livelihood development programmes in the area to increase their reach and scale and identification of new markets for producers. Moving ahead, it is hoped that the Network provides an example for other aggregators and agri-business interventions in the region and that the entrepreneurship skills of the micro-businesses are enhanced and access to markets provided, in such a way that they may exhibit the potential to become local aggregators themselves, therefore poised to impact even more lives. ■
Jayesha M. Koushik
jmkoushik@devalt.org
References
This article is based on a case study by SEED, available at https://www.seed.uno/awards/all/2010/linking-small-scale-farmers-to-input-output-markets-through-rural-enterprise-network-ren.html#tabs1-supportneeds