Women Empowerment
through Skill Development
Women's economic participation and empowerment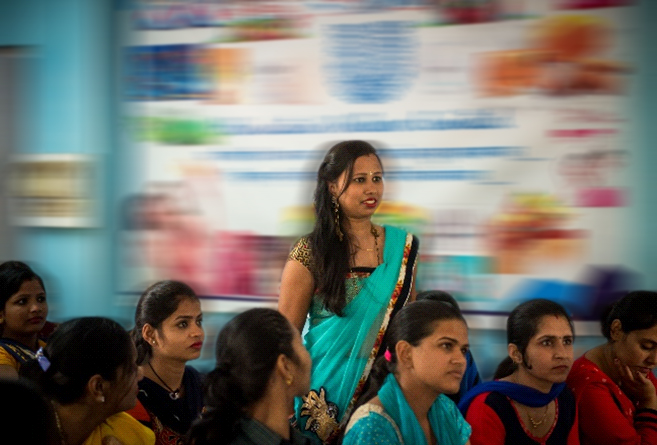 are fundamental to strengthening women's rights and enabling them to have control over their lives and exert influence in society. The economic empowerment of women is a prerequisite for sustainable development. Gender equality and empowered women are catalysts for multiplying development efforts.
Government of India has enacted various rules and regulations within the constitutional framework to improve female representation in different professions. Currently, a majority of female workforce in India is unskilled. Skill is the bridge between job and workforce. Skill development is a key to improve employability and income-earning opportunities for women and for enhancing sustainable rural development and livelihoods. Social outcomes are reflected in indicators of income inequality and poverty. Employment outcomes are reflected by indicators of employment rates, unemployment, youth not in school and earnings.
Self-Employment through Skill-Building
Vocational training programme is introduced to enhance livelihood opportunities of women who are at a disadvantageous position and have a scant exposure to technical skills and knowledge. At present, the capacity of Skill Development in India is around 3.1 million persons per year. The 11th Five Year Plan envisions an increase in that capacity to 15 million annually. India has target of creating 500 million skilled workers by 2022.1 Thus, there is a need for increasing capacity of skill development programmes.
Policies such as improving access to skill development by creating more seats for women, gender mainstreaming of content and delivery of training and use of digital platforms for women's empowerment should be streamlined in order to improve the productivity of the economy and participation of women. It will provide a roadmap for skill development and help the government to catalyse the process. Some of the proposed beginnings can be:
Additional training and apprenticeship seats
To improve access to skill development, we need to create facilities by setting additional training and apprenticeship seats which also includes increasing pool of women trainers. Mechanisms to provide certification to trainers should be resilient and new institute for training of women trainers to be promoted.
Need for special delivery mechanisms
The need for gender mainstreaming of training is very vital. In order to bridge the gap, there is need for special delivery mechanisms such as mobile training units, flexible afternoon batches with local needs-based training. It should also envision incorporation of women related issues such as issues of safe training environment, employment of women trainers, equity in remuneration and complaint redress mechanism
Momentum of Digital India in skill development
There is a need to incorporate ICT (Information and Communication Technology) for providing skill development solutions. It should focus on promotion of internet or mobile based platform which would connect skilled women and employers. It should also emphasise on women re-willing to enter the workforce after a break or those affected by migration.
Certain successful methods to retain girls and women in the workforce can be as follows:
• Introduce trainees to role-models in respective sectors.
• Provide more-and-more hands-on opportunities.
• Collect and display testimonials so that trainees can relate and take more interest in the programme.
• Fetch candidates rapidly in under-served populations.
• Develop a comprehensive equity plan to identify and address discriminatory practices and artificial barriers to girls' enrolment.■
Raisa Chaudhuri
rchaudhuri@devalt.org
Endnote:
1 http://censusindia.gov.in/Tables_Published/Tables_ published.html.