A Roadmap for Reimagining the Future

COVID-19 is a crisis that defies all rules. It has affected us in unimaginable ways, with repercussions that will last for many decades. The pandemic has brought the fragility of livelihood security for millions of Indians into sharp focus. Hundreds of thousands of migrant workers are caught in "no man's land" and many more are stuck in cities, without an income and unable to make their way home.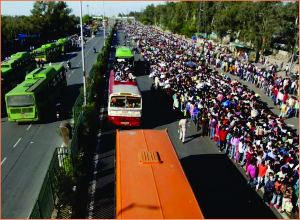 Our response to the alarming rise in loss of livelihood security needs to include strategies that look at challenges from a systems lens and reorient long term development trajectories. To do so, we need to ask ourselves a few questions:
Does the social construct, economic structure and resource base that we have so evidently abused for decades, still exist?

Are the empowered few the only actors who are entitled to agency towards the greater wellbeing?

And, more specifically relevant to the domain of entrepreneurship driven employment:
When the notion of work changes from something that an employer "makes" to that of something an individual "creates", how do we compensate for it?
The system that we knew has been disrupted. Notions of who is empowered and who provides jobs have been challenged. Understood till now to be informal or insignificant, self-employment and entrepreneurship might soon become the norm. The added complexity of reverse migration indicates that our response calls for innovative approaches to enterprise development in rural India.
Driven by social innovation, our work aims to create robust entrepreneurship eco-systems in Uttar Pradesh. It has charted a roadmap for 're-imagining the future' on the strength of three principles:
Belief in the power of communities to respond in times of crises and to create systemic shifts.

Potential of innovative solutions and collective action to initiate group-up action that can influence policies at the meso and macro levels.

Recognition of people led micro movements as drivers of change that represents and is relevant to local contexts.
In communities where Development Alternatives works, systems instituted for collective leadership and action have helped teams adapt to immediate challenges, as well as stay focussed on larger goals and our mission to create sustainable livelihoods.
The crisis is underlining the need to restructure the way we work and re-create an economic order that is equitable as well as much more resilient against catastrophes of the future. This crisis will come to an end. As we begin to rebuild lives, lessons learnt during its reign should remind us of the mistakes we might be tempted to make again.
For this issue, we have worked together with our regional and global partners to bring to you insights on the effects of COVID-19 on entrepreneurship across sectors and our vision for responding to uncertain changes in society and the economy. This issue of our newsletter also highlights the role of community led institutions in coming up with timely and relevant need-based solutions and value of digital platforms in maintaining information flows and unearthing resources. Each article has been inspired by stories of resilience from the ground which continue to provide us with narratives of "people led action". These narratives uncover ways in which local leaders, entrepreneurs and community members are stepping up for the jobs 'we' make. ■
Kanika Verma
kverma@devalt.org