Role of Digital Platforms in Covid Crisis
The socio-economic realm of the world has been shaken by the onslaught of the Covid-19 global pandemic. Digital platforms, particularly collaborative tools, e-marketplaces, and communication have taken the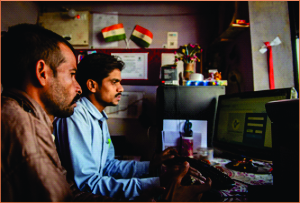 center stage. Many firms have been successful in leveraging the technology available to them to shift their work online and continue their operations. However, this has not been the case for all. The socio-economic fault lines can be seen easily as most of the micro and small enterprises in rural and semi-urban geographies fail to leverage digital platforms and move their business operations online. The primary reasons which inhibit these enterprises to use the digital medium to rescue their businesses include low digital literacy, lack of information and awareness and poor digital infrastructure and connectivity. Ram Sanjeevan Dubey of Manviya Drishtikon Sewa Samiti (MDSS) points out that inducing the right behaviour eases the adoption of any technology. He cites the example of WhatsApp and Facebook being used by micro-entrepreneurs to connect with their customers. It has also helped them in forging contacts within the industry and with Civil Society Organisations like MDSS. Furthermore, digital wallets and online payments have also revolutionised how businesses operate.
However, there are certain pitfalls when it comes to digital infrastructure. Misinformation and 'fake news' have become a common occurrence on platforms like WhatsApp and Facebook. A digital divide, in terms of accessibility and inclusivity, is also a major challenge. Digital resources are more or less monopolised by a select few, its benefits rarely trickle down to others. Attractive and thoughtful design can bridge this gap. Redesigning digital platforms to suit the needs of the most underserved sections, namely women and youth can help solve these issues.
Micro and small enterprises are not only the backbone of the local economy, but are also major contributors to national GDP. Some of the key initiatives that can be taken by leveraging digital channels to tackle the after affects of COVID-19 on these entrepreneurs include -
Information dissemination about COVID-19 and related government schemes and policies through Common Service Centers (CSCs), interactive games & other infotainment based mobile applications, Interactive Voice Recordings and social media platforms (like Facebook and WhatsApp).

Creation of local virtual groups and networks which will help the community to show solidarity and rescue the local economy.

Promote usage of online portals and e-wallets for financial transactions, among these entrepreneurs, decreasing their dependence on cash for their operations.

Mainstream financial institutions should adopt innovative fin-tech models which enable entrepreneurs to apply for credit from their home and ease their documentation and credit assessment process.

Government and local stakeholders should promote e-procurement of raw materials by entrepreneurs.
On similar lines, Development Alternatives group through its digital platform for micro entrepreneurship, udyaME, aims to support these enterprises to overcome the impact of COVID-19. udyaME is developing a special module to disseminate information on government schemes and important notices and is planning to develop training modules for entrepreneurs to make their enterprises more resilient and sustainable. Also, udyaME is working towards leveraging its Peer-to-Peer network to strengthen the connection between entrepreneurs, service providers and local stakeholders which will help in boosting the local economy. ■
Shivankar Mohan
smohan@devlat.org